The Siren's Island
One of the many things I'm looking forward to when Summer comes is when Starbucks launches their Summer offerings. They always launch it accompanied by a big event and always with a knock-out theme. This year, the Starbucks Siren called customers to revel in a fun and feel-good break at the Siren's Island – an island-carnival event where they could throw their cares to the wind and have a good time, all while enjoying the latest Starbucks' summer offerings.
At the event, the entrance was a grand Starbucks Ship welcoming deck – a wooden dock that marked the entry way to the sweetest destination. Fusing the elements of an island getaway and a summer pier carnival, the Siren's Island brought the best of summer experiences in one spot.
We were given a "ticket" to be able to try out the different stations that were inspired by the new Starbucks beverages.
First up is the tall, Dark Caramelt Mountain with its rich caramel lava.
This is where Ykaie tried to shoot three "caramel" balls into a pot but wasn't successful…
Fortunes were uncovered at the Triple Mocha Room which was designed in true carnival fashion. Inside was a fortune teller with a crystal ball…
There were also plenty of games to play at the boothsjust like berry-picking at the Mixed Berries Forest and the classic ring toss game at the Red Velvet Magic Shack.
Ykaie enjoyed every minute at the carnival. Especialy because the funfair was complete with a food cart that served up the new Starbucks drinks and snacks. Check them out below…
Take a 15-Minute Vacation with These New Beverages
TRIPLE MOCHA FRAPPUCCINO (Tall – ₱ 170 | Grande ₱ 185 | Venti ₱ 200)
This new beverage is a dream come true for dessert lovers! Starbucks signature Mocha Frappuccino is topped with rich Dark Mocha Sauce and layered between signature whipped cream infused with cold brew, white chocolate, dark caramel and a dollop of Dark Mocha Sauce at the bottom of the cup.
DARK CARAMEL COFFEE FRAPPUCCINO (Tall – ₱ 170 | Grande ₱ 185 | Venti ₱ 200)
Topped with rich and buttery Dark Caramel sauce, the new Dark Caramel Coffee Frappuccino blended beverage offers layers of signature whipped cream infused with cold brew, white chocolate and dark caramel.
RED VELVET CAKE CREAM FRAPPUCCINO (Tall – ₱ 170 | Grande ₱ 185 | Venti ₱ 200)
A confectionery-inspired blend of chocolaty chips, mocha sauce, raspberry and vanilla syrup, topped with whipped cream. Perfectly sweet and velvety smooth.
Ykaie and I tried the new MIXED BERRY FRAPPUCCINO WITH POMEGRANATE PEARLS (Tall – ₱ 170 | Grande ₱ 185 | Venti ₱ 200) and we loved it! It's mixed berry sauce blended with velvety milk creating a smooth fruity beverage. Topped with whipped cream to balance the tart berry flavor of this summer drink. It tasted like berry flavored frozen yogurt drink with popping boba! It was so so good!
NEW FOOD ITEMS
BANANA CHOCOLATE CHIA COOKIE (₱75) – Big and fluffy cookie loaded with oats, banana, dark Belgian chocolate and chia seeds. |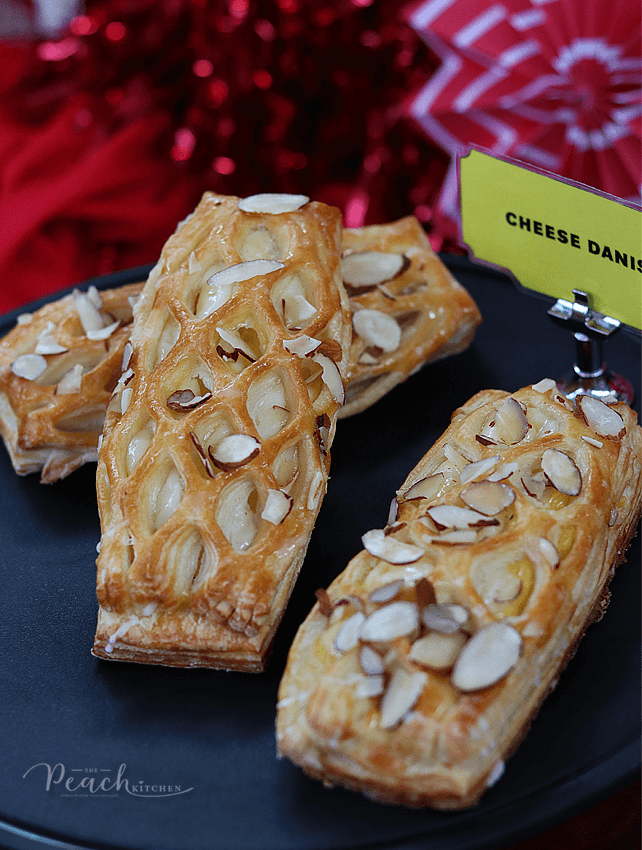 CHEESE DANISH (₱85) – Buttery, flaky pastry filled with cream cheese.
SAUSAGE MUSHROOM PUFF (₱125) – Flaky pastry filled with Italian sausage, mushroom, bell peppers, mozzarella, cheddar and Camembert cheese.
CHICKEN PARMIGIANA (₱155) – Slow cooked chicken, mozzarella, Pomodoro sauce and parmesan cheese on toasted ciabatta bread
APPLE BUTTERSCOTCH CHEESECAKE (₱175- slice |₱1,695- whole) – Smooth, velvety New York cheesecake topped with apple butterscotch cubes on butter cookie crust.
Starbucks Card
Have a refreshing summer with the  newest Popsicle Card or carry the newest translucent Starbucks Card featuring island scenes and tropical plants. Both are available for an initial activation amount of ₱300 per card.
I'm sure you've already tried one, if not all, of the new drinks… Which one is the first you tried? Or Which is your favorite?