It's not a big secret that I love cooking and I enjoy it. Cooking for my family is one of the ways I show them how much I love them. I make sure to cook delicious and nutritious food as much as I can. But sometimes, momlife can be too overwhelming with chores, tasks, and work. It's during times like this, we need all the help we could get.
It's either take out, food delivery, or ready to eat meals. Recently, I got to try Mama V Delicious Meals To Go and Ready To Cook Meals.
Mama V Delicious is a homemade food delivery service. They sell ready to eat food and frozen ones that you could simply fry when you need a delicious meal.
Here's what I was able to try…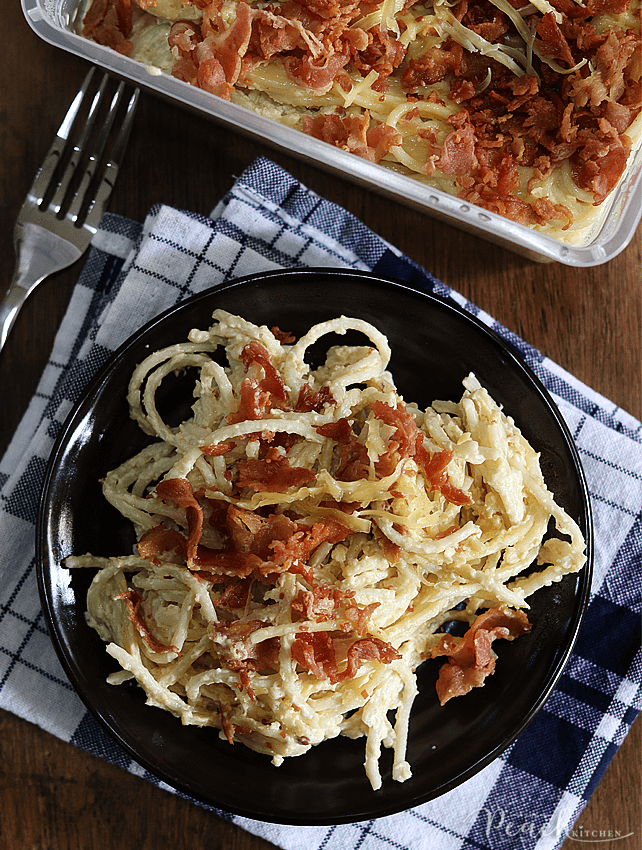 Their Filipino-style Bacon Carbonara (₱1,200|1kilo) is super creamy and is generously topped with bacon and cheese. It's guaranteed to be loved by both kids and adult!
Don't let the simplicity of this Garlic Sotangon (₱800) fool you because each spoonful packs a flavor punch!
Their Angus Beef Tapa (₱1,000|1kilo) comes in three flavors: salty, spicy, sweet. It's guaranteed to satisfy your breakfast cravings. The Angus Beef Tapa comes in individually packed serving sizes and is juicy, flavorful, and tender when cooked.
They also have ready-to-fry Chicharon Bulaklak (₱1,000|1kilo) which also comes in individually packed servings. It's already seasoned and all you need is a cup of rice (or two) and a small bowl of spicy vinegar for dipping.
For those who are trying to avoid meat, they have Daing Na Bangus (₱800|1.2kg) which comes in four individual servings. You can also slice these individual servings in two and pair it with sautéed vegetables.
For crispy snacking and cravings, try the Crispy Kropek (₱550|800g). It comes in  individual raw servings which you can fry whenever you like. Each serving yields two large plates of kropek.
The Bacon Carbonara, Garlic Sotanghon, And Crispy Kropek are great for pot lucks, parties, and family reunions. While the Angus Beef Tapa, Chicharong Bulaklak, and Daing Na Bangus are perfect at home when you're too busy to go to the market and cook.
To order, drop by their website: https://www.mamavdelicious.com/