Make these Banana Oat Scones with those overripe bananas on your table then top it with a yummy Delicia Glaze!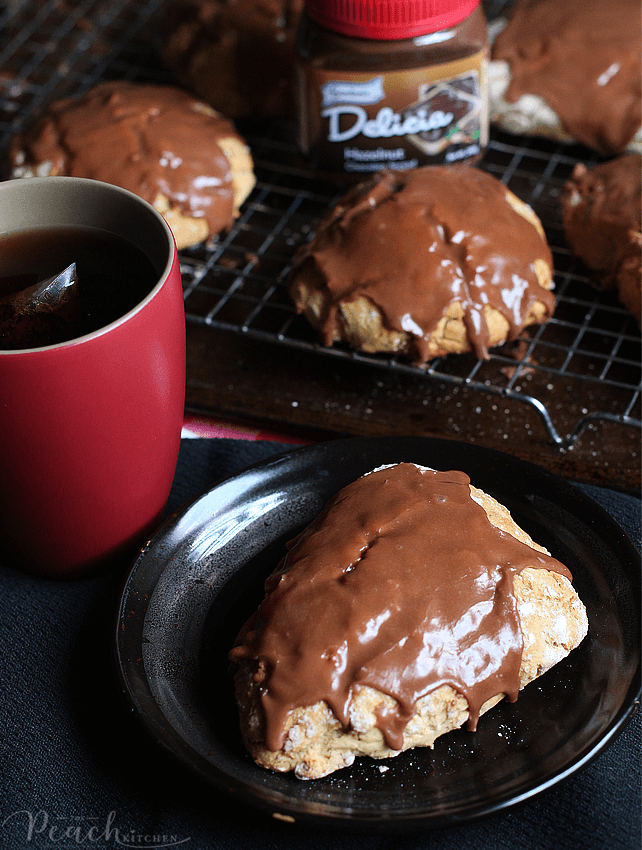 I'm sure by now you know our household pretty much runs on Gardenia Delicia Chocolate Spreads. Judging by the few empty jars I threw away and replenished last month, I 'd say my two princesses super duper love it! . They love it when I turn it into these Easy Delicia Truffles and they love it when it's spread on breads, especially when it's turned into Grilled Delicia Marshmallow Sandwiches.
And there are also times when I allow them to scoop it with a spoon at papakin ito na parang regular chocolate…
The thing is, they can't always have it as sweets combined with sweets… so I thought of combining it with something healthier: bananas and oats. It has been quite a while since I last made scones, (Read: Strawberry Scones with Lemon Glaze) so I thought it was the best thing to make with it… also because we have overripe bananas sitting on the table for a couple of days now.
The overripe bananas were combined with flour, oats, sugar, and spices to turn it into this lovely bread. The full recipe is below, it's easy to make. It's one of those recipes you can make with your kids to encourage them to cook and try out new kinds of food. Ykaie and I made these and she actually couldn't resist trying it when it came out of the oven. She couldn't wait for the scones to cool down so we can glaze it. What she did was cut a portion and dip it in the delicia glaze. She almost finished a piece before deciding to stop….LOL!
Ykaie and Twinkle loves this with a glass of cold milk. I love it with a cup of black tea.
Print
Banana Oat Scones With Delicia Glaze
for the banana oat scones
3 cups

all-purpose flour

1/2 cup

rolled oats

1/4 cup

brown sugar

2 tsp

baking powder

¼ teaspoon

salt

1 tsp

ground cinnamon

1 tsp

ground ginger

1/2 tsp

ground nutmeg

½ cup

butter

1 cup

mashed ripe bananas

⅓ cup

low fat milk

¼ cup

maple syrup

1

egg, beaten
for the Gardenia Delicia Glaze
2 cups

powdered sugar

4 tbsp

Gardenia Delicia Hazelnt Chocolate Spread

3 tbsp

milk

1 tsp

vanilla extract
pinch of salt
Instructions
Preheat your oven to 400°F. Line a sheet pan with parchment paper, or spray with baking spray.
In a large bowl, whisk in all purpose flour, rolled oats, brown sugar, baking powder, spices, and salt.
Break your cold butter into sliced and toss into the mixture.
Use your hands to combine it with the flour mixture and put it in the fridge for a few minutes.
In another bowl, combine the beaten egg, the low fat milk, and maple syrup.
Remove the flour mixture from the fridge and create a well in the center.
Add the mashed bananas and the egg mixture to flour mixture and fold just until the flour is hydrated and the mix comes together. It should be slightly sticky, but if it's very sticky, fold in an additional 1/2 cup of all purpose flour.
Lightly flour a work surface and dump the sticky dough mixture out onto the counter.
Roll it out into a rectangular shape and then cut into triangles.
Place scones, about 1 inch apart, on the prepared baking sheets and bake for 18-20 minutes.
Let cool on baking sheet for a couple of minutes before transferring to wire rack to cool completely. Once cooled or at room temperature, proceed with the Delicia glaze.
To make the glaze, just combine all the ingredients in a bowl and mix well. Drizzle on top each scone and let it sit until set.
♥ If you make this recipe, be sure to snap a photo and tag @thepeachkitchen on Instagram (OR hashtag it #thepeachkitchen). I'd love to see what you cook!