A creamy Filipino Style Carbonara with lots of bacon and mushroom made low carb by the use of Edamame Protein Pasta and Yellow Soybean Protein Pasta.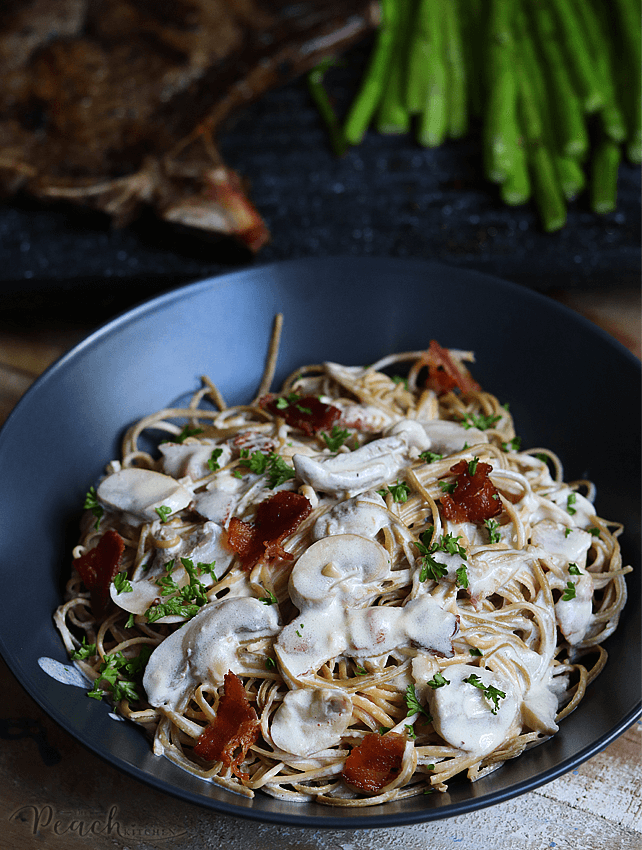 Like what I said in my previous post, peanutbutter♥ and I are trying to keep our health in check these days. We are trying to go on a low carb, no sugar diet. The keyword there is: trying. We all know how hard that can be especially because I love to cook and we love to eat. So as much as possible control na lang, diba?
So when the craving for creamy carbonara struck, we opted for a mixture of the Organic Edamame Protein Pasta and Organic Yellow Soybean Protein Pasta. Why use a mixture pa? You might ask. No special reason naman. The thing is we already have an open package of the Yellow Soybean Pasta, so since we are on a FIFO (First In, First Out) system sa kitchen, that open package of pasta must be used first. Eh hindi naman pwedeng half a package lang — kulang — so we decided a mixture na lang.
In other news, ganito ang itsura namin when taking ate Ykaie to school every morning that Twinkle is already awake…
Aayan, gulo-gulo pa ang hair, may coloring book na dala sa car at nagkukulay while watching Paw Patrol… Wala lang..heehee gusto ko lang i-share.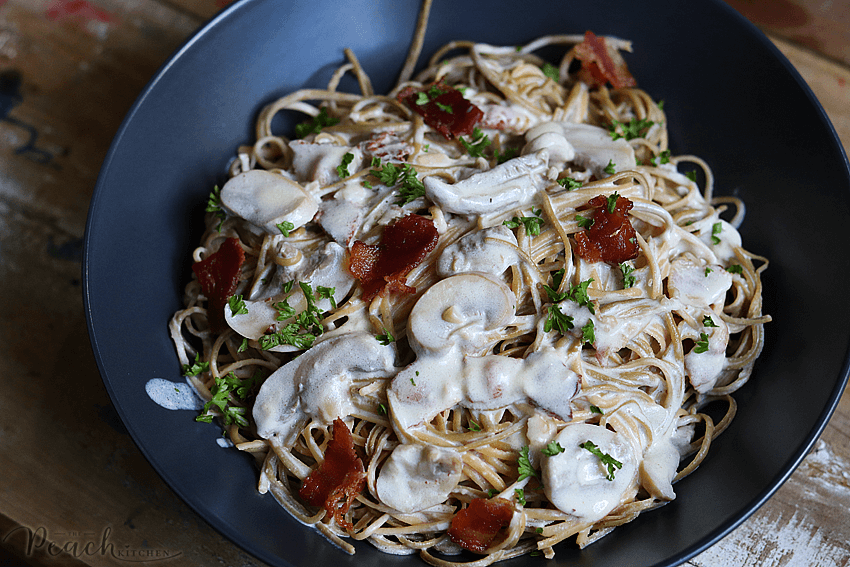 Anyways, I cooked the creamy Bacon Mushroom sauce just like any Filipino style carbonara. Yung pasta lang ang different. The recipe is below, just in case you want to try this recipe for your pasta day or when the craving strikes.
Just use your favorite pasta noodles.
Happy weekend everyone!
Print
Low Carb Creamy Bacon Mushroom Carbonara (Filipino Style)
250g

Yellow Soybean Protein Pasta

250g

Bacon, chopped

1/2 cup

canned sliced button mushroom

1 tbsp

cooking oil

3 tbsp

butter

6

cloves garlic, minced

1

white onion, chopped

2 tbsp

all-purpose flour

1 cup

chicken stock or 1 chicken cube +

1 cup

water

3 tbsp

Parmesan cheese

2 cups

all-purpose cream
salt and pepper to taste

3 tbsp

chopped parsley
Instructions
Cook the pasta according to package direction. They both cook at 5 minutes, so sabay na.
Drain and set aside.
Pan fry bacon in non-stick pan with 1 tbsp cooking oil until brown and lightly toasted. Remove bacon from pan. Set aside.
Using the same pan and remaining bacon fat, add in butter, garlic, and onions. Cook until onion becomes translucent and fragrant.
Add the mushroom and cook for around 30 seconds.
Add all-purpose flour and cook for a minute.
Pour in stock little by little while mixing continuously to prevent lumps from forming.
Bring to a boil then pour in all purpose cream. Mix Well.
Add parmesan cheese and half of the cooked bacon. Mix well.
Season with salt and pepper.
Toss in or pour over cooked pasta.
Top with crumbled bacon, more cheese, and chopped parsley before serving.
OTHER PASTA RECIPES YOU MIGHT LOVE…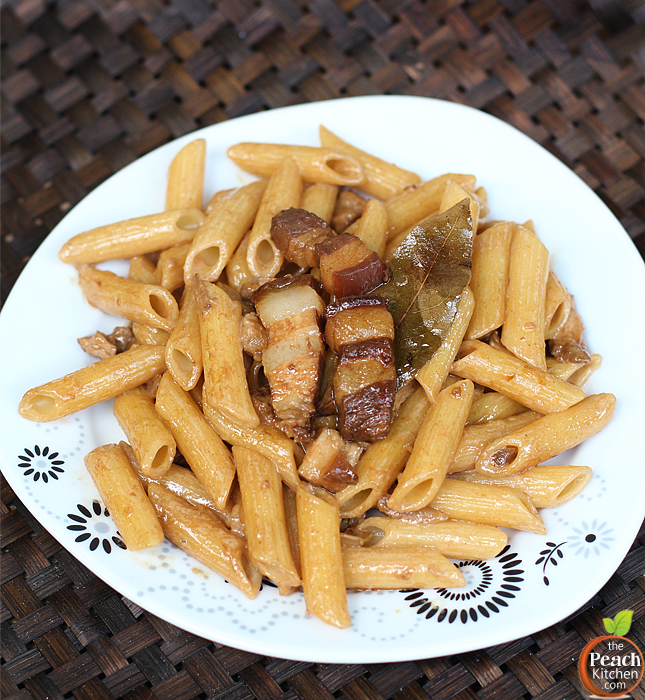 ♥ If you make this recipe, kindly snap a photo and tag @thepeachkitchen on Instagram (OR hashtag it #thepeachkitchen). I'd love to see what you cook!