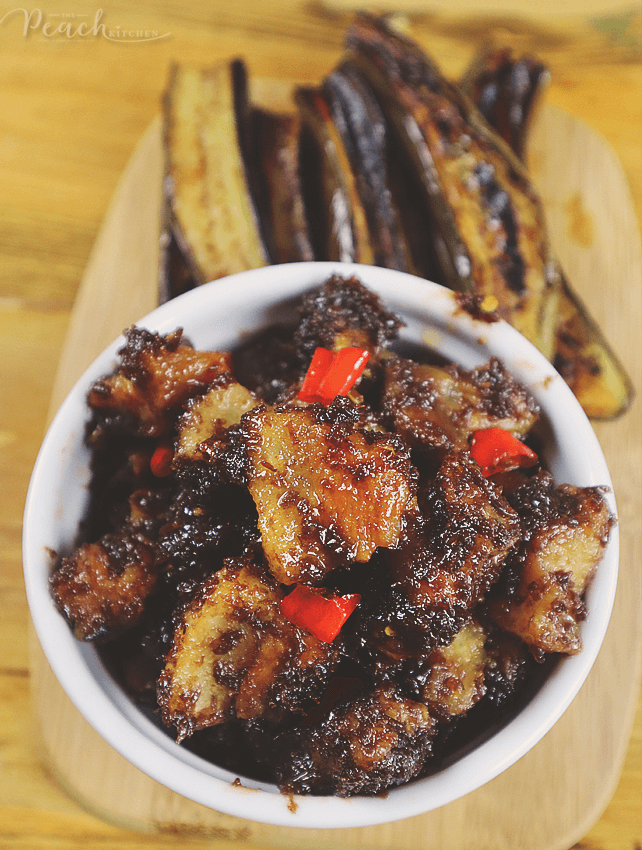 There are two types of Binagoongan: the crispy binagoongan and the saucy pork binagoongan. I have yet to cook and try the latter because for as long as I can remember, we always cooked binagoongan this way.
Crispy Binagoongan has been my comfort food for, like, forever. Kahit no rice diet ako, pag Crispy Binagoongan ang ulam, ay jusko! Extra rice please!
What's the secret ba in making delicious Crispy Pork Binagoongan? Use PORK NECK or pag bibili ka sa palengke, sabihin mo "batok ng baboy". It's very fatty but it's also very tasty and you can make it really crispy yet will remain tender because, well, fatty nga sya.
WATCH THE VIDEO HERE
I like cutting the pork neck into bite size pieces when cooking Crispy Pork Binagoongan. Parang menudo bites instead of slices because I want to keep it from being dry. I like it crispy but chunky and juicy when I bite into it. What I do is I fry these pieces until golden and crispy then remove it from the pan. I remove all the oil and save 1 tbsp to sauté the shrimp paste and the siling labuyo. I use sweet bagoong alamang, not overly sweet ha, choose something na in between sweet and salty para mas masarap. You can use just enough bagoong to cover the pork neck pieces OR you can add more.. lalo na if you're serving this with fried eggplant and steamed vegetables such as ampalaya, okra, kangkong, saluyot, or camote tops. Syempre, mas masarap kapag maraming bagoong to pair with the veggies.
O natakam ko ba kayo???
Happy Start of the Week! Anong ulam nyo today?
Print
Crispy Pork Binagoongan
700g

pork neck (batok ng baboy)

2

–

3

cups cooking oil (for frying)

1

–

2

cups shrimp paste (bagoong alamang), I used the sweet bagoong alamang

1

–

3

pieces bird's eye chili if you want it spicy, optional

3

kalderong rice for serving (LOL)
Instructions
Heat cooking oil in a wok or in a pan.
Fry all the pork neck pieces until all the pork neck pieces are golden brown and crispy.
Remove the oil from the pan and leave just about a tbsp of oil.
Sauté the shrimp paste in the oil for about 20-30 seconds.Add the chili.
Then add the crispy pork neck pieces and mix well until it's coated with all the bagoong.
You can add more bagoong if you want.
Serve with steamed rice, fried eggplant, and steamed okra and camote tops.
♥ If you make this recipe, kindly snap a photo and tag @thepeachkitchen on Instagram (OR hashtag it #thepeachkitchen). I'd love to see what you cook!