This Sugar Free Chicken Tocino is Keto friendly and will satisfy your tocino cravings while keeping you in your low carb, low sugar diet.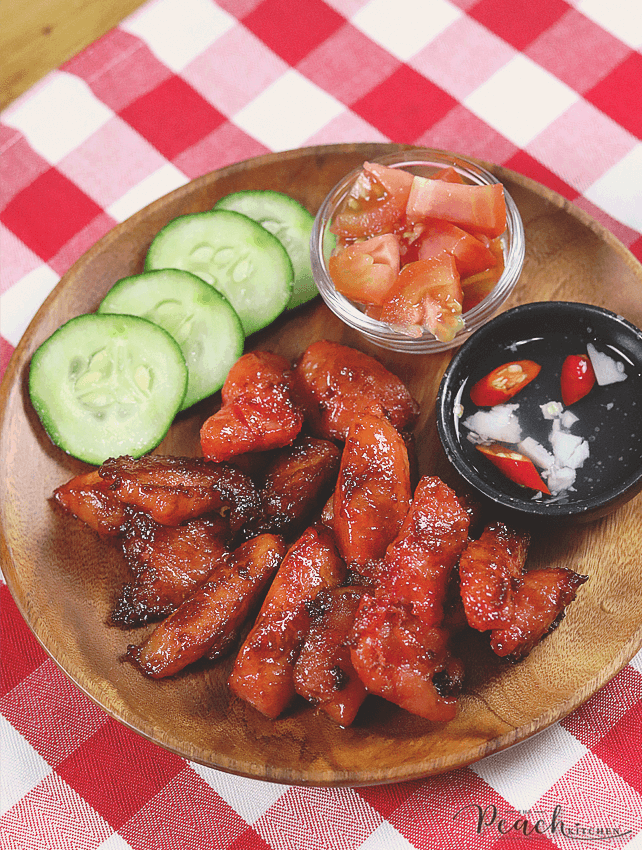 Tocino is one of my comfort food. It doesn't matter whether it's pork or chicken, as long as it's tocino, I'll eat it for breakfast, lunch, and dinner. The thing is tocino is sweet. It's hard to avoid anything that's sweet because it's also delicious. Since we are on a health kick and as much as possible we want to keep our food low sugar and low carb, I thought why not make my own tocino? diba?
I chose to make Chicken Tocino because it's healthier than pork , isa pa, uso ngayon ang African Swine Fever so iwas iwas muna sa pork. To make it easier for you, syempre I made a video. You can watch the video below.
Watch The Video Here
This Sugar Free Keto Chicken Tocino is made without preservatives. I used Lakanto Monkfruit Golden Sweetener to sweeten it because it tastes almost like brown sugar — perfect for a recipe like this that calls for brown sugar. But you can also use other alternative sweetener such as sucralose, stevia, or erythritol.
To make the Sugar Free Tocino Marinade, I just combined Lakanto Monkfruit Golden Sweetener , salt, pepper, sprite zero, and red food color. The red food color is optional, though. Pwede ng wag gumamit ng food color especially since pang-bahay lang naman. But the red food color definitely makes this dish more appetizing.
You can marinate it for 2 hours before frying but I recommend you marinate overnight para mas malasa. Just fry it in oil the next day and serve it with Cauli-Sinangag (Cauliflower Garlic Fried Rice), spicy vinegar dipping sauce, and chopped tomatoes.
Saraaaaaapppp!!!!!
Print
Sugar Free Chicken Tocino (Keto-Friendly)
500g

Chicken Breast (or chicken thigh, if you want)

1 cup

Sprite Zero

1/3 cup

alternative sweetener, I used Lakanto Monkfruit Golden Sweetener

1 tsp

salt

1

/ tsp pepper
Red food coloring (optional)
Cooking oil for frying
Instructions
Make the Sugar Free Tocino Marinade: In a small bowl, combine Lakanto Monkfruit Golden Sweetener, salt, pepper, and sprite.
Mix well until alternative sweetener is dissolved.
Add a few drops of red food color, if using. This will make your chicken tocino more appetizing.
Set the marinade aside ready for use later.
Tenderize the Chicken Breast: Put the chicken breast is a clear plastic and use a meat tenderizer to tenderize it. Pound the meat until a bit thin and tenderized.
After tenderizing all your chicken breast, cut them into strips and put it in a large bowl.
Pour in the Sugar Free Tocino Marinade and mix well.
Cover with Cling wrap and put it in the fridge for 2 hours or better yet overnight for full flavor.
It's ready for frying the next day.
To Fry: Heat cooking oil in a non-stick pan and fry your chicken tocino for 2 minutes on each side or until cooked and a bit caramelized.
Remove from heat and serve with Cauli- Sinangag (Cauliflower Garlic Fried Rice) and a dipping sauce of spicy vinegar and chopped tomatoes.
Notes
The nutrition information provided are only estimates based on an online nutritional calculator. I am not a certified nutritionist. Please consult a professional nutritionist or doctor for accurate information and any dietary restrictions and concerns you may have.
[foodie-nl id="29658″]
♥ If you make this recipe, kindly snap a photo and tag @thepeachkitchen on Instagram (OR hashtag it #thepeachkitchen). I'd love to see what you cook!