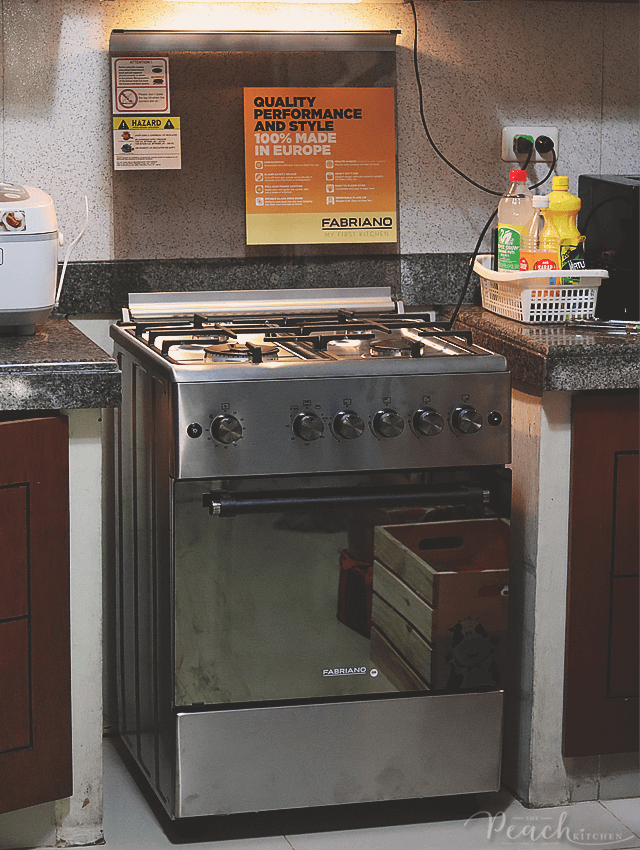 It replaced a five year old gas range with 3 gas burners and 1 hot plate plus an electric oven. You know how much time I spend in the kitchen cooking and baking so by now, this Fabriano Gas Range and I  are new BFFs! I tried all of its functions the past week and I loved it.
Cooking on the Gas Stove
I enjoyed cooking with the four gas burners versus the three that I had before. I find that all four gas burners are useful depending on what you are cooking because of the amount of heat they provide. I also love that it has a cast iron pan support — perfect for heavy duty cooking! So kebs kung may party at magluto ako ng sankaterba, these gas burners can do it.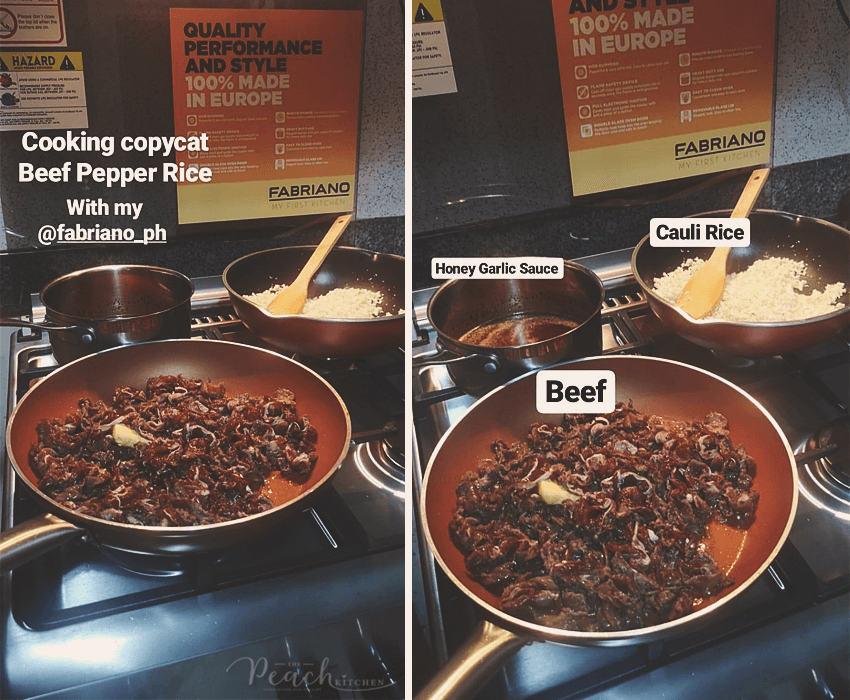 I cooked a copycat Beef Pepper Rice where in I used three gas burners. One for the beef, one for the honey garlic sauce, and one for the cauli rice. Cooking is easy because of full electronic ignition. You only need one hand to start and ignite the cooker.
Tada! Here's what I served to my family… Low Carb Beef Pepper Rice. (Don't worry, I'll share the recipe on my next post, heehee)
Baking in The Oven
Next I tried is baking… I baked everybody's favorite — Banana Bread!
I love that it has double glass oven doors that reflects heat back into the oven the door which makes it cool and safe to touch. It also has a built -in timer that reminds you of your cooking time.
This Banana Bread was cooked at exactly 30 minutes — I know because the oven's Minute Minder sounded a loud DING! after 30 minutes. It's a beauty, isn't it? Perfectly cooked and yummy!
I also tried it with boneless bangus. Instead of grilling, I filled it it with chopped onions and tomatoes, wrapped it in foil and oven-baked it for 45 minutes. Healthy and yummy ulam na for lunch!
Roasting A Chicken in the Rotisserie
We love roasted chicken. So I had to try the rotisserrie! This is a 1kg whole chicken marinated in olive oil, minced garlic, rosemary, lemon juice, salt, and pepper.
What I love naman about the rotisserie is that it's not sideways. I think it's easier to maneuver whether you're tucking it in or taking it out.
And here's our Garlic Rosemary Roasted Chicken which we had for lunch. It's flavorful enough so I didn't bother to make gravy anymore.
As you can see, my new Fabriano Gas Range is really my new BFF in the kitchen. She (she talaga?) is helping me a lot in making delicious homecooked meals that's full of love for my family.
So what do I love about my new Fabriano Gas Range?
It has a cast iron pan support  – the gas burners has an elegant design with pan supports that is suitable for heavy duty use.
It has a flame safety device – it cuts off  the main gas supply automatically in seconds once the flame is extinguished.
It has a triple ring burner – it guarantees even cooking that is up to 15% quicker than other rapid burners.
It has a full electronic ignition – it easily start and ignite the cooker with just a press of a button. No need to use two hands.
It has a built in timer or Minute minder – this guarantees precise oven cooking and baking times.
It has double glass oven doors – which reflects heat back into the oven the door making it cool and safe to touch.
It's 100% made in Europe – It's high quality, efficient performance, durable, and and of course has  a sleek style.
To know more about Fabriano, check out their website: https://www.cyaindustries.com/fabriano
or their FB Page: Fabriano Philippines.