My 2019 Starbucks Planner was thoroughly used! It has helped me plan goals, list my things to do for the day, schedule brithdays, anniversaries and meetings, AND most of all, take notes of recipes I made.
I am looking forward to working with my 2020 Starbucks Planner and here's why…..

High-grade eco leather covers made from Valencia, Spain
A noble and safe product of nature, the covers of the Starbucks Philippines 2020 Planners and Travel Organizers use purely natural substances coming from pre-consumer recycled cowhide fibers bonded by natural latex, which is a renewable green resource tapped from Hevea rubber trees.
The result is a smooth, supple, and breathable leather surface that greatly highlights its premium and elevated look. Starbucks sources their eco-friendly materials from leather factories based in Valencia, Spain, with a renowned tradition of artisanal leather tanning methods.
Paper that supports your wildest ideas…. and the world's forests
Inside, people can take a glimpse of the wonderful world of coffee discovery with several pages featuring its compelling journey from bean to cup.
And with the brand's promise to stay true in supporting sustainable movements, the pages of the planners and travel organizers are produced with eco-friendly papers in a facility certified by the Forest Stewardship Council (FSC). FSC is an independent, non-governmental, and non-profit organization sealed to promote the responsible management of the world's forests.
2020 STARBUCKS PHILIPPINES PLANNER
With two (2) color options to choose from, coffee lovers may opt to get their 2020 Planners either in Berry Pink or Frost Gray. The planner features a hardbound leather cover brimming with meticulously embossed details of the iconic Starbucks Siren. It also comes with a fashionable pouch made from premium soft suede material with a Siren logo zipper pull, so one can conveniently slip their planner inside the pouch.
I got the Frosty Gray.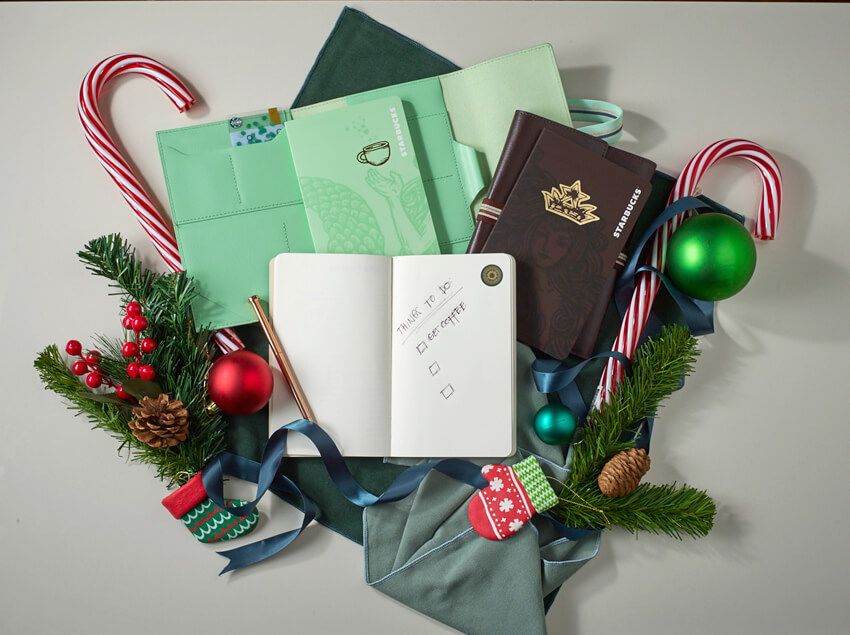 2020 STARBUCKS PHILIPPINES TRAVEL ORGANIZER
Alternatively, people who are always on-the-go can vouch for the Starbucks Philippines 2020 Travel Organizer. It comes in two (2) different color variants, Neo Mint and Coffee. The Travel Organizer consists of several card slots, slots for your passport and mobile phone, a pen pocket, and a mini notebook encompassing of three page formats — grid, dotted grid, and plain — which are all ideal for every kind of journaling.
Allowing people to customize their holiday items while sipping their favorite handcrafted drink, both the Philippine exclusive Planners and Travel Organizers come with Starbucks stickers, bookmark, and tear-off Beverage Vouchers that customers can use throughout the year.
I got the Neo Mint Travel Organizer.
HOW TO GET THE LIMITED EDITION STARBUCKS COFFEE PLANNER 2020
The promo begins on November 2, 2019 and ends on January 7, 2020. Within this period, customers may collect one sticker for every purchase of any Tall, Grande or Venti Starbucks handcrafted beverage. The Starbucks Philippines 2020 Planner and Organizer can be redeemed upon the completion of at least 18 stickers. Subject to availability, the redemption in stores will be from November 2, 2019 to March 7, 2020.
So, are you ready for this? Enjoy the holiday festivities paired with your favorite Starbucks handcrafted beverage
— and let the 2020 Planner and Organizer lead you to an amazing year ahead! Watch the preview video of the Starbucks Philippines Planner and Travel Organizers here and join the conversations online using the hashtag #MerryCoffeePH.