One of the most overlooked strategies for keto diet success is maximizing convenience. In principle, it's simple to cut out carbs and focus on keto foods, but it isn't easy when you first get started.
Although it is possible to reorganize your schedule so you can use recipes such as cauliflower fried rice, avocado toast, or a keto BLT for lunch every day, recipes like these can eventually become an inconvenience if you would rather have quick afternoon meal before heading back to work or the gym.
Instead of fitting your life to your new diet by relying exclusively on willpower and motivation, a better strategy is to fit keto to your current lifestyle by minimizing inconvenience and taking it one step at a time. One way to do this is by making quick and easy keto lunch recipes. We can recommend combining them with the right keto drinks.
5-Minute Keto Personal Pizza
Though traditional dough is loaded with carbs, this doesn't mean you have to miss out on pizza. There are several ways to make a keto-friendly crust that won't keep you from ketosis. This keto pizza, in particular, tops them all when it comes to taste, time efficiency, and convenience.
Each pizza comes out to ~459 Calories with 35 grams of fat, 27 grams of protein, and only 3.5 net carbs. This makes it a well-balanced keto meal with fats to fuel your workouts and plenty of protein to promote muscle growth.
You can also customize the flavor, macronutrient profile, and health benefits if you'd like. Some options include extra cheese (for more fat), lean meat (for more protein), or vegetables and herbs (for more flavor and health-promoting compounds).
5 Minute Keto Pizza
Quick Keto Grilled Cheese
Grilled cheese is such a classic comforting meal that I had to make a low-carb version.  If you follow the recipe as is, you'll have a quick keto lunch with roughly 803 Calories, 70g fat, 6g net carbs, and 26g protein. This makes it a great option for upping your fat intake.
As with the keto pizza, there is an abundance of ways to customize this recipe. Feel free to add some deli meat for more protein or low carb vegetables for more fiber and micronutrients.
Keep in mind that this recipe may take a bit longer than 10 minutes at first, but you'll be able to whip it up much more quickly as you perfect it.
Keto Grilled Cheese Sandwich
Feta & Sun-dried Tomato Salad
Salad is one of the quickest keto lunch options. All you need is some greens, keto dressing, cheese, and a serving of meat or seafood. However, if you are looking for more flavorful ideas, give this recipe a try. It has such a wide array of well-balanced flavors that you'll forget you're eating a salad.
Each serving has around 370 Calories with 83% coming from fat, which makes it a filling, yet low-calorie lunch that'll help promote weight loss. Feel free to top it with leftover meat or cold cuts as well, if you are trying to increase your protein intake.
Five Minute Marinated Feta & Sun-dried Tomato Salad
5-Minute Keto Egg Drop Soup
Eggs are a superfood staple for the keto diet, and this quick soup is a delicious way to eat more of them. It can help satisfy your craving for Chinese food as well.
Each bowl will be ready in just 5 minutes with a ketosis-promoting ratio of fat, carbs, and protein. You can also use this as a way to up your sodium intake and prevent keto flu symptoms as you adapt to keto.
For a related idea, check out this keto-friendly taco soup recipe.
5 Minute Keto Egg Drop Soup
Jalapeno Popper Mug Cake
If you'd like to spice things up for lunch, this mug cake is a great option. Just mix up the ingredients, fold the bacon in, and stick it in the microwave for a quick and filling high-fat meal. You can even mix the batter up ahead of time and take it into work if you're struggling to find a keto lunch on the go.
Each mug cake has roughly 455 Calories with over 80% fat, making it a great lunch option or side dish if you are struggling to meet your fat intake goals. This keto mug cake concept is also very versatile. Here are a few other examples of quick and savory cakes you can make for lunch:
Bacon, Cheddar & Chive
Green Chile Cheddar Mug Cake
Sun Dried Tomato Pesto Mug Cake
Cumin Sesame Lemon Mug Cake
Jalapeno Popper Mug Cake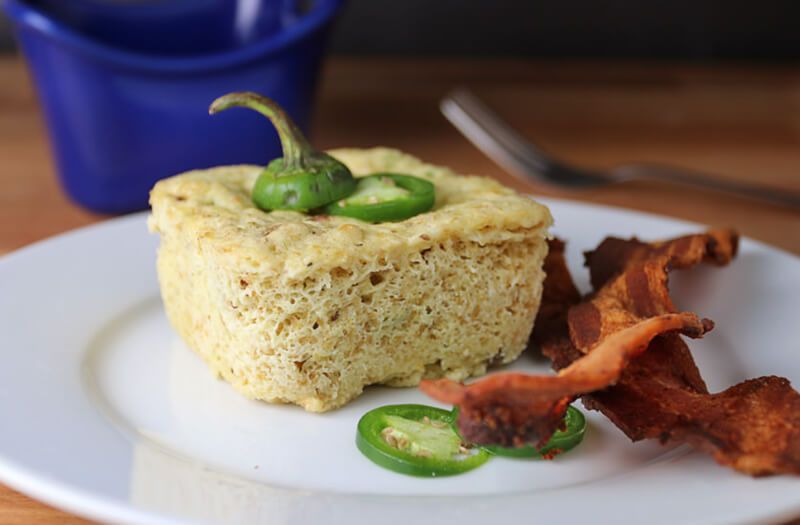 Balsamic Avocado Bowls
Want to cut down on clean up time and eat more healthy fats? Ditch the bowl and use an avocado instead. Even if you are not a fan of avocado, the combination of goat cheese, paprika, and balsamic vinegar in this recipe may inspire a change of heart.
Each balsamic avocado bowl will come out to ~169 calories, most of it coming from healthy monounsaturated fat. Since it is relatively low in calories and high in fat, this will make a great side dish to up your fat intake. You can also double or triple the portion for a quick and filling lunch that isn't too high in carbs or protein.
Balsamic Avocado Bowls
Prosciutto and Goat Cheese Salad with Raspberry Vinaigrette
This keto lunch may sound like it requires some culinary expertise, but all you have to do is combine ingredients step by step. The result is a quick flavorful salad that you can easily customize to meet your macronutrient needs. For example, you can add more goat cheese for extra fat or have more prosciutto to up the protein content.
Feel free to customize the serving size to make it a full meal or a side salad with one of the other lower-calorie lunches on the list. Just make sure it fits within your macronutrient goals for the day.
Prosciutto and Goat Cheese Salad with Raspberry Vinaigrette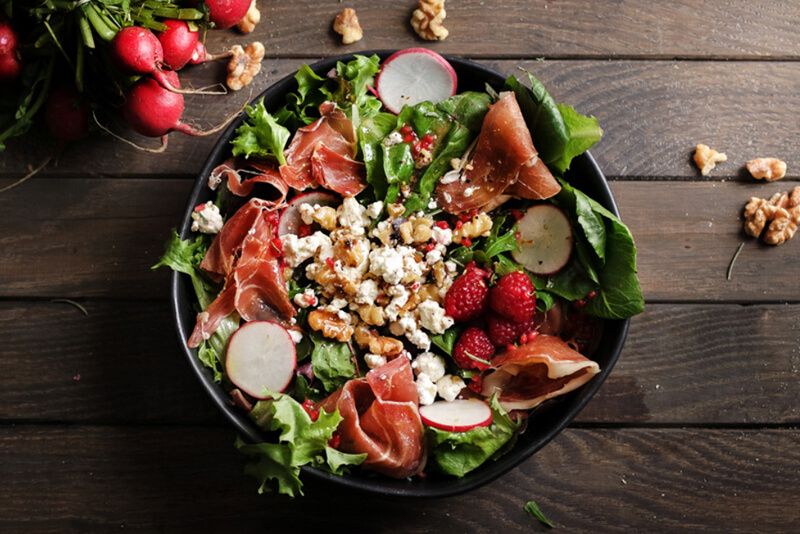 Creamy Shrimp Salad
Another great keto salad option is this shrimp salad. Although the chopping, peeling, and cooking may make this into more of a 30-min meal, you can cut down on the prep time by using precooked shrimp and precut vegetables.
When I am really in a rush, I'll mix some canned wild pink shrimp with homemade mayo and throw it on some greens for a keto meal in under 5 minutes. The creaminess of the mayo and subtle sweetness of the shrimp come together deliciously as the healthy fats from mayo balance out the protein from the seafood nutritionally.
If you follow the recipe as is, each serving comes out to be ~500 calories with 36 grams of fat and 35 grams of protein. This makes it a very high-fat meal with enough protein to help promote muscle growth.
Creamy Shrimp Salad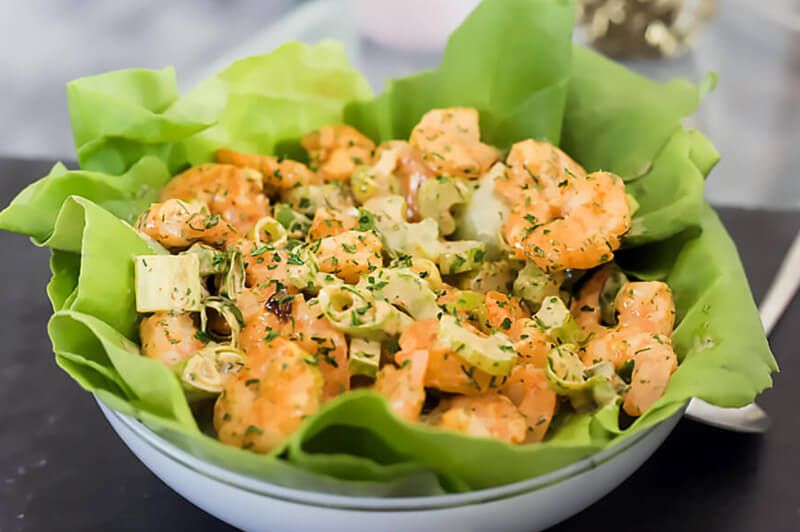 Still Not Quick Enough? Grabbing Keto Lunch On the Go
Even a 5-minute meal can be impossible to manage if you have a busy schedule. Luckily, there are three strategies you can use to stay on the keto diet when you are on the go:
Meal prep for the week. This is the best option to ensure that you are going to eat the right amount of the right foods to meet your goals. However, you will need to schedule in a few hours each week to plan, batch cook, pack, and freeze your meals.
Order keto-friendly menu items. Stop at a local restaurant or fast food chain, and order low-carb options. Just make sure you do your research ahead of time because most of the meals will be riddled with carbs.
Bring keto snacks with you. If you travel a lot, make sure you have keto snacks on hand or know where you can go to get some. There are over 50 options you can choose from, including some that are packed with protein, others filled with fat, and several satisfying low-calorie snacks.
Though these strategies may seem simple, they can be difficult to implement at first. This is why we've provided links to resources for each one, so you know exactly what to do when the quickest keto recipes aren't quick enough.
Key Takeaways
To optimize your diet for long-term results, you must leverage the power of convenience. One way to do this is by making quick and easy keto lunches.
Here is a quick recap of the lunch recipes we featured in this article:
5 Minute Keto Pizza
Keto Grilled Cheese Sandwich
Five Minute Marinated Feta & Sun-dried Tomato Salad
5 Minute Keto Egg Drop Soup
Jalapeno Popper Mug Cake
Balsamic Avocado Bowls
Prosciutto and Goat Cheese Salad with Raspberry Vinaigrette
Creamy Shrimp Salad
However, it is also crucial to make sure these recipes help you meet your macronutrient needs as well. In the long run, how much you eat will drive your body fat % and convenience will drive your eating decisions.
If you are looking for a more comprehensive resource that addresses these two factors in-depth, I recommend checking out our Keto Academy. It may be the tool you need to achieve the results you want with the keto lifestyle.