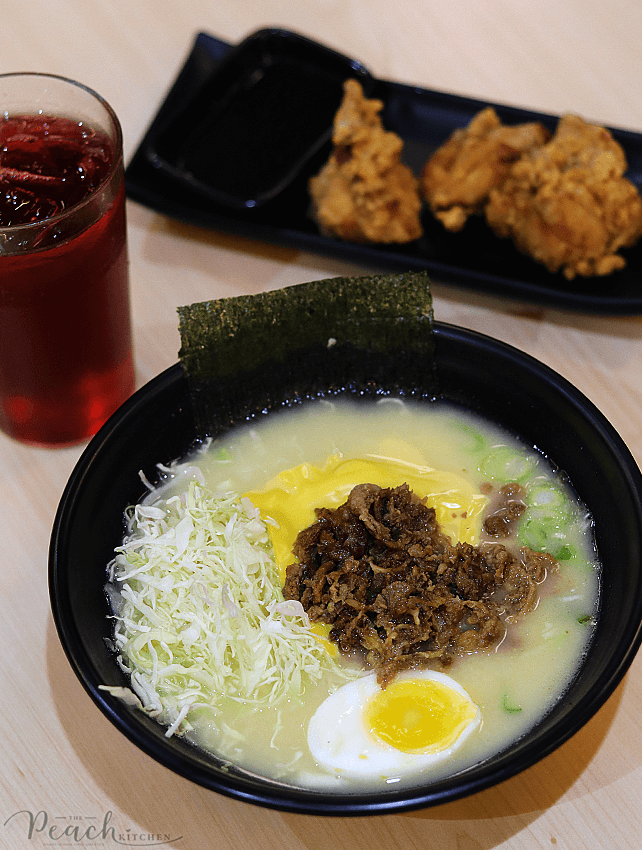 Have you noticed? We are having #RamenWeather this week! It's cold, it's wet, it's perfect for some soup slurping! And you already know where to go to get your ramen fix — at Tokyo Tokyo, san pa? Especially now that they have they have the new Cheesy Beef Ramen.
For all the cheese lovers out there, (like us!), I'm sure you will all love this because it has the signature Tokyo Tokyo combination of beef and spicy cheese, in a warm bowl of tonkotsu broth and Japanese ramen noodles. Combined with half an egg, shredded cabbage, spring onions, and a nori sheet.
The cheese melts in the broth, giving you a creamy, cheesy soup that just goes so well with the savory beef and chewy noodles.
I let Twinkle try it and she loved it. Since it was mildly spicy, she wasn't able to finish her whole snack size bowl. She was able to finish her chicken karaage side dish, though!
Grabe! #PerfectCombination talaga ang cheese and beef!… especially with the rainy weather!
Our orders came with our favorite Shrimp Tempura… which made our meal all the more appetizing!
Cheesy Beef Ramen is available in regular and snack size. You can get it as a meal with a glass of red iced tea and a side of chicken karaage or gyoza.
To know more about Tokyo Tokyo, log on to www.tokyotokyo.ph or follow TokyoTokyoPhilippines on Facebook and Instagram.