Believe it or not, I have totally invited people over for a steak dinner being unprepared and paid the price for it. Hosting a fancy steakhouse dinner requires a good amount of preparation so don't be fooled by just the pretty idea of it. 
Scouting around for stuff last minute for that big dinner is a hassle you do not want to get yourself into. One of the prime reasons for me to write this piece is that I have been through the misery of not having all the necessities in order.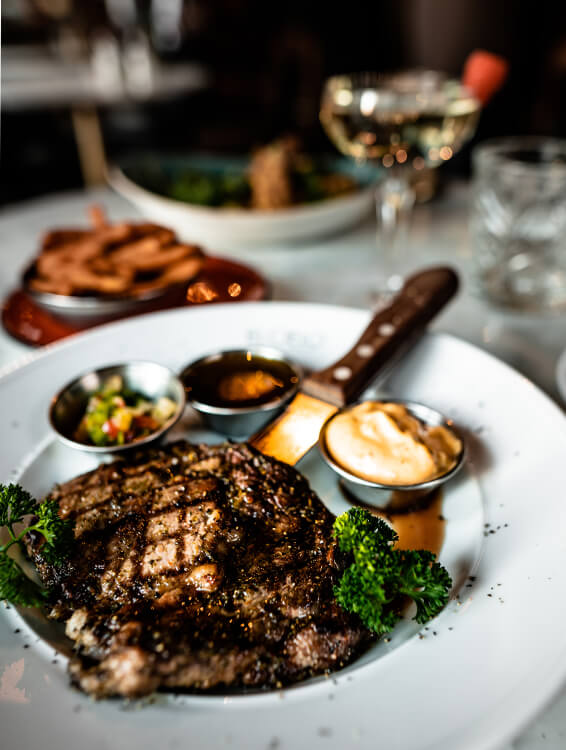 Luckily for all the readers, you will definitely be prepared for a steakhouse dinner for a long period of time once you are done reading. With the motive of having you prepared ahead of time for a dinner you may be hosting soon or will host in the future, below is a checklist of everything you will need to host the perfect dinner. 
Purchase High-Quality Meat
Clearly one of the most important things for a steak dinner, the steak itself. Some people are good at choosing the right meat and also knowledgable about the various cuts, keeping the guests and their preferences in mind. Also, some people just don't know enough, just like I didn't. 
If you are someone who has a very basic knowledge of steak but is trying to throw an impressive steak dinner, you're gonna need to do your research. 
Check out this article by LifeHacker to learn about all the various types of steaks and how to perfectly cook them. This will not only help you learn some recipes but also buy the cut that entices you the most. 
Steak Knives
You cannot have a steak dinner without high-quality steak knives. I have been to barbecues where I was handed plastic folks and that was just impossible. There are people who try to make do with table knives but it makes the guests' life difficult. 
Steak knives are extremely useful as they are multipurpose and people don't think of it but they can be used to cut fruit, veggies and other items with a hard surface like lime. Needless to say, cutting the perfect steak with a steak knife is way classier than any replacement. 
The good news is that high-quality steak knives are not actually expensive and also last longer than other forms of knives. 
If you are looking to purchase steak knives to give your guests a proper steak dinner experience then you can check out this guide curated by GiftWits which lists the best steak knives in the market. 
Having the Perfect Recipe
I'm sure you have a home steak recipe that has been in the family for a long time and has been passed along. Maybe you started the tradition so it is your recipe or a recipe you love that you started making. 
With that in mind though, what do you do when you have repeat guests every few months? Do you then prepare the same kind of steak and the same recipe? 
Everyone needs new recipes, you and your guests. What kind of steak you are cooking and how you are cooking sometimes also depends on the guests' taste. For example, you won't make anything spicy if someone cannot handle it and on the contrary, if the guests can handle spice then you might experiment. 
Weather plays somewhat of a part in what you prepare as well. Remember that your steak recipe and your side dishes walk hand-in-hand so it all has to be planned out. Knowing exactly what you are cooking days in advance helps you prepare well. 
To add a library of recipes to your kitchen, take a look at the 80+ steak dinner recipes listed by Delish. 
Choosing the Correct Wine Pairing
Your wine and your steak need to marry each other. Choosing the right wine for your steak is so important. 
While people believe that steaks should be paired with bold red wines, some may argue that white wines like chardonnay or even a bottle of champagne can make for a great pairing. 
Reality is that it depends on the steak, the cut, whether you are cooking it medium-rare or well-done, and also your recipe of course. 
If you are someone who collects good wines, it would be cool to actually pour yourself tastings of the wines in your collecting and try them with the steak as you are cooking. Getting a feel for it is the best way to pick. 
If you are confused about which wine to pick or which steak to cook based on a wine you already have, take a look at this guide published on WineMag that will help you with your pairings. 
Setting the Table
When I hosted my first steak dinner, I had no idea about how I should set up the dinner table. If you want to stay on theme, steak dinners have a particular etiquette that should be followed. It's nice to roll back and be a little traditional sometimes. 
Just like we stressed the importance of having proper steak knives earlier, it is equally important to know how to set your table up appropriately. 
There is a proper style of table setting that requires correct placements. Napkins, forks, knives, spoons, other cutlery and pots and pans all have a position on the table that completely makes sense and keeps your guests or family members comfortable at all times. 
Just like cooking is an art, setting tables is similar. Every time you go to a highly rated or classy restaurant, you'll see that everything is in its dedicated place, that's not magic, the servers are doing a fabulous job. 
To help you set the table up for your steak dinner correctly, here is a guide prepared by eHow that you can follow to the tee. 
Apart from taking care of the basics, you can add to the table with some decor like flowers or plants, cute salt, and pepper jars. Just make sure none of these additional items come in the way of your formal arrangement of cutlery. Since you are impressing your guests with food like royalty, you might as well give them the correct table to enjoy a delicious meal.