Regardless of where you live, your kitchen will consistently be the most important space for you, your partner, and your friends and family. Sharing dinner in your kitchen is a sign of hospitality, and your loved ones will appreciate the amount of effort you put in to make a meal for them.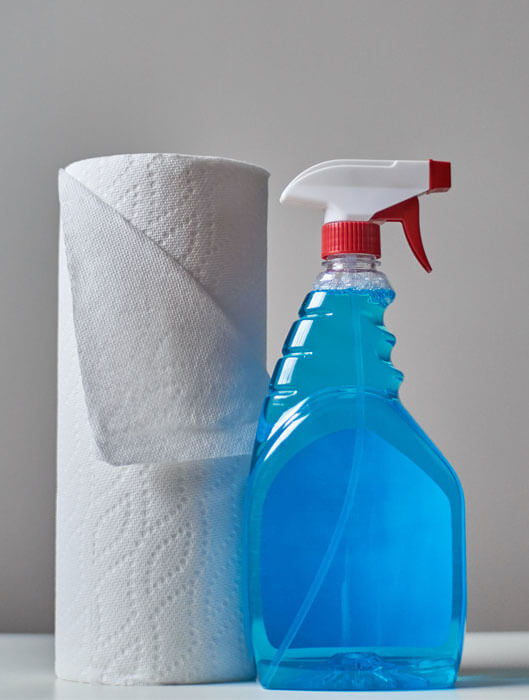 But you surely won't appreciate the tough grease stains on your cabinets and appliances after you've cooked the meal. Rapidly removing these stains is critical to keep your surfaces in great condition, however, you need a complete guide on the most efficient method to achieve this. 
Here are a few ways to help you clean the grease stains off your kitchen surfaces without harming them. 
1. Removing Stains From Kitchen Cabinets First 
Grease that sticks to kitchen cabinets is actually due to cooking or opening and closing cabinets with oily hands.  Removing grease from a kitchen cabinet requires some real effort, however can be easily accomplished with cleaning items easily available at home.
For cleaning stubborn grease stains from cabinets, you can make a basic DIY cleaning solution easily at home by using a 50/50 combination of white vinegar and warm water, then, at that point add two three drops of dish cleanser. Apply it on the cabinets with your spray bottle, leave it for a few minutes and afterward clean it properly with a soft cloth. For tough stains, make a paste of salt and vinegar, and gently clean those stains with a cloth or a soft toothbrush. 
2. Removing Stains From Stainless-steel Surface
Stainless steel picks everything from residue and oil to fingerprints and water spots. Keeping stainless surfaces clean requires some effort and it will work if you do it consistently. In case you are a person who cleans everything in the kitchen consistently, your microfiber cleaning mat is all you need. Simply rub them down with the grain, and the stains will be removed easily without putting in the extra effort. 
3. Removing Stains From Countertops 
You might have installed wonderful stone or marble countertops in your kitchen. These surfaces are typically fixed before they are installed, however, sealants should be applied regularly to keep the surfaces stain-free.
Make a mixture of cornstarch and water using ¼ cup of cornstarch and each tablespoon of water in turn until it has a thick consistency.

Apply the cornstarch paste to the greasy surface and then put a plastic wrap to cover it. 

Now use a toothpick and punch holes in the wrap so that it can dry. In this way, cornstarch will absorb the oil.

Allow it to dry for one-two day, then after that remove the plastic and paste.

If the stain is not totally removed, repeat the same process.
4. Removing Stains From Backsplash
You will have to use lemon for this one. The most ideal approach to clean a backsplash is easy and simple. Squeeze the juice of one lemon into a spray bottle, be careful so that pulp and seeds do not go in the bottle. Lemon is an incredible cleaning agent that will remove the oil stains directly off the surface. Spray it onto grease and let it sit for few minutes. Wipe off with a wet fabric and dry the surface with a clean towel afterward. 
5. Removing Stains From Microwave
There is another good and easy strategy to clean grease from your microwave and to make your kitchen smell astounding. Fill a glass bowl with three to four cups of hot water and chunks of lemon from one lemon. Now carefully place the bowl into the microwave and heat it for three to five minutes, or until the water boils. Leave the microwave door shut for a couple of minutes so that grease comes out easily.  Now remove the glass bowl and take out the glass plate to wash by hand. Spray white vinegar on the walls of the microwave or you can use any cleaning solution too. Dry and put the glass plate back in it.
6. Removing Stains From Stovetop
Remove all of the oven's removable parts. Fill the kitchen sink with hot water and dish cleanser, or fill a major plastic tub with hot foamy water. Put grates, handles, and burner tops into the water and let the parts splash while you are cleaning the burner. By making an easy mixture using baking soda, salt, and dish cleaner will get the job done and you can easily remove the grease stains from the stovetop. Use a clean brush to clean the inner corners. After cleaning, use a clean cloth to dry the surface and put everything back in its position. 
Just remember that you need to be careful if you want to protect the kitchen surfaces. Regularly cleaning your kitchen will require less time for cleaning whereas if you clean your kitchen once in a week, it will require extra time and effort so make sure you have planned it properly.