Aside from baking, cooking, and eating… I've been doing a lot of reading lately to de-stress and keep my mind off… certain things. I figured it would be relaxing to scroll through pages that promote and celebrate the Philippines and discover hidden treasures of information I can share with family and friends.
I am so glad I discovered PINNED.PH.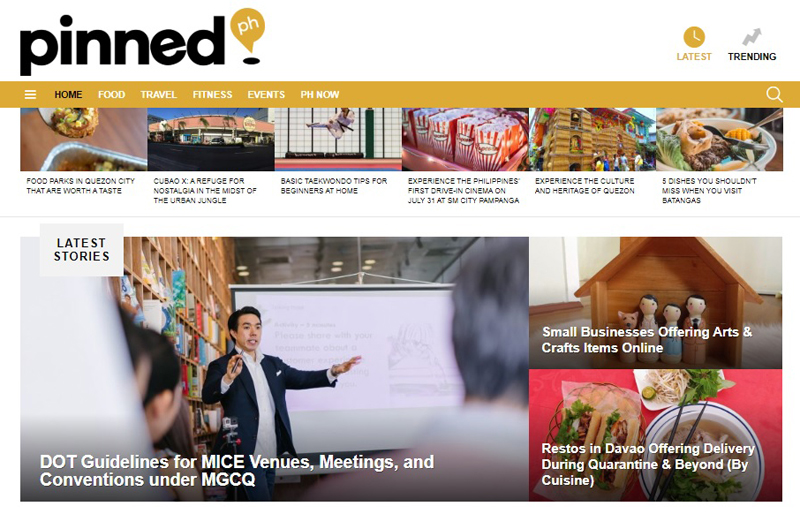 What is PINNED.PH?
Pinned.PH is a local digital magazine that was launched last December 2019 that highlights the best of the Philippine travel, food and beverage, fitness, and events industries. It is built by fellow Pinoys who wished to introduce and promote local destinations, including hotels, restaurants, fitness hubs, events venues, natural attractions, and many others to encourage more tourists and consumers to support local destinations and endeavors.
WHY DO I LOVE READING PINNED.PH?
FOOD! – O e, tinatanong pa ba yon? You know how much I love reading about food — whether it's recipes, new cafes, food tours, hole-in-the-wall dining, vegan lifestyle, new food products to try, native delicacies — they have it. I also love reading about what specific kinds of food to try when you visit certain provinces like Pampanga, Batangas, or Cebu.
TRAVEL – At this point in time when we can't go anywhere besides the comforts of our home, all I can do is just let my mind wander. Syempre, I like to tour our own beloved country as soon as possible. I read Pinned.PH so I can visit Guimaras, Bataan, and the Banaue Rice Terraces even if I'm just sitting in front of my laptop. I also get travel tips like how to save for my next travel or what documents are needed should I decide to travel now.
FITNESS – Y'all know I am not a fitness enthusiast.. LOL! If you are, you'll be happy to know that you can read about yoga, meditation, exercise/ working out, gyms, and home gym equipment at Pinned.PH. They also have articles on sports like cycling, football, taekwondo. As for me, I like reading about topics like "5 Exercises to Help Reduce Back Pain"… (alam nyo na.. not getting any younger…heehee)
EVENTS – Art shows, ballets, musicals, fild festivals, food fairs — and now online classes that you shouldn't miss! You can get get the first dibs about it on Pinned.PH.  This is how I know that there's already a Drive-In Cinema in SM City Pampanga and their first showing is on July 31! Too bad they are not allowing kids.
THEY FEATURE SMALL BUSINESSES – I am all for supporting local and small businesses. I love that they made the commitment to help local small home-based and online businesses amid the COVID-19 crisis by featuring them for free. If you're an online business/ small home-based business and you want to get featured, just fill out their Google form here with your details, and they will take care of the rest.
THEY HAVE COVID-19 UPDATES
CONTRIBUTORS ARE WELCOME
This is also one of the reasons why I love Pinned.PH, they are open to contributors.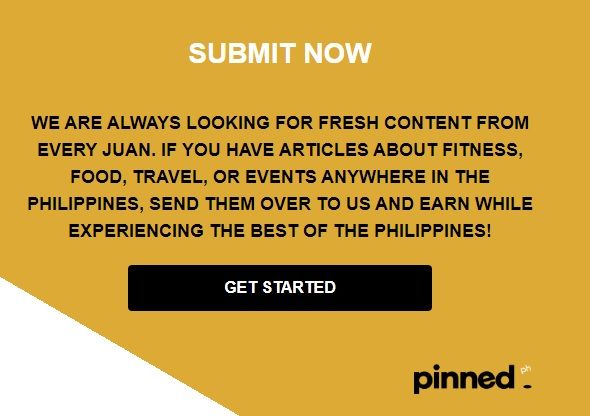 If you are an aspiring writer or photographer, you can write about what you love about our beloved country and earn while showcasing your work on Pinned.PH.
They pay writers ₱1,500 for every approved article. If you're interested, you can find their submission guidelines here.
FINAL SAY
Pinned.PH is like a breath of fresh air from the usual online digital magazines. It contains quality content that inspires and ignites my passion to taste, travel, and experience more of our beloved country. Their website is user-friendly as well and you can easily find articles you're interested in.
Click www.pinned.ph to go their website and start reading.