If you're now more likely to stay home or work from home due to a coronavirus pandemic, you're probably wondering if it's safe to order food or grocery deliveries. The answer is, for now, yes.
There's currently no evidence that COVID-19 can be transmitted through food packaging or the food itself although bacteria are known to survive on surfaces for up to nine days. A bigger possible problem is the transmission of a new coronavirus from the person who delivers it to the customer or vice versa – through cough, airborne particles, or some other direct contact.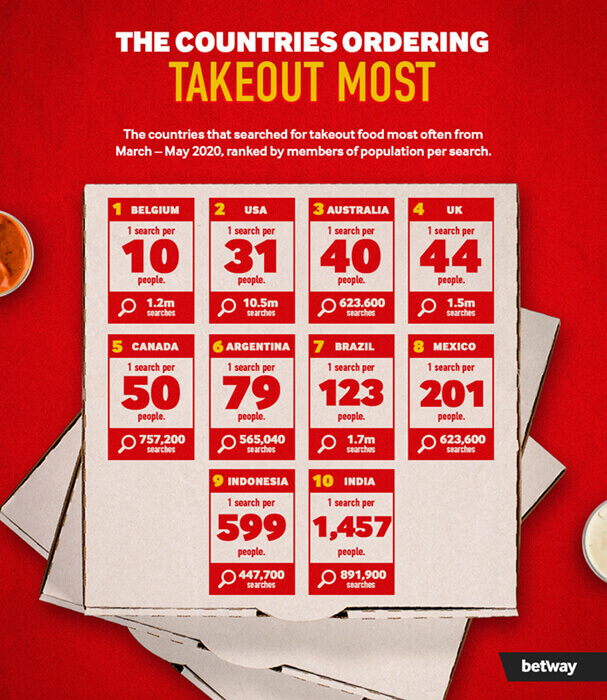 Many food delivery services are switching to contactless deliveries to reduce the possibility of the virus spreading. When ordering takeout, customers can choose whether they want to meet the delivery guy at the front door, on the sidewalk, or they don't want any contact but to have food left at the doorstep.
What Kind of Food People Most Often Order Worldwide?
Pizza! It was the most-searched food in the period from March to May in 55 of the 81 countries for which data was available in specialized research. Eastern Europe turned out to be the region where pizza was particularly popular. Out of the countries in this part of the world, Belarus topped in the highest number of searches for "pizza delivery" per capita.
Chinese was the No.2 most popular takeout, being at the top of the charts in 11 countries. Interestingly, when looking at the cities that searched for this food term the most, only the cities in English-speaking countries were in the top 8, and not Chinese.
Sushi was the third most popular takeaway worldwide. Although originating in Japan, it wasn't searched the most there. Denmark dominated per capita, while Japan was only third on the list of countries that searched for sushi takeout the most.
I think Vietnamese food is also popular. Check out Bunhaus Vietnamese kitchen menu prices, you'll love the Bahn-Mi and Spring Rolls.
3 Tips for Safe Food Delivery
Somehow, 3 tips for safe delivery of food or groceries have been singled out in case you are sick, quarantined, or just staying inside to stay healthy.
Leave Precise Delivery Instructions
Whenever you order food/groceries online, you'll see a blank field on the company's website or its order page called "Delivery instructions" or similar. Filling in this field you actually instruct the takeout guy to leave food in front of the door or you can even send a photo where the food should be left.
Customers often have the option of contacting their deliverer directly via the app to arrange delivery, as soon as the driver accepts the order.
Wash Your Hands Immediately
To be completely safe, wash your hands for at least 20 seconds after delivery and avoid touching your face after bringing food or groceries inside.
Restaurants and other food places have protocols to avoid the spread of not only the new coronavirus but also of influenza, noroviruses, hepatitis A, and other viruses. These protocols were introduced before corona appeared.
There's no evidence that COVID-19 is transmitted by food, medics say. However, the virus can live on the packaging that people touch, including cutlery, so you should wash your hands after touching these items, that is, before you start eating or touching your face.
Like other viruses, coronavirus can also survive on the surfaces we eat, so it's important that they are regularly cleaned and disinfected before and after meals.
Not So Much Safety Advice: Leave a Bigger Tip
Delivery guys are usually paid either fixed or hourly. In order to earn a living, they can't work from home as you but have to go outdoors.
It's recommended that give takeout guys a slightly higher tip during extraordinary circumstances such as the current one. The safest way is to do everything through the food delivery app. If you pay by cash on delivery, be sure to wash your hands after touching any account or money. If you have to sign a credit card bill, use your own pen and, again, wash your hands afterward.
Some of the data from this article was taken from Betway.