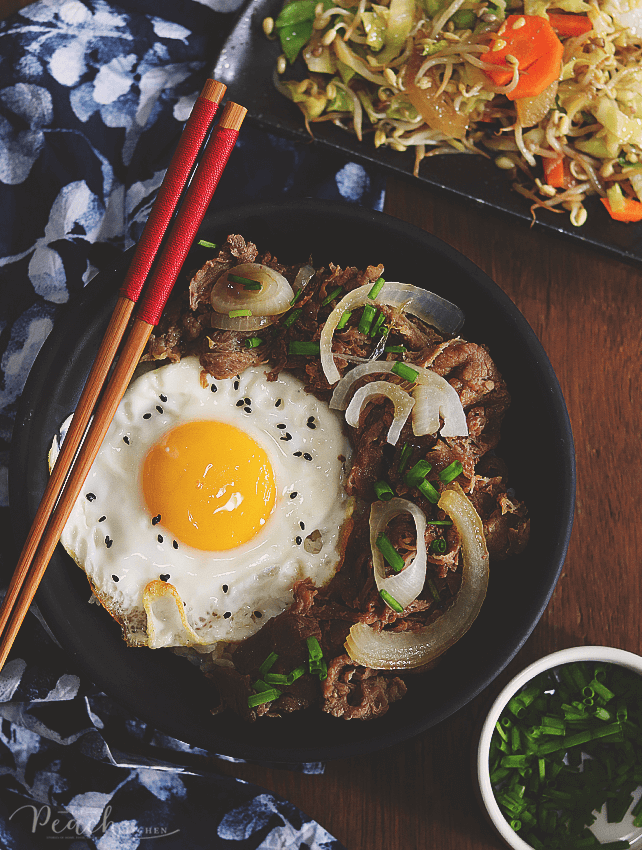 Hello Peach Kitchenatics!
Naks! O yan na ang soon-to-be-new name ng The Peach Kitchen Community in the following days when Facebook allows me to change the name again. (Thanks to Rubylyn ♥ for the name! ) We are growing and if you're not yet a member, what are you waiting for? Join us na. It's a foodie group lang that enjoys food and chikahan everyday. No pressure, No judgement. Share your food lang. Share what you cook, share what you eat, share what you prepare for your loved ones. It's also nice to be appreciated not only by your family but also by like-minded peers. I think it also becomes a place where you can scroll and have an idea what to cook for your next meal. Eh yun kaya ang pinaka-mahirap na isipin ng mommies everyday!
Actually, being the admin — ako ang na-pressure ng konti. Because sometimes when life becomes so busy, I tend to order take-out and rely on take out all the time. We all know naman that homecooked meals are the best because it's prepared with love and we all know what goes into our food, right?
So now, I am back in my kitchen, especially with my new Tiger Tacook Rice Cooker.
Let's cook and eat together!
This is the Tiger Tacook Rice Cooker. It's actually not just a rice cooker but a multicooker because it can also function as a slow cooker and food warmer. It can also cook porridge and brown rice to perfection. But what I love most about it is that it's possible to cook rice and ulam (viand) at the same time with it's Synchro-Cooking function. Yes, mga kumare, time saver sya dahil sabay na nating maluluto ang kanin at ulam.
I tried it yesterday and cooked Beef Gyudon with a side dish of Yasai Itame for dinner. Yes, Japanese kami kahapon. Two cups of rice were washed put inside the inner pot with two cups water.
The Tiger Tacook Rice Cooker comes with a Cooking plate where you can put your viand. It goes into the top of the inner pot allowing you to cook it at the same time as the rice. That's where I put the marinated beef then topped it with sliced onions.
Then I selected the Synchro-Cooking function and pressed the start key.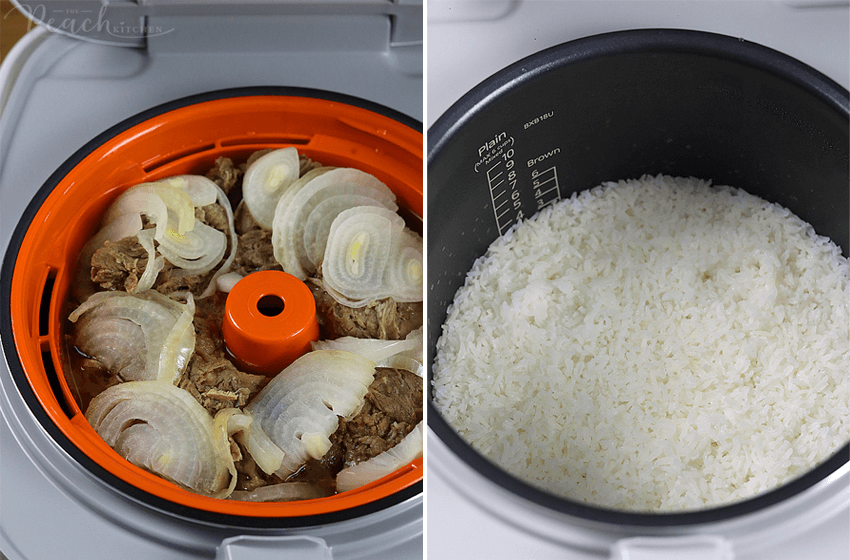 While the rice and Beef Gyudon is cooking, I prepared the extra Gyudon sauce for drizzling later, the Yasai Itame side dish, and the fried egg. I also did some facebooking, scroll scroll sa The Peach Kitchen Community, at konting work …LOL! A few minutes later, I heard a beep — and it's done!!! Dinner is ready!
Assemble it in a bowl, just like how they serve it in restaurants, to make it more appetizing….
Put the steamed rice at the bottom. Top it with one sunny side up fried egg and Beef Gyudon. Sprinkle the Beef Gyudon with chopped spring onions and drizzle with more Gyudon sauce. Sprinkle the egg with black sesame seeds…para cute lang. Makes it more appetizing, don't you agree?
Of course, It's more delicious kung may Yasai Itame (Stir-Fried Veggies) na side dish….
O diba? What can you say? This Tiger Tacook Rice Cooker definitely made cooking easier for me … It's time saving, kasi pwedeng sabay ang ulam and rice. It makes cooking easier and healthier because it uses less oil. The ulam is cooked via steaming lang.
Someone asked over at The Peach Kitchen Facebook Page…
Hindi daw ba lumalasa yung ulam sa rice? Hindi naman. The rice remains white and tastes just as expected.
How much is the Tiger Tacook Rice Cooker? Check it here: https://tinyurl.com/TaCookRiceCooker
Print
Beef Gyudon Using Tacook Rice Cooker
500g

beef, Sukiyaki cut

2

large white onions, sliced

3

eggs
rice
chopped spring onion for garnish
black sesame seeds for garnish (optional)
Gyudon Marinade
2 tbsp

kikkoman soy sauce

3 tbsp

mirin

1 tbsp

white sugar
Gyudon Sauce
1 cup

water

2 tbsp

kikoman

3 tbsp

mirin

1/2

chicken cube

1 tbsp

sugar

2 tsp

cornstarch +1 tbsp water
Instructions
Wash the rice and put it in the inner pot of Tige Tacook Rice Cooker with two cups of water.
Put the beef in the cooking plate along with the marinade (if there's any left) then top it with the sliced white onions.
Select Synchro-Cooking in the Menu and press enter.
While rice and beef gyudon is cooking, fry the egg sunny side up. Set aside.
Make the Gyudon Sauce: Combine water, kikkoman, mirin, sugar, and chicken cube in a small pot. Bring to a boil and thicken with the cornstarch + water mixture. Set aside.
When the cooker beeps, it means the rice and beef gyudon is done.
Assemble everything in a bowl:Put the steamed rice in the bottom. Top with one fried egg and Beef Gyudon. Sprinkle the beef gyudon with chopped spring onions and drizzle with more gyudon sauce. Sprinkle the egg with black sesame seeds.
Enjoy
OTHER RECIPES YOU MIGHT LOVE…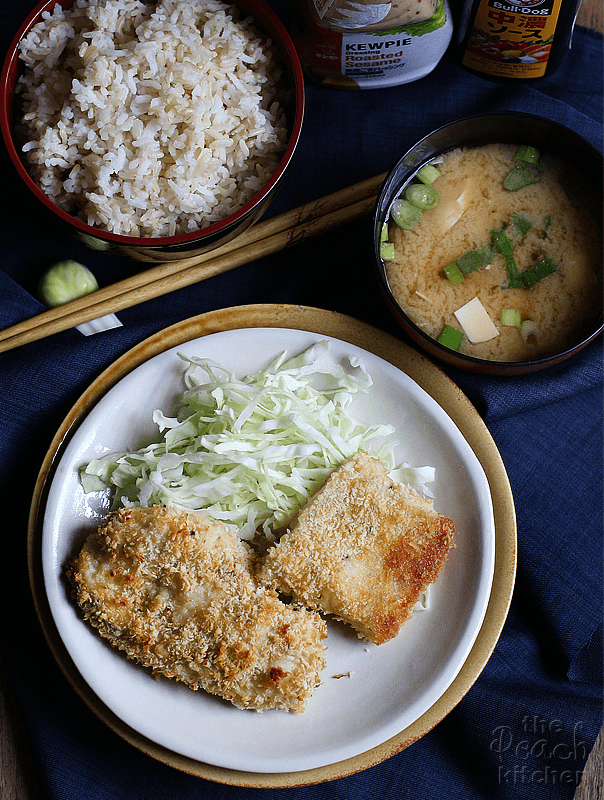 ♥ If you make this recipe, kindly snap a photo and tag @thepeachkitchen on Instagram (OR hashtag it #thepeachkitchen). I'd love to see what you cook!