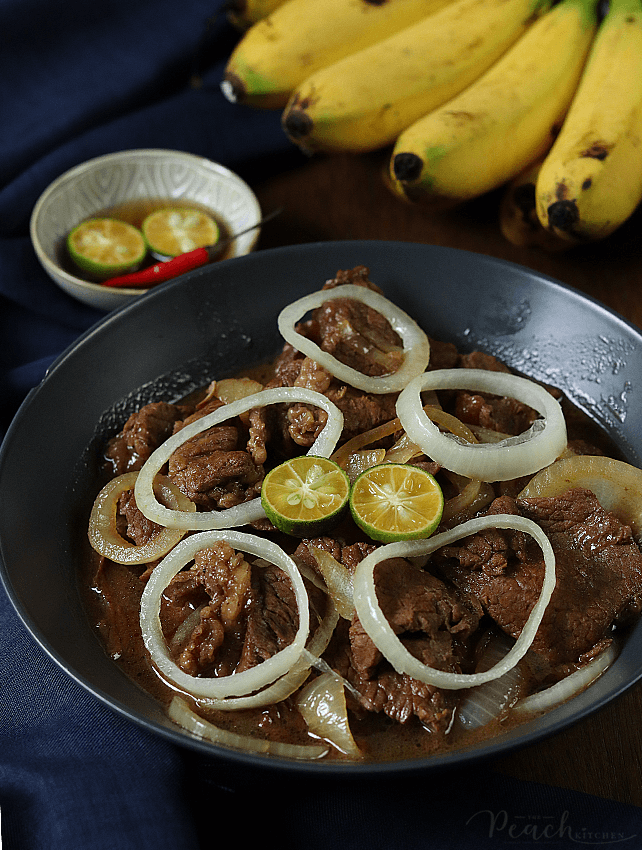 Bistek Tagalog is one of my favorite dishes to cook for my family. First is because my family loves beef. Second is because this dish has very little ingredients, most of which are already in our kitchen. And third, is because it is easy to cook yet yields the most flavorful results! Diba? I'm sure you'll agree.
We love this with lots of white onions and lots of calamansi! and of course with sawsawang freshly squeezed calamansi + patis + crushed siling labuyo.
According to google, Bistek or bistec is a Spanish loan word derived from the English words "beef steak" . Ayan, so Bistek is a Filipino version of beef steak but is more of a beef stew version.
Ganito rin ba kayo magluto ng Bistek, mommies? If you have a different version, share with me the recipe on the comment section so I can try.
OTHER RECIPES YOU MIGHT LOVE…
Print
Bistek Tagalog (Filipino Beef Steak)
600g

Sirloin, sliced

½ cup

soy sauce

4 tbsp

calamansi juice (or lemon juice)

1/2 cup

water

5

onions, sliced into rings

5 tbsp

cooking oil
pinch of pepper
patis to taste
Instructions
In a large bowl, combine the soy sauce, calamansi juice, and pepper. Mix well.
Marinate beef sirloin in the mixture for at least 30 minutes.
In a non-stick pan, heat oil. Sauté onion slices until it's a little bit caramelized. Set aside.
In the same pan, fry the sirloin until light brown. Add marinade and water.
Stir and bring to a boil. Turn heat to low and simmer for 20 minutes or until tender.
Add onions and wait until it simmers. Turn off heat.
Serve with steamed rice with a dipping sauce of patis-calaamansi with siling labuyo.
♥ If you make this recipe, kindly snap a photo and tag @thepeachkitchen on Instagram (OR hashtag it #thepeachkitchen). I'd love to see what you cook!