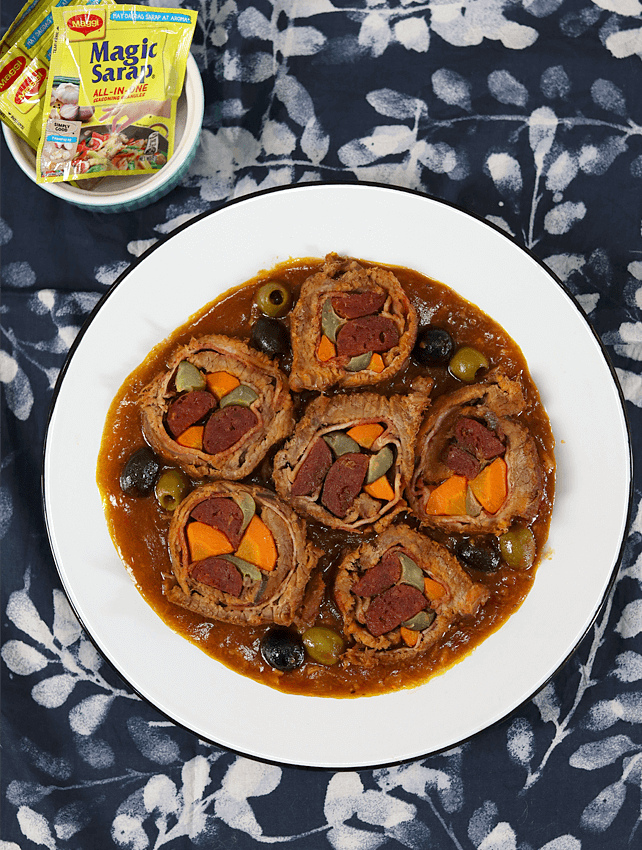 Beef Morcon is one of my favorite dishes that my mom cooks during the holidays. For me, she cooks the best Beef Morcon in the universe! And it never fails to show up on every family celebration may it be birthday, anniversary, Christmas, New Year — parating may morcon.
Her version is very flavorful — buttery, saucy, and all those wonderful goodies inside.  Yun nga lang, cooking morcon can be a bit intimidating. It has a lot of ingredients so you may think cooking this is a daunting task. But don't worry because today, I'm gonna share with you an easy morcon recipe.
I got this from the www.maggi.ph website and I made it with the help of Maggi Magic Sarap.
How To Cook Beef Morcon Video
Print
Morcon with Maggi Magic Sarap
1

head garlic, minced

2

sachet 8g MAGGI® MAGIC SARAP®

1

pc large onion, minced

2

pcs trimmed and flattened beef oyster blade (kalitiran) for morcon

200g

tomato sauce

½ tsp

freshly ground pepper

1

pc carrot, cut into thick strips and blanched

¼ cup

sliced green and black olives (optional)

¼ tsp

freshly ground pepper

¼ cup

brown sugar

1

pc bay leaf

2

pcs whole pickled cucumber, cut into thick strips

8

slices bacon

2 tbsp

vegetable oil

2

pcs chorizo de bilbao, cut in half lengthwise
Instructions
Season beef with 1 sachet MAGGI® MAGIC SARAP® and pepper. Lay the beef flat and place bacon in single layer. Place carrots, pickled cucumber, and chorizo in the middle. Roll tightly and tie with kitchen twine.
Sauté beef in oil and set aside. Sauté garlic and onion in the same pan.
Add beef, tomato sauce, bay leaf, sugar and pepper. Pour enough water, cover, and simmer until tender. Skim off the fat as needed.
Add olives (optional) and season with remaining sachet of MAGGI® MAGIC SARAP®.
Remove beef from the sauce and cut off the twine. Cut into slices. Pour the sauce in a deep-dish platter and place beef slices on top. Serve.
♥ If you make this recipe, kindly snap a photo and tag @thepeachkitchen on Instagram (OR hashtag it #thepeachkitchen). I'd love to see what you cook!