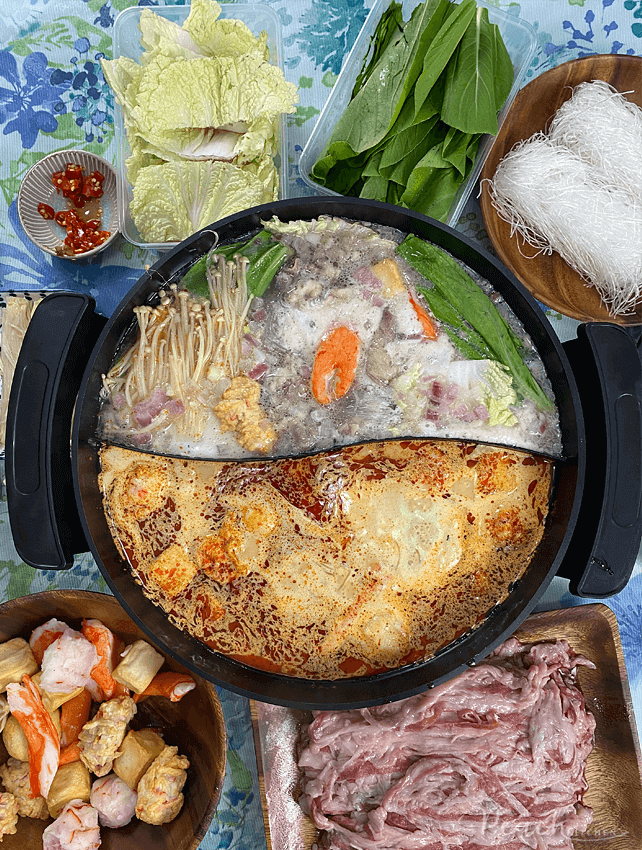 I bought my electric hotpot cooker last August with a great plan to do hotpot at home. But when online distance learning started, that plan got sort of pushed aside. Idagdag mo pa the other yummy dishes that we cook and try every single day. Lalo na kaming hindi nakapag-hotpot.
Good thing our friends from Caleb's Plate sent over one of their hotpot sets for us to try.
The Shabu-Shabu Set includes:
2 soup base (Pork)
Premium beef sirloin
assorted balls with fillings
fish tofu
squid fingers
lobster ball
crab claw
crab sticks
enoki mushrooms
vermicelli noodles
pechay baguio
bokchoy
chopped siling labuyo
minced garlic
chopped onions
chopped spring onions
Sate paste
Ang dami no? I think this is good for 5-6 persons already.
You can make two kinds of soup with the soup base — one sate based and one with plain pork base. But we only made the plain pork base and then a laksa-based on the other side of the pot. It came from that pack of laksa paste I keep in stock at home for emergency laksa cravings.  Today is one of those days.
Hotpots are perfect for rainy days when you're craving for something hot and yummy to slurp. It's also a nice way to food bond with the family because you can stir up an interesting conversation as you cook and eat.
Will make a DIY Hotpot at Home soon! Watch out!