Merienda from a week ago were these yummy and delicious creations from Red Door Kitchen. I so wanted to tell you all about it last week but Twinkle got sick and I wasn't able to go near the laptop until friday. By that time, I had 567,890 e-mails to reply to — hahaha. Just kidding, I am exaggerating but somehow it felt like it.
So, I am telling you all about it today. It's my first time to try Red Door Kitchen.
Red Door Kitchen is a small food delivery company selling ready to eat meals and baked products in the Quezon City area. Their best sellers include Chinitoyo (their version of saucy Pansit Canton), Palabok , Liempo Barbecue, Japanese style Loaf Bread, and Ensaymadas, especially the Ube Ensaymada.
You can order the noodles and the meat separately but the fam and I were able to try out their Build-Your-Own-Combo of noodles and meat. I think it's great that they have these combo to enjoy with family and friends. Alam mo naman, mas masarap kapag may ka-partner ang pansit! *wink*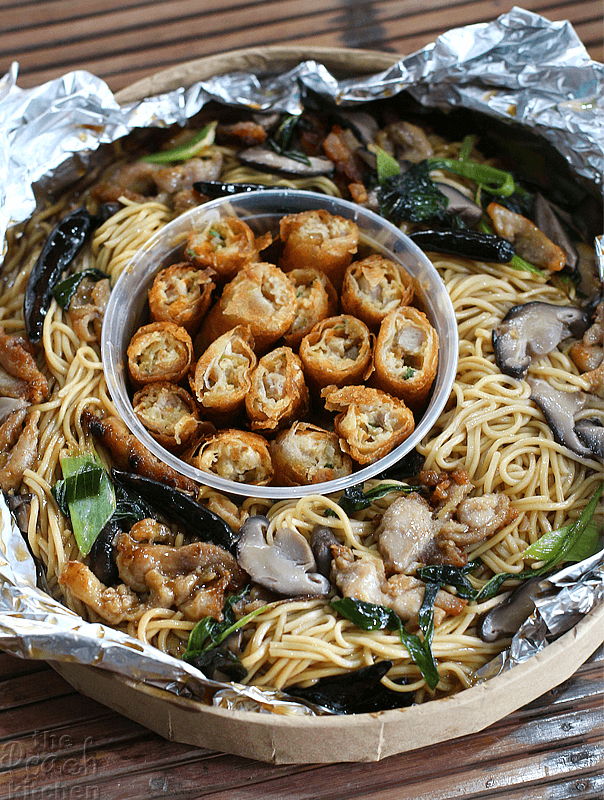 My favorite among these three is the Chinitoyo and Lumpiang Shanghai Combo. Chinitoyo is Red Door Kitchen's version of pancit canton. Theirs is very saucy (just how I like it!) and has a unique sweet, sour, and spicy taste. It came topped with mushroom slices, black chili peppers, meat, and leafy greens. Their Lumpiang Shanghai is very tasty too and it comes with sweet chili sauce for dipping. This is a real must-try.
Next up is the Palabok and Liempo BBQ. The Palabok has thick noodles and is smothered in a thick, rich, flavorful palabok sauce. Then topped with shrimp, hard-boiled egg slices, and chicharon bits — ooops ,forgot to put the chicharon before taking the photo –. The Liempo BBQ is so tender and juicy and has lots of sauce too!
Spaghetti and Chicken Chops satisfies your craving for your birthday party favorite which is Pinoy-Style spaghetti and fried chicken. The spaghetti is a bit sweet, has lots of sauce, and topped with grated cheese and sliced hotdogs — just how we like it. The Chicken Chops has an asian flare which makes it different from the usual fried chicken and comes with a vinegar dipping sauce.
You can get these Build-Your-Own Combos for only ₱399 and it's already good for 4-5 persons to share. I think it's also a nice food to bring when there's salu-salo or pot luck 'cause the presentation is so pretty!
I also got to try a small order of Kung-Fu Shrimp, their version of kung-pao pasta with shrimp. This is perfect when you're craving for something spicy.
Aside from noodles, pasta and meat dishes, Red Door Kitchen also offers Loaf Bread, Cheese Roll and Ensaymada. The Loaf bread is super soft and is ideal for making sandwiches (hello, grilled cheese sandwich) while the cheese roll and ube ensaymada is perfect when paired with your afternoon coffee or tea.
I'm leaving you with their menu, just in case you want to try them out today….
/

To know more about Red Door Kitchen, drop by the Red Door Kitchen Facebook Page.