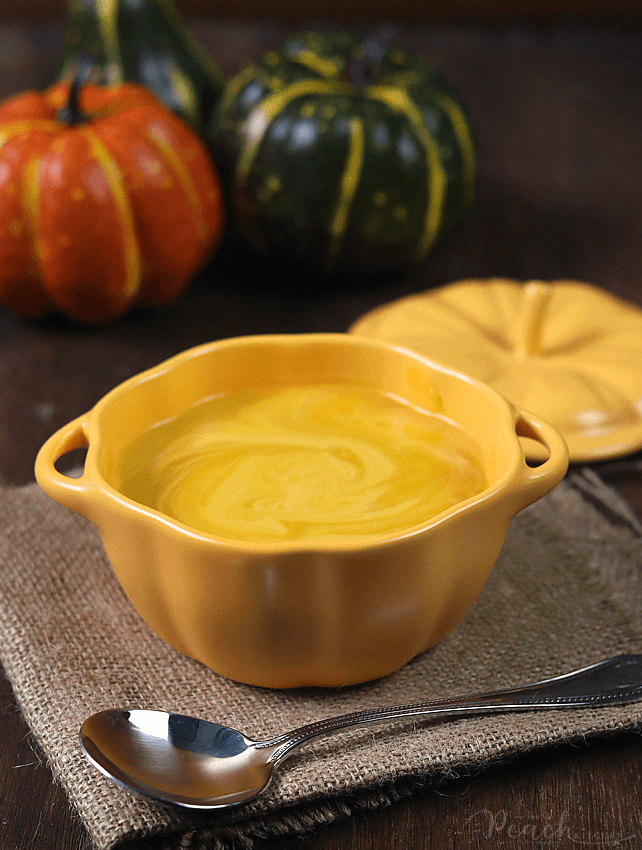 We love Creamy Pumpkin Soup here at home. It's one of Ykaie's favorite soups and she often requests for it especially on a rainy day like today. When I say creamy, I make it really creamy but now that I am trying to heal my acid reflux (which I'm gonna share on a separate post at www.mommypeach.com soon), I have to deviate from my usual recipe and make an acid-reflux friendly Creamy Pumpkin Soup.
To make it acid reflux-friendly, I didn't use onions and sautéed the garlic in very little olive oil. I also used creamy soy milk instead of heavy cream. You may use chicken stock or chicken cube to make it more flavorful or you can choose to just use water and make this vegan.
I am hoping to share more acid reflux friendly recipe in the following days to maybe help other people who are looking for acid reflux friendly meals they can add to their diet.
OTHER RECIPES YOU MIGHT LOVE…
Print
Creamy Pumpkin Soup (Acid-Reflux Friendly )
4 cups

squash/pumpkin cut into cubes

4

cloves garlic, minced

1 tbsp

olive oil

3 cups

chicken broth or

1

chicken cubes and 3 cups water

1 cup

creamy soy milk, I used Vitasoy Plus Milky
salt and pepper to taste
Instructions
Heat olive oil in a pot, sauté the garlic until fragrant. Add the squash.
Pour in the chicken stock or water. Bring into a boil.
Puree with an immersion blender or if you don't have an immersion blender, let it cool down slightly and use a regular blender. Transfer back into the pot and bring to a boil.
Simmer for 5-10 minutes until thickened. If the soup is too thick, add more chicken stock as needed until desired consistency is reached.
Season with salt and pepper to taste.
Turn off heat and add soy milk into the soup. Stir.
Enjoy with a toast or crackers for dipping
♥

IF YOU MAKE THIS RECIPE, KINDLY SNAP A PHOTO AND TAG @THEPEACHKITCHEN ON INSTAGRAM (OR HASHTAG IT #THEPEACHKITCHEN). I'D LOVE TO SEE WHAT YOU COOK