Some people can throw down a whole chilli, while others only need a small bite to feel the sting for hours. Why is this? Let's take a closer look.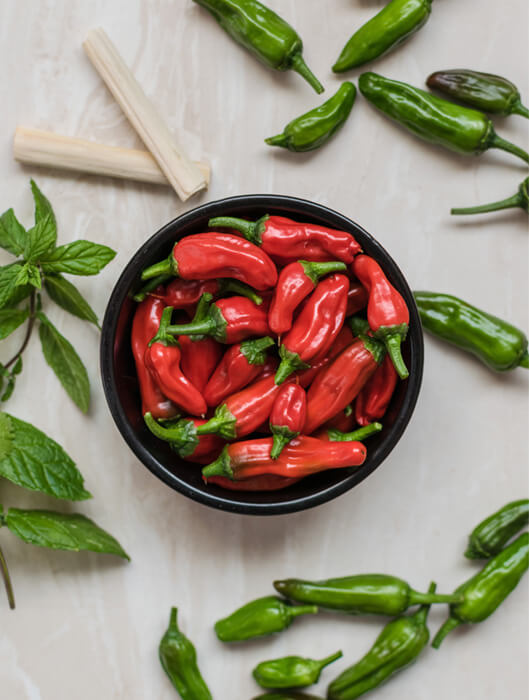 Why Does Spicy Food Sting?
Capsaicin is an active component of chilli peppers and is what causes the burning sensation in our mouths when eating spicy food. The substance doesn't activate our taste buds, but rather our pain receptors.
Capsaicin isn't soluble in water, which explains why the burning sensation only gets worse when trying to wash it down – the water only causes the substance to spread out inside the mouth, increasing the sensation of pain.
Why Some Tolerate Spicy Food Better than Others
Popular belief says people who tolerate spicy food without trouble, have ruined their taste buds. Fortunately, this is a myth. People who eat a lot of spicy food have the ability to develop a tolerance for spicy food, called desensitization.
In fact, this is the same process that happens when the body develops a tolerance for drugs or alcohol. With prolonged dietary changes, this ability can become chronic.
If your goal is to develop a tolerance to spicy foods, there's only one thing to do: You must eat more spicy food.
How to Increase Tolerance for Spicy Food
Mexican and Asian cuisines are known for being spicy, and a normal meal in these countries can easily be too much for western stomachs. Some restaurants have adapted to this by offering different levels of spiciness to their guests. In Indian restaurants, for example, it's not uncommon to have five different levels of spiciness to choose from:
Mild
Medium
Mattress
Vindaloo
Tandaloo
Mild is suitable for anyone, but already at the medium level, it might be too much for children. However, if you want to increase your tolerance for spicy food, you have to train at a higher level than you're comfortable with. That means working your way up all the way to Tandaloo.
Helpful Tips
If you simply can't stand the burning sensation, luckily there are some helpful tips. Capsaicin is highly fat-soluble, meaning that the substance binds itself to fat molecules. That's why it helps to drink milk or have a dip of frozen yoghurt with your spicy meal.
In India, many parents give their children "ghee" when they've had too much curry. This is a special type of clarified butter made from buffalo milk that really helps a burning mouth.
Have you always dreamed of basking in Asian or Mexican food, but struggle with the burning sensation? Well, now you know what to do: Choose a spice-level out of your comfort zone and use yoghurt or milk to numb the pain – and keep doing it over and over. Good luck!