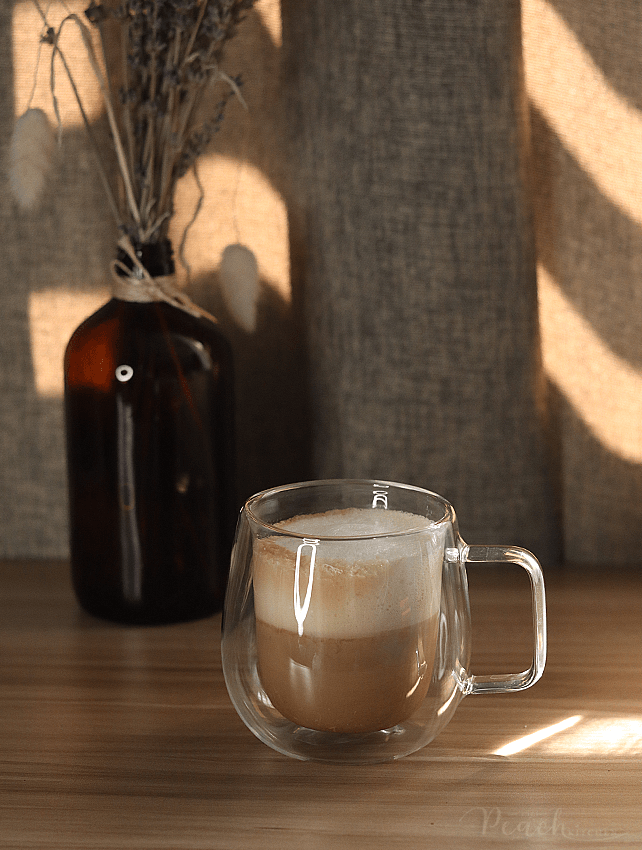 I love love love coffee! So even if I have LPRD (or acid reflux), I tried to find ways so I can have my coffee. I had coffee alternatives, one of which is this Teeccino Roasted Herbal Tea, which is parang brewed coffee na rin in taste and preparation. Now, I'm drinking Barlico which I have yet to give my review. After I finish my bottle of Barlico, I'm planning to go back to coffee beans but decaf muna since I'm still trying to heal my gut.
Before all of this happened in September, I used to take my brewed coffee with creamer but I was told by my doctor not to take creamer anymore. I also cannot consume a large amount of dairy so I limit my consumption and substituted soy milk for my coffee. I now use Vitasoy Plus Milky because even though it's soy milk, it's frothy and creamy!
I have to enjoy it kasi it's the first thing I drink every morning…. so I bought myself a milk frother para shala naman mag-kape sa umaga. Pwede na mag-cafe latte, cappuccino… ganern.
So I'm sharing with you my favorite coffee — and how I make it every day.
View this post on Instagram
O diba, ang saya? Welcome to The Peach Kitchen Home Cafe….
Yes, I'm also planning to have a small coffee corner here at home. I was a barista once (alam nyo ba yon..hihihi). I'm pretty sure I can still remember how to make different kinds of coffee. And I'd like to share it with you soon.
Ano bang paborito nyong timpla ng coffee? Share it with me in the comments.. kwentuhan tayo..
OTHER RECIPES YOU MIGHT LOVE…
Print
Caramel Soy Cappuccino (or Latte)
1

–

2

tbsp caramel syrup

1/2 cup

brewed coffee or instant coffee

1/2 cup

hot soy milk, I used Vitasoy Plus Milky
Instructions
Put your caramel syrup in a mug.
Brew your coffee or prepare your instant coffee with hot water and pour it in the same mug.
Heat your soy milk in the microwave and use a milk frother to make it foamy. Pour over your coffee and mix well.
Enjoy with a muffin or a sandwich.
♥

IF YOU MAKE THIS RECIPE, KINDLY SNAP A PHOTO AND TAG @THEPEACHKITCHEN ON INSTAGRAM (OR HASHTAG IT #THEPEACHKITCHEN). I'D LOVE TO SEE WHAT YOU COOK