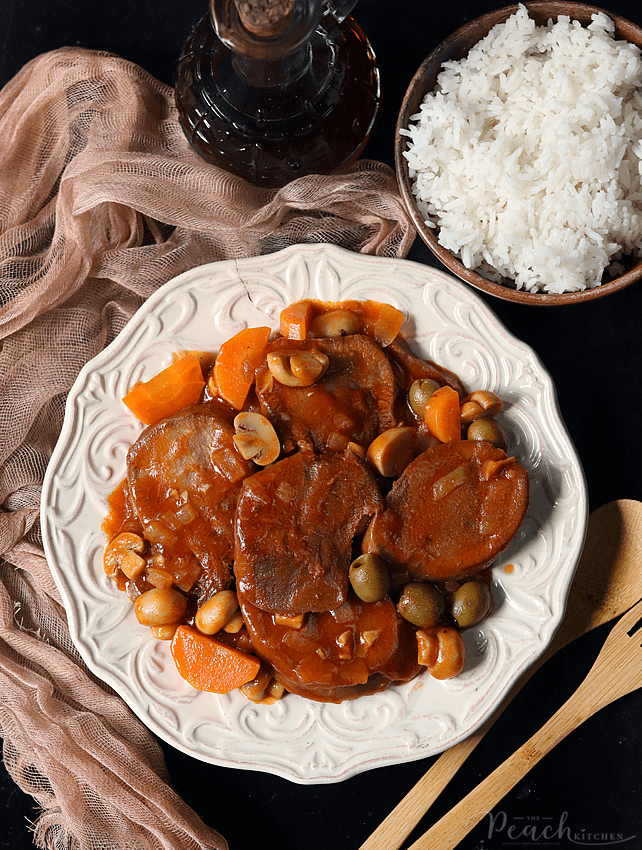 I did some baking and now some cooking! I hope this means I am really back in the kitchen for 2021. One of my goals this year is to do more cooking/baking/vlogging/and blogging. But having Onyx and Coffee, the kitten and the pup who are the two new members of our family, is kinda hard.
READ: MEET ONYX AND COFFEE – THE TWO NEW MEMBERS OF OUR FAMILY!
I had no idea it was gonna be like having twins! Talaga palang para ka ring may two babies…
Anyway, I think I pretty much adjusted to our everyday routine here at home and since I was craving for some Lengua Estofado, I made some over the weekend.
My nanay cooks delicious Lengua Estofado. I haven't done so in a long time because Ykaie loves Lengua In White Sauce kaya parating yon ang niluluto ko. I figured I have to let her appreciate lengua another way.
WATCH THE VIDEO HERE:
I ordered my lengua (ox tongue) online along with other fresh meats from Mrs. Garcia's Meat. They deliver for FREE anywhere in Metro Manila — ang saya diba? You don't need to go out to get fresh meat.
What's nice about the lengua is that it's already clean and peeled with the outer skin layer that you're supposed to peel after boiling it. So It's one less thing you have to do. All you have to do is just boil it until tender and slice it.
I normally use Olive Oil + Butter when sautéeing the garlic and onion pati na rin pag-sankutsa with the lengua but because I am trying to avoid too much butter and oil because of my hyperacidity, I only used a little bit of olive oil. But if you're going to cook it, and you don't have any health conditions, I suggest you use butter as well because it really adds a lot of flavor and makes this dish richer. Mas masarap, syempre.
OTHER RECIPES YOU MIGHT LOVE…
Print
Lengua Estofado
1

whole ox tongue
water for boiling
salt and pepper

2 tbsp

olive oil

2 tbsp

butter (optional but it makes it more tasty)

4

cloves garlic, minced

1

white onions chopped

1

carrot, halved then sliced

¼ cup

green olives

1/2 cup

whole mushrooms, halved

250 grams

tomato sauce

1 cup

water + 1 beef cube or

1 cup

beef stock
fish sauce (optional)
Instructions
Boil the ox tongue in salted water until tender. It will take you around 2 hours depending on your desired tenderness. (or 1 hour in a presure cooker)
Take the ox tongue out of the pot until it is cool enough to touch then peel off the leather-y skin off. (I skipped this step because the ox tongue I bought is already clean). Slice it thinly.
Heat oil (and butter , if using) in a wok.
Sauté garlic and onion in onion becomes translucent.
Add the tongue and cook for 2 minutes, then add tomato sauce, water, and beef cubes.
Simmer for 20 minutes. Add the olives and mushroom.
Season with fish sauce, if desired.
Simmer for another 3 minutes. Turn off heat and transfer to your serving dish.
Serve with steamed rice.
♥

IF YOU MAKE THIS RECIPE, KINDLY SNAP A PHOTO AND TAG @THEPEACHKITCHEN ON INSTAGRAM (OR HASHTAG IT #THEPEACHKITCHEN). I'D LOVE TO SEE WHAT YOU COOK