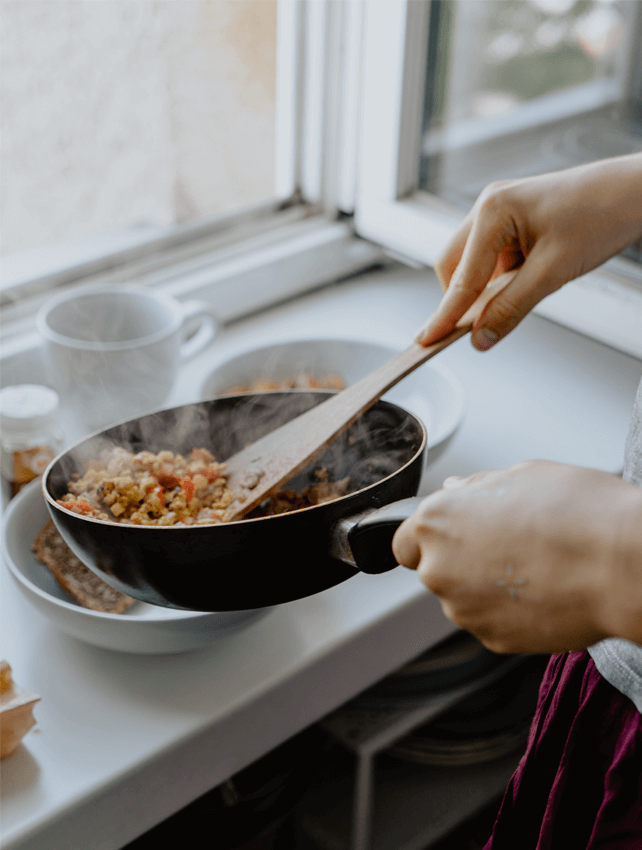 For some people, cooking can come naturally. For others, it's something to work on. Maybe you enjoy cooking, and you love the process of using high-quality ingredients to make a wonderful meal for the people you love, but it's not so natural.
There are strategies you can use to become a better cook, and pretty quickly at that.
The following are some tips to keep in mind.
Cook Things You're Excited About
Don't try to cook foods that you aren't interested in or that you don't personally love. It's so much easier to make great food when it's something that you want to eat yourself. For example, if you love Italian food, shop from an Italian specialty store and find a recipe that's authentic.
You can let the process of shopping for and buying ingredients be part of your process.
Learn the Basic Methods
Get a handle on some of the key methods of cooking.
These include roasting, stir-frying, and sauteing.
When you can get these basics right, you start to learn more about other methods and how things like your starting temperature affect your food.
For example, stir-frying means that you're going to be putting something into an incredibly hot pan. That is then a method you can use for other types of cooking, like searing meat and seafood.
Roasting is about cooking something at a medium temperature, usually with a lot of oil, for a longer period of time.
Sauteing is cooking something quickly and at high heat.
If you can start to get comfortable with these methods, you can then start to experiment with how you use them on a variety of ingredients.
Learn How to Hold a Knife
Holding a knife is one of the most important things you can learn when it comes to preparing food.
When you know how to properly hold a knife, it's going to make things easier for you. It's also going to make your food better because you'll be able to cut ingredients in the right way to work for each recipe.
As you learn how to hold a knife correctly, it builds your confidence too, and confidence is important to be a good cook.
You need to make sure you keep your knives sharp too.
If they're not sharp, it's dangerous, and it's going to make cooking harder and more frustrating.
Aim to sharpen your knives every few times you use them. Once a year, you might splurge and have them professionally sharpened.
Plan and Prep
One way to sabotage your cooking efforts is not having everything you need right in front of you. You can not only get frustrated but things might burn while you're scrambling to find this ingredient or that tool.
Plan your recipes, get all of your ingredients, and then lay out everything you're going to need ahead of time. You can measure each ingredient out and put it in a separate bowl.
This will help you stay calm and confident.
You'll stop thinking of cooking as something stressful and be able to relax and enjoy the process more.
Also, before you start anything, go over the recipe carefully and make sure there aren't any surprises waiting for you in the instructions.
Reading the recipe all the way through is vital.
Experiment with Herbs and Spices
The proper use of herbs and spices can transform pretty much anything you cook, whether dry or fresh.
Start to try out different individual herbs and spices, so you know what they taste like on their own and if you have something simple, like a roast chicken, start trying combinations.
You don't have to go crazy, but herbs and spices will play a real role in how you develop as a cook.
Embrace Acidity
Once you feel like you're really mastering the basics, you can start to learn some of the things the best chefs know.
For example, acidity is your friend in cooking. This means that adding something like lemon or another citrus can be what you need to boost the flavor of an otherwise bland dish.
Vinegar and brine can also be used to add acidity to a dish.
The best way to really become a better cook, aside from finding joy in it, is mastering the basics. You will then be able to maneuver around the kitchen with enough knowledge to feel comfortable with starting to experiment, and experimenting is what all great chefs do.