We can all agree that all-white kitchens are a dream. They look perfect in magazine spreads and look even better up-close. Even so, your inspo might not lie in having an all-white combination. So, what are your options, and how can you achieve them without getting messy? Are you interested? Let's dissect this exciting topic: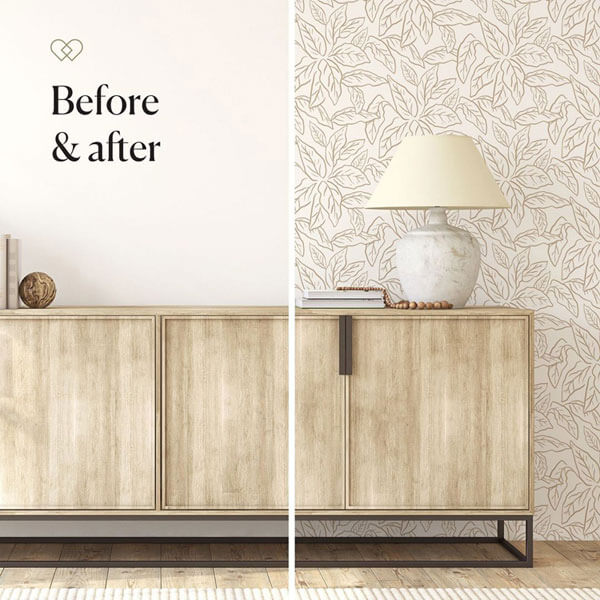 The Role of Wallpapers in The Kitchen
The kitchen gets messy very fast. You've got baking, frying, grilling, meal prepping, etc., going on in the same room, sometimes all at once. It's hard to keep track of all these activities, and before you know it, an accident can happen. That's why it's essential to wallpaper the space. It ensures that spills do not end up on the walls and makes it easier to clean up when done.
But traditional wallpapers are becoming less and less convenient for kitchens. In the past, people would choose one wallpaper and stick with it for a decade before getting another one. Now, people want to move from one theme to another at lightning speed. They barely give the glue time to settle before they are already renovating the kitchen and trying another design. So, using temporary wallpaper is an ideal option. You install it and remove it quickly and do not need a professional to come in with high labor costs. Besides, it comes in a range of colors, designs, and patterns and complements the look in any room.
Kitchen Wallpaper Color Ideas
Choosing the right hue for this space can be tricky. If you need help deciding which temporary wallpaper solid color can help you achieve the perfect kitchen, look no more than:
Pale Blue and White
Sure, maybe an all-white kitchen does not cut it for you. So, how about adding a bit of blue to the mix? These calm colors impart a coolness in the space that transports you to the coast. If you've been craving some coastal vibes, here's an option for you!
Where can you use it?
While people often save dramatic temporary wallpaper for accent walls, there's no rule against using subtle colors for the same purpose. You have two options in this case. You can have the whole room in one color, e.g., white, then add an accent wall in the opposite color, e.g., pale blue. Or you can use wallpaper with both colors to create an accent wall that complements fittings in the room. It's bold and still plays into the calmness in the hues. How about it?
Bright Green and Blue
Are you looking to add more life to the kitchen? Here's an idea. Work with blue and bright green colors. They are cheery, make the space feel more alive, and are a great way to make the space pop.
Implementation Idea
We'll assume that your fittings are either in bright green or blue. Then the wallpaper will come in as a complement. Say, for example, that your kitchen cabinets are a lovely bright green. You can install blue wallpaper as a backsplash. The two colors will not clash and will instead exude a vibrant boldness that will continue to serve the vibe in this beautiful space.
Blue and Black
How about making your space a bit moody? A few decades back, using dark colors in the kitchen was considered unpalatable- How times have changed! You can now embrace any vibe you want, with navy blue and black colors now taking the lead on dramatic effects. They create the allure of warmth and richness while making the space even more intimate and inviting. Of course, such hues are best left to bigger spaces as they can make small spaces feel a bit cramped.
Not So Popular Idea
Have you ever thought of papering your ceiling? Think about it. You probably think about the walls, cabinets, appliances, floors, and counters when laying out the kitchen. But what about the ceiling? It can make or break the look. So, here's how you can go about it. Focus on using either black or navy-blue paper on the main walls, creating that dark allure that makes this combo so exciting. Now, choose the alternative color and wallpaper this on the ceiling, masking the whole room, and making it feel even more intimate. A dinner in such a setting would feel so inviting that guests would find themselves gushing over their newfound closeness with the host. Does it seem like something you would enjoy?
Green and White
What comes to your mind when you picture a kitchen with green and white hues? The farm? There is an undeniable freshness that this combination lends to the kitchen. It makes the room feel airier and more connected with the earth. You can even add wooden accents to complete the whole feel.
Thoughts
How about using these colors to create a lovely breakfast nook? You can paper the walls with a combo of green and white. These can be contrasting wallpaper designs, or you can choose one that uses both hues. It creates quite a lively scene that will make breakfast sessions even cheerier.
Gray and White
We keep coming back to white wallpaper, and for a good reason. After all, have you ever seen a hue that did not work well with white? Besides, if you want a color to pop, you always need to introduce an aspect of contrast. Gray and white work well together, thanks to their subtle contrast that blends with the modern approach.
Tips
You can use gray wallpaper around on accent walls or even as a backsplash. For even more effects, wallpaper other areas in the kitchen like the refrigerator front, pantry, island base, kitchen hutch, ceiling, cabinets, etc. Anything that can add a bit of gray to the room to complement the white will be a welcome addition!
When choosing any color or wallpaper for your kitchen, consider the vibe you want in the room. Are you going for an intimate vibe, or are you here for fun notes? That will guide your color and wallpapering ideas and help you get it right each time. Have fun!