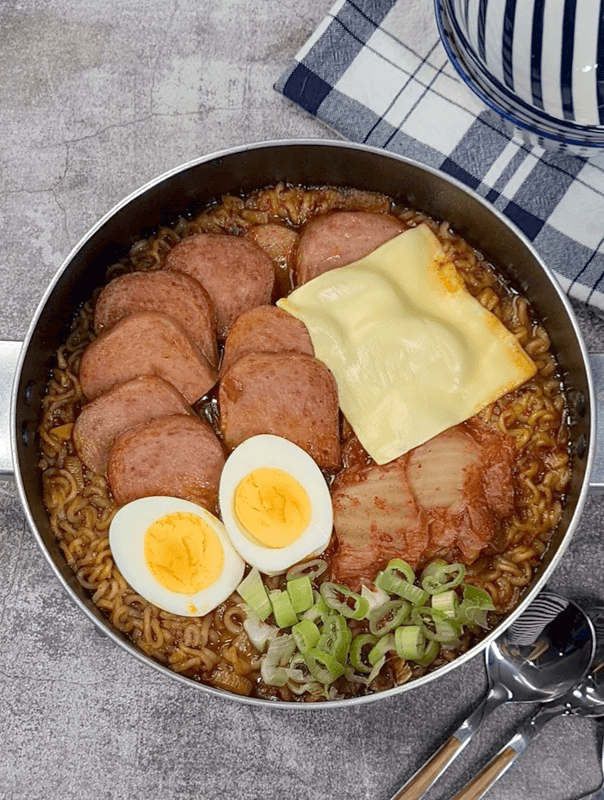 Another " K-Drama made me cook this" moment! But this time, SPAM® Budae Jjigae naman. Suddenly had a craving for this. Thank fully, all the ingredients are pantry staples, especially SPAM.. Yesss, pati gochugaru, at gochujang dahil nga nahilig na mag-try ng Korean dishes and of course, ng favorite ng lahat: Samgyeopsal.
This dish is very easy to cook, all you need is to fry the SPAM. Combine the garlic, gochugaru, sugar, gochujang, soy sauce, and vinegar in a small bowl. Then you need to sauté the white parts of the leeks, add the chicken stock and gochujang mixture and simmer for 30 minutes before adding the instant noodles — without the seasonings ha.
When the noodles are cooked, add the fried SPAM, and cheese slices, cover for a minute then garnish with soft boiled egg and green leeks before serving.
WATCH THE VIDEO HERE: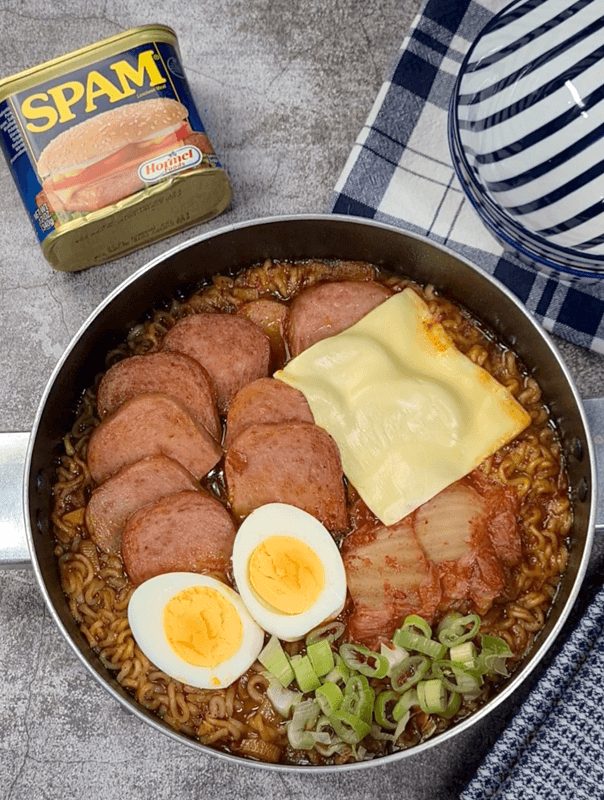 O diba, easy lang? This is perfect to eat on a rainy afternoon. I'm sure you always get a craving for ramyun… the next time you get a craving — try this.
OTHER RECIPES YOU MIGHT LIKE:
Print
SPAM Budae Jjigae
Garnish
1

can SPAM® Classic,8 slices lengthwisethen crosswise

2

packs instant noodles

1

slice American cheese

4 tbsp

kimchi

1

bunch chopped leeks

3 tbsp

oil

2

soft boiled eggs, sliced lengthwise
Soup
1 tbsp

garlic, chopped

1 tbsp

sugar

1 tbsp

vinegar

1 tbsp

gochujang

3 tbsp

soy sauce, Japanese/Korean

2 tbsp

gochugaru

2

L chicken stock
Instructions
Heat oil and fry SPAM® Classic.
Mix the chopped garlic, sugar, vinegar, gochujang, soy sauce, and gochugaru into a paste.
In the same pot, sweat the white leeks. Add stock into the pot and boil.
Add the paste into the pot and simmer for 30 minutes.
Add 2 packs of instant noodles into the broth and cover for 3 minutes.
Arrange the SPAM® Classic slices, kimchi, cheese, and cover for 1 minute.
Garnish with the chopped green leeks and 1/2 of the soft boiled egg. Serve.