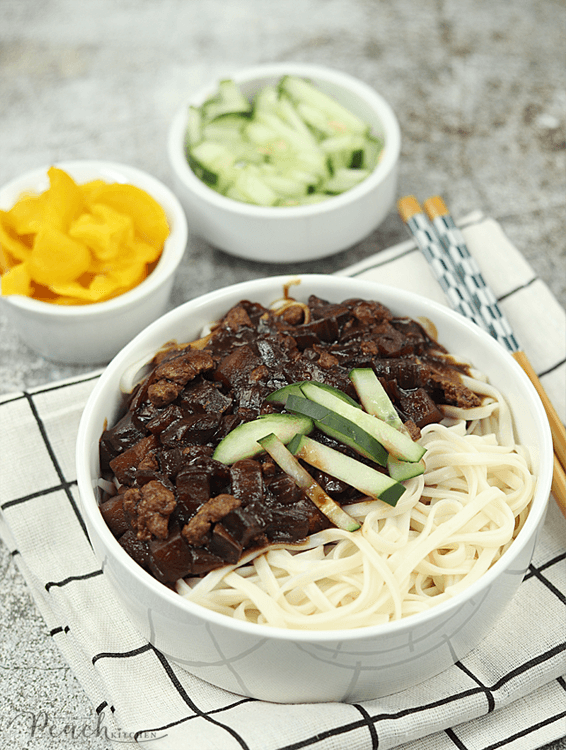 Annyeong Chingu! After watching so many K-dramas and seeing bowls of Jjajangmyeon (Korean Black Bean Sauce Noodles) get eaten with such passion, I got jealous. I also want to try it. Kasi naman, parang ang sarap! So, we decided to order it from a Korean restaurant one time — it was really good. But the cooking mama in me is really curious, and I also want to try and cook it myself, so I looked for recipes.
Like any other recipe, there are different versions — some uses ground pork, some uses pork belly, others had no meat in them. The vegetables used also varies — potato, carrots, cabbage, zucchini. Other put mirin, others don't. Others put sugar, others don't.
Since this is the first time I'll be cooking Jjajangmyeon, I decided to make it with ground pork, potato, zucchini, and carrots. I also used dry noodles instead of the refrigerated fresh noodles.
Jjajangmyeon is made with Chunjang – a raw dark soybean paste which is made from roasted soy beans and dark caramel. You could easily find Chunjang in all Korean supermarkets.
WATCH THE VIDEO HERE: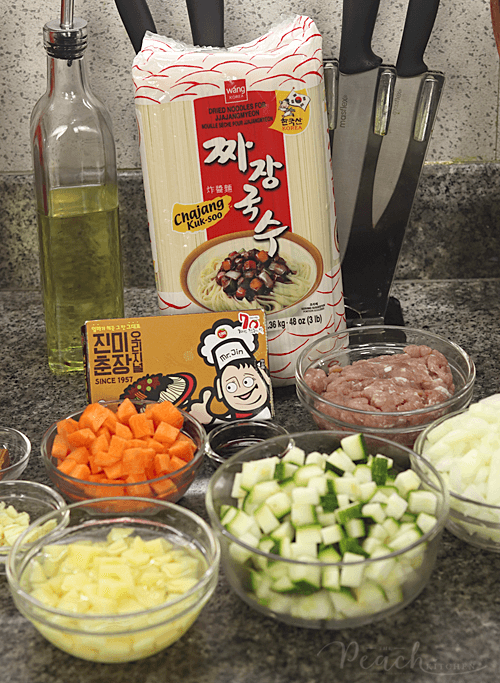 Guess what — we loved it! even more than the restaurant version because it's tastier. I'll give other recipe versions a try too. Next time, I'll try this with pork belly, I'll put sugar, and use fresh noodles.
BTW, instead of noodles, you could also pair the lovely dark sauce with Korean rice cake (tteokbokki) or a bowl of steaming hot rice.
OTHER RECIPES YOU MIGHT LIKE:
Print
K-Drama Made Me Cook This: JJAJANGMYEON
dried noodles for jjajangmyeon, cooked according to package directions

250g

ground pork

3 tbsp

cooking oil

2

large white onions, chopped

5

cloves garlic, chopped

1

potato, diced

1

zucchini, diced

1

carrots, diced

300g

pack black bean paste

1

pork cube

2 1/2 cup

water

1 1/2 tbsp

soy sauce

2 tbsp

mirin
salt and pepper to taste

1 tbsp

cornstarch +

2 tbsp

water to form slurry
julienned cucumber for garnish
pickled radish to serve
Instructions
In a large pot, add in 3 tbsp cooking oil and add the ground beef. Cook until brown.
Add in the chopped onion and garlic and sauté for another min.
Add the potato, zucchini, and carrots and mix well. Cook until the vegetables are softened.
Add the black bean paste and mix well.
Pour in the water.
Add the pork cube, soy sauce, and mirin.
Season with salt and pepper to taste. Adjust the seasonings if necessary.
Add the cornstarch slurry and bring to a boil until sauce thickens.
Before serving, cook the noodles according to package directions.
Drain and rinse the noodles with cold water so they'll remain springy and al dente.
Place adequate amount of noodles in a bowl and pour 1 – 2 ladle of sauce over the noodles.
Garnish with cucumber and serve with pickled radish on the side