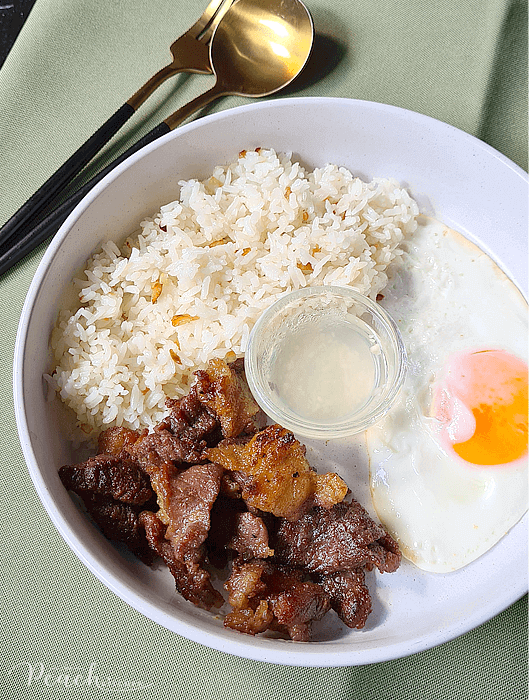 TapSiLog is really one of our comfort foods. There's nothing like garlicky beef strips with that perfect balance of sweet and savory paired with hot garlic fried rice and sunny side up egg with super runny yolk to comfort you when you're not feeling good. Kaya naman pagkagaling namin from Covid ni DaddyDoodleDoo, this is what he requested for breakfast the next day.
I've always wanted  my beef tapa to be on the sweet side so I put sugar, I also like it garlicky. I want the beef sukiyaki cut for my Beef Tapa para super tender sana but we didn't have the strength nor the patience to go to the grocery so I just used sirloin from the wet market. It was okay but there are some parts that turned out a bit hard.
DaddyDoodleDoo requested for the next tapa to be super soft and almost shredded so I might have to make another kind of marinade and boil the beef in it before frying.
What do you think? What's your Beef Tapa recipe? Share nyo naman sa akin.
WATCH THE VIDEO HERE:

Print
Beef Tapa
500g

beef sirloin, sliced thinly and then to strips

8

cloves garlic, chopped

1 tbsp

soy sauce

1 tbsp

sugar

1 tsp

salt

1/4 tsp

black pepper
to serve
garlic fried rice
fried egg
sukang masarap
Instructions
Combine beef sirloin, soy sauce, garlic, sugar, salt, and pepper in a container. Mix well.
Set aside in the fridge to marinate for at least 2 hours or overnight.
To cook the next day, just fry it in cooking oil until brown.
Serve with garlic rice, egg, and vinegar dipping sauce