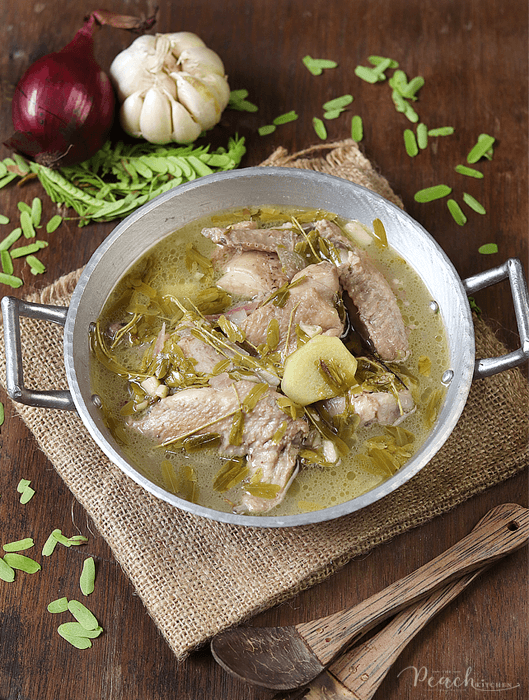 Yesterday, we craved for Sinampalukang Manok!
Sinampalukang Manok is a lot like our favorite and the most popular Filipino dish (next to Adobo) which is Sinigang because it has a sour broth. But it's also different because it doesn't contain any vegetables – it's a simple, easy to cook dish with minimal ingredients.
When I was still learning/starting how to cook, I cook this dish using usbong ng sampalok or young tamarind leaves and sinigang mix to make the broth sour. But now, I prefer using fresh sampalok — it makes a lot of difference in terms of taste.
WATCH THE VIDEO HERE:
Unlike Sinigang, Sinampalukang Manok doesn't have any vegetables but if you want, you can also add a bit of sitaw or kangkong or okra — di naman yan magrereklamo..LOL!
However you want to cook your Sinampalukang Manok is up to you but one thing I know is that this is a dish where you can really taste the flavor of chicken and because it's soup — it's very comforting. You'll surely crave for more — isa itong unli rice ulam.
Print
Sinampalukang Manok
250g

sampalok (tamarind)

3 cups

water

2 tbsp

cooking oil

4

cloves garlic. minced

1

onion, chopped

800g

chicken, cut into pieces

1

chicken cube

1/2 cup

sampalok leaves (usbong ng sampaloc)
patis to taste
green chili (optional)
Instructions
Make the sampaloc broth: Boil and simmer the sampaloc in water until soft. Crish it with a masher and using a strainer, separate the broth from the seeds and skin. Set aside.
Heat oil in a pot and sauté the garlic, onions, and ginger until the onion becomes translucent.
Add the chicken and continue cooking until brown.
Pour in the sampalok broth, add the chicken cube and stir.
Add the sampalok leaves. Cover and simmer for about 25 minutes until cooked.
Season with patis to taste and add green chili, if using and let it simmer for 2 more minutes.
Serve hot and enjoy!