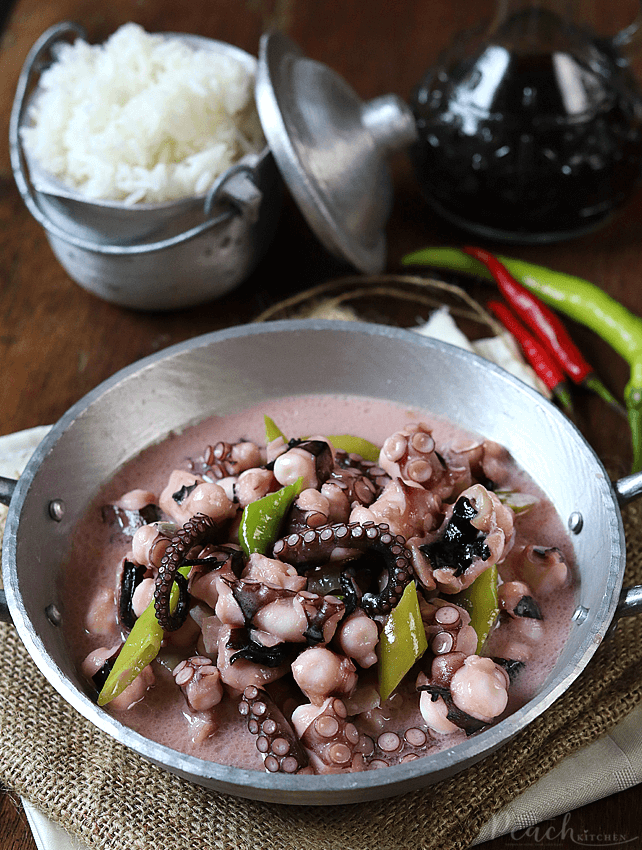 I've been seeing a lot of octopus in the market (palengke) lately and I've always wondered how to cook them I mean, I've tried octopus pieces and baby octopus in Takoyaki before but I've never tried bigger ones. Nor have I tried cooking it.
Well, there's a first time for everything and I decided that last week was my gonna be the first time I cook an octopus. I heard that it's delicious with coconut milk so that's what I did. Niluto ko sya ala Bicol Express!
I sautéed onion and garlic in oil followed by the octopus pieces. Then I poured in the coconut milk and I simmered the octopus for just a couple of minutes before taking it out again so I can thicken the sauce. I did this because I might overcook the octopus and it might get rubbery. Like what I said earlier, it's my first time to cook octopus. Sayang naman kung magiging parang bubblegum sya, diba?
You know what I discovered while I was cooking it? Octopus is already salty as it is. That's why I didn't season this dish with salt anymore, I seasoned the coconut milk with a little sugar to balance the saltiness of the octopus. — And it worked. There was a balance of flavor. I added sliced finger chillies for heat but if you prefer a spicier dish, you can add bird's eye chili or siling labuyo.
This is best served with rice! *wink*
Nakapagluto na ba kayo ng octopus? Share nyo naman kung ano pang luto ang ginagawa nyo sa octopus so I can also try.
OTHER RECIPES YOU MIGHT LOVE…
Print
Ginataang Octopus (Octopus in Coconut Milk)
1

Octopus, about

900g

, cleaned and cut into pieces

1 tbsp

cooking oil

3

cloves garlic, minced

1

large onion, chopped

1

200g pack of coconut milk

1 tsp

sugar

2

finger chilis, sliced
pepper to taste
bird's eye chili (optional)
Instructions
Heat oil in a pan and sauté the onion and garlic until it becomes fragrant and translucent.
Add the Octopus pieces and saute in the garlic and onion for about a minute or until it turns pink.
Pour in the coconut milk and bring to a simmer, take the octopus from the sauce and season the sauce with sugar. Simmer until it thickens.
Add the octopus back and add the chili. Let it cook for about 3 minutes and season with pepper to taste.
You may add bird's eye chili to make it more spicy.
Turn off heat, transfer to your serving plate and enjoy.
♥ If you make this recipe, kindly snap a photo and tag @thepeachkitchen on Instagram (OR hashtag it #thepeachkitchen). I'd love to see what you cook!