Meet the ice cream pie of your dreams….. S'mores Ice Cream Pie ♥♥♥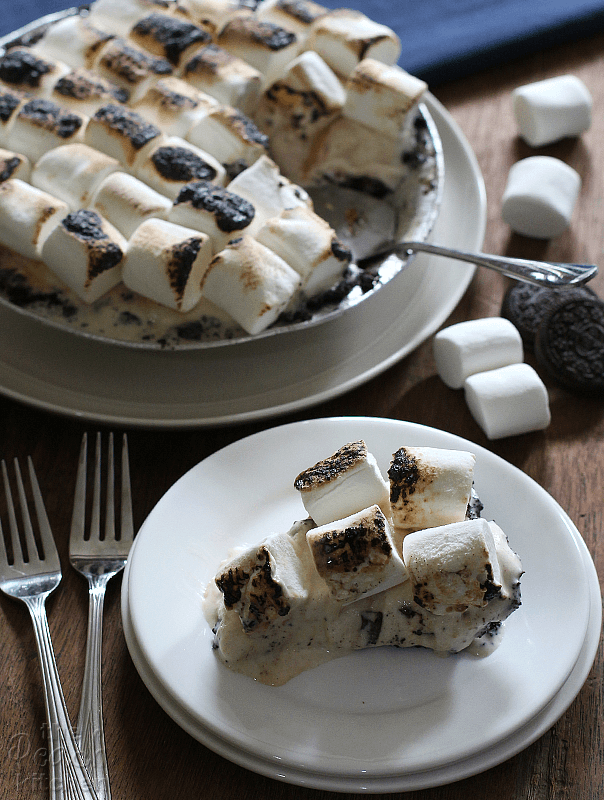 I am starting to believe in the Ghost month as the fam kept on having one bad luck after another. First my mom gets hospitalized for four days, then Twinkle got sick for a week, followed by peanutbutter♥ having high blood pressure, and now our helper has left us. We badly needed a treat.
And when everybody is down — especially me — there's only one thing that can cheer us up — ICE CREAM! So off we went to Landers Superstore to get a couple of pints of California Ice Cream.
There are lots of flavor choices to choose from: Salted Caramel, Molten Chocolate Cake, Dirty Mint Chip, and Salty S'mores.
Our favorite CoolHaus Ice Cream flavor is Salted Caramel. We love it because it's super creamy and has that authentic, well-pronounced salted caramel flavor. It's made with Real California Milk too!
But this time we were there to try a different flavor. We chose Salty S'mores this time. CoolHaus Salty S'mores is made up of Salted Tahitian Vanilla Bean Ice Cream, Graham Cookie Butter, Marshmallow Swirl and Dark Chocolate Swirl. As per it's description, this California Ice Cream is already super dooper yummy, right? Well, we were drowning our sorrows so I gotta make this thing more indulgent that it already is.
I decided to turn it into this S'mores Ice Cream Pie.
We're talking indulgent so I made an oreo crust and topped the pie with toasted large marshmallows to give that authentic S'mores taste! This pie could just be the answer you're looking for to solve your problem, it could cool down your summer days, and satisfy your camper craving during rainy ones.
Now we feel so much better and our tummies are happy too!
To know more about California Ice Cream, drop by Real California Milk on Facebook.
Print
S'mores Ice Cream Pie Using California Ice Cream
Oreo Pie Crust
1 cup

of crushed oreo

¼ cup

of unsalted butter, melted
Ice Cream Pie
2 pints

of CoolHaus Salty S'mores Ice Cream
Large Marshmallows
Instructions
Make the Oreo Pie Crust: Preheat the oven to 350 º F.
In a medium bowl, combine graham cracker crumbs and melted butter.
Use a fork to mix everything together and then pour the mixture into the baking pan.
Press the mixture into the bottom of the prepared pan and bake for 10 minutes or until set.
Remove from the oven and let it cool.
Pour the California Ice Cream into the oreo pie crust. Smooth with a spatula. Freeze the pie for 3 hours or until the pie is completely solid.
When ready to serve, top the S'mores Ice Cream pie with the large marshmallows. Use a culinary or chef's torch to toast the tops of the marshmallows. The marshmallows will toast quickly. I want them a little burnt but you may want to just barely toast them
Cut the pie into slices and serve! Enjoy!
Notes
To make the crushed oreo, use a food processor or put the oreo cookies in a Ziploc bag and smash with a rolling pin. The pie will keep in the freezer, covered with plastic wrap, for one week.
♥ If you make this recipe, be sure to snap a photo and tag @thepeachkitchen on Instagram (OR hashtag it #thepeachkitchen). I'd love to see what you cook!