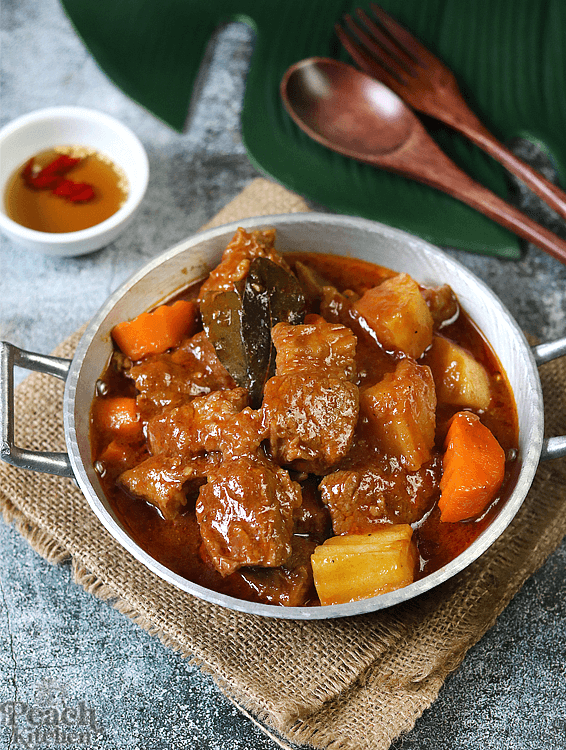 Beef Mechado is our Filipino-style beef stew made with chunks of beef, potatoes, and carrots in thick, flavorful tomato gravy. It is usually served when there's a celebration or during weekends because this is considered a special dish.
What my nanay used to do when cooking Beef Mechado is to get a large chunk of beef and make an insertion in the middle to make way to a large strip of pork fat that will serve as a wick or "micha". But since braising a large chunk of beef takes so much time, we have adapted into cooking this with little chunks of meat.
Di ko pa na-try magluto ng mechado with "micha" but I will try it one of these days — pag marami akong time…hehehe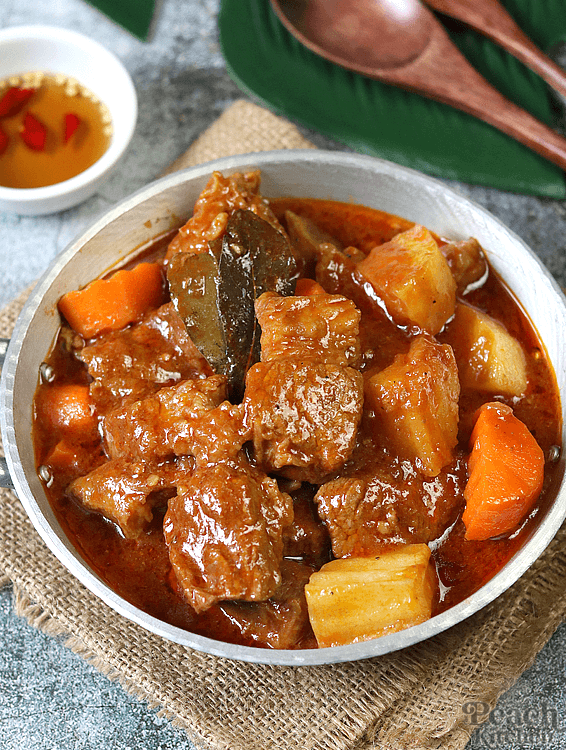 This is one of my tatay's favorite ulam and now, one of my Dadydoodledoo's favorite as well. I think may magic ang recipe na to…LOL! Kaya naman hindi ito nawawala sa menu rotation namin dito sa bahay. I think I cook this once every two weeks and this is good for lunch and dinner already.
What I love about saucy ulams like this is that even if there's leftovers, the flavor just get better the next day. Minsan mas masarap pa nga pag kinain mo kinabukasan at nabibitin ka pa kasi kaunti na lang, diba?
Print
Beef Mechado
1

kg beef camto, cut into chunks

2 tbsp

soy sauce
juice of

3

calamansi

2

large potatoes, cubed

1

carrot, cut into fat strips

6 tbsp

oil

6

cloves garlic, minced

1

large white onion, chopped

1 cup

tomato sauce

1/4 cup

tomato paste

4

pcs bay leaf

2 cup

water

1

beef cube
patis and pepper to taste
Instructions
Marinate beef camto in soy sauce and calamansi for at least 30 minutes.
Fry potatoes and carrots in heated oil until the edges are a little brown and set aside
In a wok, heat around 2 tbsp cooking oil and sauté garlic and onions until onion become translucent.
Add beef and sear until brown.
Pour in the beef marinade, tomato sauce, and tomato paste.
Add bayleaf and water.
Bring to a boil. Lower heat  and simmer for 1.5 to 2 hours, adding 1/2 cup of water from time to time if sauce becomes too thick.
When beef is tender and the sauce has reduced into a thick gravy, add the beef cubes and stir.
Season with patis and pepper to taste.
Add potatoes and carrots and simmer for 3 more minutes.
Serve with rice or pandesal