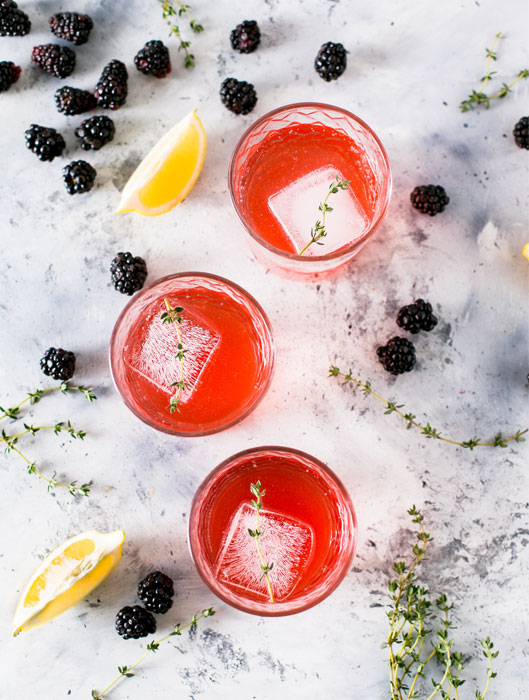 You don't have to be a bartender or have high-end spirits to enjoy good cocktails.
When it comes down to it, cocktails contain four ingredients; a spirit, bitters, sugar, and water. Mix and match them to different degrees, and you get a ton of cocktails. Here are a few simple ones that you can try first.
Daiquiri
Daiquiri is one of the oldest cocktails but remains a classic favorite for cocktail lovers. The classic cocktail requires only three key ingredients; two ounces of white rum, one ounce of freshly squeezed lime juice, and half an ounce of simple syrup. 
Add all ingredients to a cocktail shaker with ice until well combined. Strain into a cocktail glass garnished with a lime wheel.
There are tons of fun variations to this cocktail. Blend with frozen strawberries for a delicious Strawberry Daiquiri. You can also blend bananas, white rum, Cointreau, fresh lime juice, syrup, frozen bananas, and ice for a tropical Banana Daiquiri.
Appletini
The Appletini is a fantastic classic cocktail, and it is super easy to make. You will need two ounces of vodka, two ounces of apple juice, and a quarter ounce each of lemon juice and syrup or honey.
Add all your ingredients into a cocktail shaker with ice. If you don't have one, you can use a mason jar or water bottle, shake until chilled, and strain into a martini glass. Garnish with an apple slice, and you're set.
Liquor and Soda
There are a ton of liquor and soda combinations, from rum and coke to vodka soda. Alcoholic drinks with soda are delicious, and you can make them with ingredients that lounge in your fridge.
Grab a liquor of your choice and soda. Pour one part liquor and two parts soda into a cocktail glass filled with ice. You can squeeze a lemon or lime into the mixture or enjoy it as is.
Margarita
The Margarita is a classic favorite that doesn't need out-of-the-way ingredients to make. Ingredients include two ounces of tequila, one ounce of lime juice, and a quarter ounce of syrup or agave.
Optionally, you can salt the rim of your glass to accentuate the flavors of your Marg. Pour some salt into a flat dish, rub a lime wedge on the rim of the glass so the salt has a base to stitch, and dip the glass in salt.
Combine your tequila, lime juice, and syrup in a cocktail shaker with ice. Shake until cold, pour into a salt-rimmed glass, and enjoy.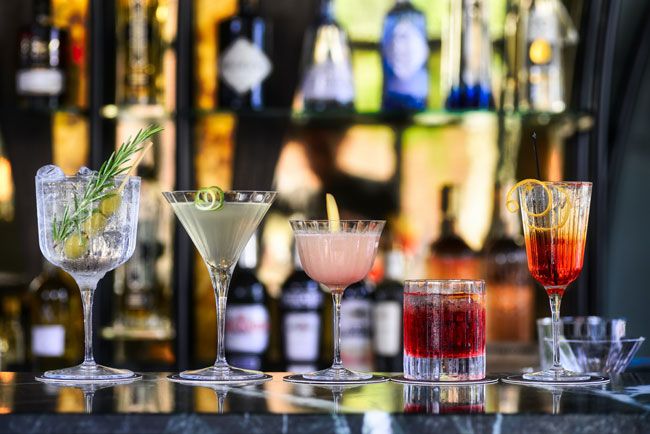 Bourbon Ice Cream Float
This cocktail is for sweet tooths, and it requires bourbon, soda, and ice cream. Any high-quality ice cream will do, but you need something without chunks.
Any glass cup would do, but the best cocktail glass for this recipe is a highball. Add two scoops of ice cream into a highball glass, and follow it with one ounce of bourbon and 8 ounces of soda. Stir with a straw and enjoy.
Rum Punch
The Rum Punch is a fun, fruity, refreshing cocktail that should never leave your summer brunch menu.
Pour one ounce of dark and light rum, two ounces of pineapple juice, one ounce of orange juice, and a quarter ounce of lime juice and grenadine syrup into a shaker. Mix it all and strain it into a hurricane glass with ice.
Screwdriver
The Screwdriver is a fruity two-ingredient cocktail that takes minutes to prepare. You'll need two ounces of vodka and five ounces of orange juice.
Add your ingredients to a shaker with ice. Shake until chilled and strain into a cocktail glass with ice. Garnish with a citrus fruit wedge (lime, lemon, or orange will do) and enjoy.
Gin Gimlet
Gin lovers will love this easy gimlet. This tangy, sweet cocktail is perfection. Only three ingredients and you're good to go.
Mix two ounces of gin, one ounce of lime juice, one ounce of simple syrup, and a quarter ounce of soda water in a shake with ice. Shake and strain into a coupe cocktail glass. It is not complete without a lime wheel on the rim, and enjoy.
Whiskey Sour
The Whiskey Sour is a classic cocktail that is a refreshing drink for the summer. The basic recipe requires only three essential ingredients.
Add two ounces of whiskey and one ounce of freshly squeezed lemon juice and simple syrup into a shaker with ice. Shake till chilled and serve in a cocktail glass with ice. You can garnish it with a citrus wheel or enjoy it as is.
Another variation is adding an egg white to the shaker and mixing it in, adding a phenomenal layer of creaminess.
Cosmopolitan
The Cosmopolitan is a fun drink to make and serve to guests. It needs two ounces of vodka, one ounce of cranberry juice, and one ounce of lime juice.
Mix it all together in an ice shaker with ice and serve in a martini glass. It has a vibrant pink color and a sweet, tangy taste that you'd love.