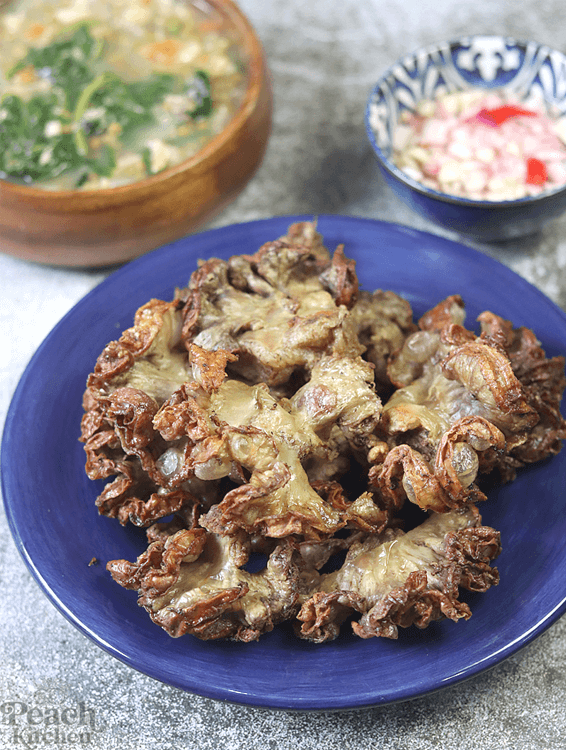 When it comes to pork dishes, ito na yatang Chicharon Bulaklak ang pinaka-favorite ni Ykaie at Twinkle. It makes for a great viand because it's fatty, crispy, and very tasty. Same reason why it's also great as pulutan or beer chow. We sometimes order Chicharon Bulaklak when we eat out but more often than not, my kids end up not liking them. This is because most restaurant don't fry them super crispy and almost dry of the fat. I think it has something to do with the weight and volume. But when I cook it at home, medyo tostado at super super crispy talaga and wala na masyado lalabas na oil when you bite into it. That's how we like it.
In English, this is called the ruffle fat.
What is Ruffle Fat?
Ruffle Fat is not actually FAT. It is very fatty, though but it is that thing that holds the coil of the pig's intestines together. When that coil is taken away, it yields this flowery thing that is the ruffle fat. Nagiging parang bulaklak sya — hence, Chicharon Bulaklak.
How Do You Cook Chicharon Bulaklak?
You wash it until very clean and cut it into pieces. Then boil it in salted water until tender – about 30 to 40 minutes. You have to season it with salt again and let it sit for about 2 hours in the fridge before you can fry it to a crisp.
Print
Chicharon Bulaklak
1.1

kg pork ruffle fat
water for boiling

2 tbsp

rock salt
oil for frying
Vinegar Dipping Sauce
¼ cup

vinegar

6

cloves garlic, minced

1

onion, chopped
a pinch of salt
bird's eye chili
Instructions
Wash and clean the ruffle fat and cut into small pieces.
Boil ruffle fat in water with 1.5 tbsp rock salt until tender.
Drain and season with the .5 tbsp rock salt. Mix well.
Refrigerate for 2 hours.
Make the dipping sauce: Just combine vinegar, garlic, onion, and pinch of salt. Mix well. Set aside for later.
Fry ruffle fat in oil until a little brown and crisp.
Serve with the spicy vinegar dipping sauce and steamed rice.