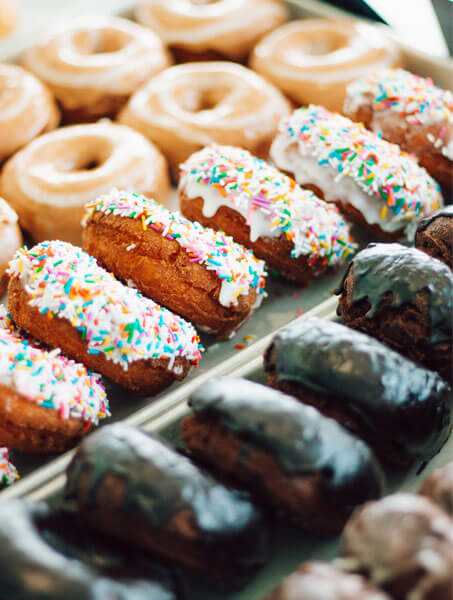 Many of the baked goods you see on the market today started off being created, manufactured, packaged, and shipped from someone's home. It's a common and economically-wise way to keep overhead and operational costs down until sales increase. However, once the demand for your product increases, keeping up with manufacturing and packaging becomes time-consuming and expensive.
Entrepreneurs who continue filling orders for baked goods out of their homes often struggle to meet customer expectations. As a result, they start losing business. One of the most effective ways to prevent such an occurrence is outsourcing to a bakery manufacturing company.
What Are Bakery Manufacturers?
Bakery manufacturing companies are agencies contracted to manufacture and sometimes package baked goods on a mass scale, enabling business owners to keep up with customer demand. 
Do You Need A Bakery Manufacturer?
Outsourcing your manufacturing and packaging needs is a serious business decision. You're entrusting the quality of your product to someone else. Not to mention, you'll need to ensure that you can afford to pay for and maintain these services. So, how do you know when you're ready to outsource the production of your baked goods? Below are a few signs.
You can't keep up with customer or retailer orders
There's been a sizeable increase in demand (i.e., a major department store wants to sell your products)
You can't afford to hire staff and buy additional equipment
Wait times to receive your products are extensive
Increased demand leaves little room for your personal life
Increased demand is causing you to fall behind on other aspects of your business
Finding A Suitable Bakery Manufacturing Company
If you have experienced any of the problems listed above, it's time to start looking for a manufacturer to assist you with production. Below are some factors to consider as you evaluate your options.
Review Your Budget
The first consideration is affordability. Are you making enough sales to cover your contract with a bakery manufacturer, other business expenses, and generate a profit? You can acquire estimates from a few agencies to get a general idea of how much it will cost. If you can't afford the additional expense, you can look into fundraising options to acquire more capital. Try to find ways to raise money that don't require you to go into debt, like asking loved ones, taking on a partner, or crowdfunding.
Food Type & Ingredients
Although there are a lot of bakery manufacturing companies on the market, the services offered aren't the same across the board. The idea is to find a service provider specializing in the type of baked goods your business offers. That way, you can ensure they have the necessary equipment, ingredients, and health and safety procedures to provide your customers with quality baked goods.
Reputation, Certifications, and Health And Safety Ratings
As you begin narrowing down the list of bakery manufacturers, do some research on the company's reputation, qualifications, and health and safety ratings. You want to work with a manufacturer that is well-liked in their industry. They should also meet the necessary manufacturing standards are it pertains to efficient equipment, cleanliness, and safety measures.
Additional Services
Last but not least, consider the additional services a bakery manufacturing business offers before making a final decision. For instance, some manufacturers will also package and ship your baked goods to stores and customers. These additional services are often bundled together to provide you with a reasonable price. They'll also save you a lot of time and money trying to complete these tasks yourself or outsourcing these needs to multiple companies. 
When your home-based baked goods business is starting to increase in popularity, it's time to leave the production to the experts. A bakery manufacturer has the necessary space, equipment, supplies, and personnel to mass-produce everything from fresh bread to brownies. Outsourcing your production needs will ultimately reduce stress, improve customer satisfaction, and conserve time, allowing you to focus on increasing your company's profitability.