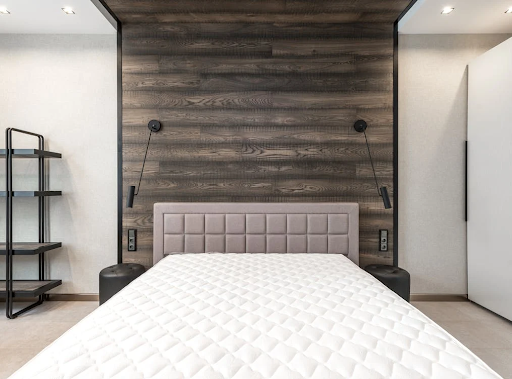 The bedroom is undoubtedly one of the most important areas in all homes, so it makes sense to invest in it. One of the best ways to improve your bedroom is by replacing your old, saggy mattress with a new and better one. According to the Sleep Foundation, your mattress should be changed every 6 to 8 years. When the time is right to buy a new mattress, you may find that the purchase decision won't be as straightforward as anticipated. Therefore, knowing what to search for in a new mattress is advisable to ensure you make the best choice. Below are some top things to consider when buying a new mattress.
The perfect balance of comfort and support
Humans reportedly spend about one-third of their lives asleep or attempting to do so. Therefore, investing in a mattress with the right balance of comfort and support is vital to making your sleep sessions more enjoyable. For a mattress to have the right mixture of comfort and support, it must perform well in three key areas: firmness, pressure relief, and sinkage. Many people think that a firmer mattress is always better than a softer one for support, but it is a bit more complicated. The final decision typically comes down to personal preferences. Therefore, consider the pros and cons of the firm and soft mattresses before deciding what is best for you.
It is also vital to consider pressure relief, or how much the mattress conforms to your curves. You can experience discomfort and restless sleep due to the excess pressure that builds up if your mattress molds to the line of your body. Consequently, consider purchasing mattresses with enhanced comfort systems if you have sore joints or are extra curvy. Furthermore, your body weight and the materials that constitute your bed's comfort system will determine how deep you sink into your mattress. Beds with deeper hugs will typically offer more pressure relief than those with gentle cradles. If you enjoy feeling like you are floating atop your mattress, consider selecting alternatives with less sinkage.
Your budget
It is common knowledge that budgets restrict how much you can spend on any significant purchase, and a new mattress is no exception. Consequently, deciding on a budget and sticking to it when shopping for your new mattress is critical. Many experts agree that the best mattress for you isn't always necessarily the most expensive one, but it is likely not the cheapest either. Indeed, you get what you pay for in the mattress world, so a cheap bed will probably not offer the right support you require for a good night's sleep, even if it looks fine. Therefore, be prepared to pay slightly more to enjoy a better-quality mattress that will last several years. Deciding to splurge on your mattress can make this investment quite expensive. Still, you can enjoy some savings by using discount codes from platforms such as NetVoucherCodes.co.uk.
Getting a trial period
A 2016 Better Sleep Council study revealed that consumers agree that it is vital to try out a mattress before buying it. Indeed, there's no guarantee that your mattress will feel the same after you sleep on it all night long, even if it looks perfect in the store. Consequently, consider asking the mattress store if you can have a trial period before committing to a purchase. Trial periods are a better way to appraise a mattress than simply sitting or lying down on it in stores. For starters, it is slightly awkward to lay down on showroom mattresses. Also, the entire experience might be unpleasant, considering that dozens of others may have tested the mattress.
Furthermore, sitting and lying on showroom mattresses is simply not the best way to test out a new mattress because it could already be worn down, offering an inaccurate idea of what sleeping on it feels like. Even if your mattress is in great condition, you will not get a good feel for it after just a few minutes. Therefore, it is better to insist on trial periods that allow you to test whether the mattress is an excellent fit. The great thing about a trial period is that you may be able to return the mattress to the store at no extra cost if you dislike it after a few weeks of testing. Still, remember to ask about any exchange or restocking fees for returns within a designated time frame.
Online reviews
Online reviews have undoubtedly become crucial to many consumers' purchase decisions. This is mostly because reviews give you a better idea of the product you're about to purchase from real-life customers. Nowadays, a chunk of mattress shopping occurs online, so reading customer reviews is another excellent way to assess the product you are purchasing. Reviews provide honest feedback from people who have used the mattress. Therefore, you can base a considerable fraction of your purchase decision on this feedback instead since it is more reliable than mattress companies' advertisements.
Additionally, reviews are worth looking at to prevent wasting money on low-quality mattresses. You will also have better insights into the quality and unique features of the mattress by reading reviews. However, it is vital to remember that you cannot always trust mattress reviews. Mattresses are a personal purchase, and comfort, durability, and support needs vary wildly from consumer to consumer. Therefore, a good fit for someone might not necessarily be right for you, and vice versa. As such, only use online reviews to get a general idea about the mattress's quality, company's customer service, and the general buying experience instead of basing your entire purchase decision on them.
Your sleep position
Everyone's body gravitates to particular positions while asleep, and it is crucial to factor this into your hunt for a new mattress. For back sleepers, experts agree that firmness requirements are a matter of taste rather than necessity. Therefore, if you are a back sleeper, you can simply look for a mattress that supports your lumbar spine's curve. This way, you can prevent pressure from accumulating in your upper back and hips while you sleep and keep your spine comfortably aligned. On the other hand, if you constitute the majority (54.1%) of adults that sleep on their side, it is vital to opt for medium-firm to medium-soft mattresses.
This reality is because side sleepers put their weight on a narrower body surface than those who lie on their backs or stomachs. Therefore, a mattress that is too soft can compress the spine and cause pain, while one that is too firm might make the shoulders, hips, and other body parts that hit the mattress feel too much pressure. Additionally, if you are a stomach sleeper and, like most individuals, you carry most of your weight in your hips and may sink deeper than the rest of your body while asleep. As such, you will have many problems with optimal spine alignment. A firmer mattress with enhanced support or middle zoning can help you sleep without sinking in.
Shareability
It is also crucial to consider how shareable your new mattress is, particularly if you sleep with your partner. Mattresses that absorb movements poorly may cause disruptions throughout the night for your sleeping partner, especially if you wake up often and frequently change positions. Thankfully, memory foams perform better in this category than traditional innerspring mattresses. Consequently, light sleepers who share their beds are better off investing in all-foam mattresses to guarantee peaceful sleep.