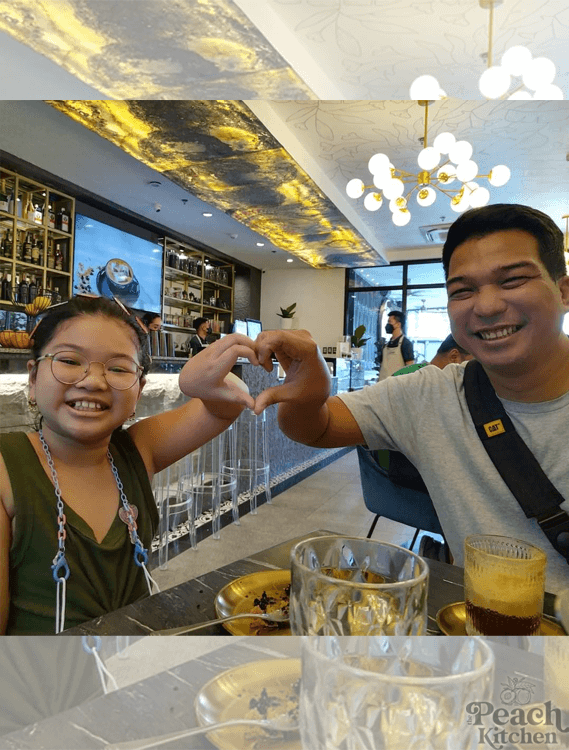 Our initial plan over the weekend was to have lunch at Silantro in UP Town Center, then have dessert at Rita's Ice after. Turns out, Rita's Ice was already closed — at matagal na! So we decided to have coffee na lang instead. And if you know my sister who calls herself Anney, she wanted to have coffee somewhere aesthetic daw. We drove around in search for a café and found ourselves at La Condesa Café + Lounge
WATCH OUR VIDEO HERE:
Here's what we ordered:
Ykaie ordered the ALEGRE (₱249) which is an Iced S'mores Latte while sis had her usual order: Cafe Americano (₱169). ito talag ang order nya forever. She doesn't like flavored coffees.
I wanted to try something different and something that looks really good, so I ordered the EL MONARCA (₱249) which is Strawberry Shakerato. The drink looks really cute and even embellished with a small gold leaf on top. But I think is contains a liqueur because for the life of me, I couldn't drink it! Good thing Daddydoodledoo ordered the SALVATERRA (₱249) which is an Iced Coconut Latte na I forgot to take a photo of. (Just check it out on the video). JKaya ayun, nagpalit na lang kami…hihihi
We paired our coffees with the Hazelnut Croissant…
This really rich and creamy Mascarpone Cheesecake and their Chocolate Cake which I forgot the name of.
We really had a nice time and I hope we can visit again next time to try the food on their menu.
La Condessa Café + Lounge is located at CTTM Square Building, Ground Floor, Tomas Morato Cor. Timog Avenue, Quezon City