Twinkle has been having these coughs that won't go away so we had her checked at the Medical City. The schedule of her pedia is 4pm-7pm so her check-up ended during dinnertime. Syempre dinner out na kami.
Daddydoodledoo has been craving chicken wings the so we ended up having dinner at Frankie's New York Buffalo Wings. For appetizer, Ykaie wanted the Twister Fries (₱140) — it came hot and crispy but it needed a dip. You can order their Aioli, Blue Cheese, Ranch, or Truffle for ₱30.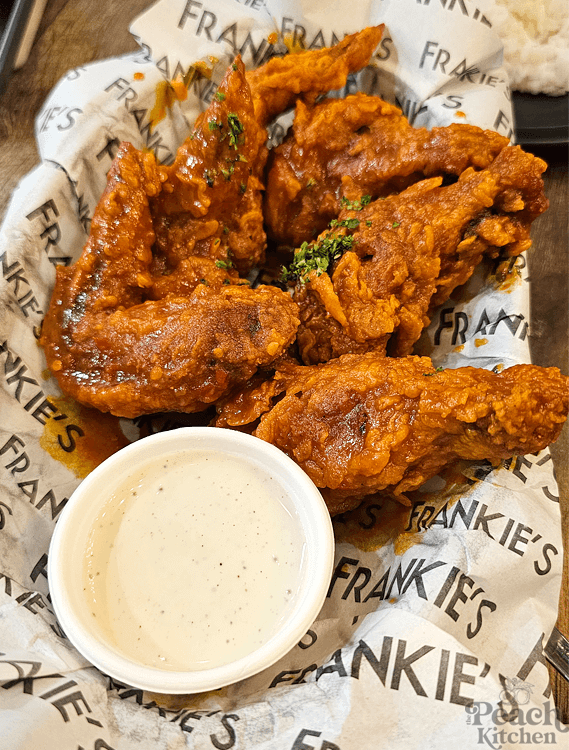 For our chicken wings, we wanted to try three different flavors so we ordered half dozen of each. We ordered Frankie's Classic Buffalo Wings in Spicy with Blue Cheese Dip (₱339). I didn't try this because my LPRD was acting up. I'm eating fried food na nga and will aggravate it up pa with spicy.
Then we also ordered Garlic Parmesan Wings (₱339) and Honey Garlic Wings (₱339). The flavors of the wings were on point but we find the breading a bit hard not crunchy or crispy but hard.
The fam paired the fried chicken wings with rice while I ordered mashed potato. If you want to cook your own fried chicken wings, you might want to try The Peach Kitchen Garlic Parmesan Wings.
WATCH OUR VIDEO HERE: