Moist and delicious Red Velvet Cupcake, with a hint of cocoa flavor, topped with silky-smooth, tangy cream cheese frosting. They're perfect for any special occasion!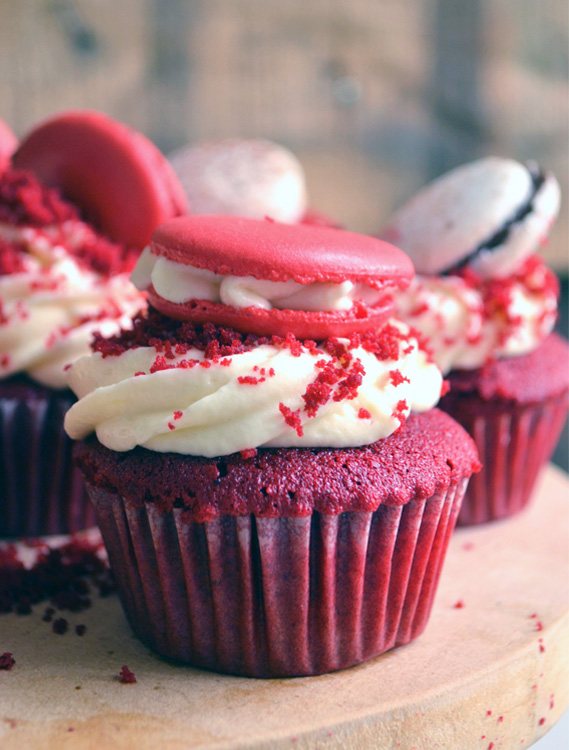 If you're looking for a delectable treat that combines rich flavors and a velvety texture, look no further than the classic Red Velvet Cupcake with Cream Cheese Frosting. This iconic dessert has captured the hearts and taste buds of many, and for good reason!
It is known for its striking red color, which immediately catches the eye. I used to buy these cupcakes before just because they're pretty. But this one? it's not just about the appearance – the taste is equally remarkable. The cupcake itself is moist, with a hint of cocoa, and a subtle tanginess that sets it apart from other cakes. It is then topped with a generous dollop of tangy and creamy cream cheese frosting, it's a match made in dessert heaven.
The Origins
The exact origin of the Red Velvet Cake is a topic of debate, but it is widely believed to have originated in the United States during the early 20th century. The red color is traditionally achieved through the reaction of natural cocoa powder with acidic ingredients such as vinegar and buttermilk.
Tips for Baking
If you're inspired to try your hand at making Red Velvet Cupcakes with Cream Cheese Frosting, here are a few tips to ensure success:
Use gel-based food coloring for a vibrant red hue.
Don't skip the buttermilk – it adds moisture and flavor to the cupcakes.
Make sure all your ingredients are at room temperature before mixing to achieve a smooth batter.
Cream the butter and sugar together until light and fluffy to create a tender cupcake crumb.
Be careful not to overmix the batter, as it can result in a dense cupcake.
Hope you give this a try!
Print
Red Velvet Cupcake with Cream Cheese Frosting
Cupcake
3 1/3 cup

cake flour

3/4 cup

  unsalted butter, room temperature

2 1/4 cup

sugar

3

large eggs, room temperature

2 tbsp

liquid red food coloring

3 tbsp

unsweetened cocoa powder

1 1/2 tsp

vanilla extract

1 1/2 tsp

salt

1 1/2 cup

buttermilk

1 1/2 tsp

white vinegar

1 1/2 tsp

baking soda
Cream Cheese Frosting
1/2 cup

(1 stick) unsalted butter, room temperature

1

(8 oz.) pkg. cream cheese, room temperature

1/4 tsp

. salt

2 tsp

. vanilla extract

4 1/2

c. powdered sugar

1

Tbl. milk, plus more if needed
Instructions
Cupcake
Preheat oven to 350 degrees.  Line a muffin tin with paper liners and spray with cooking spray; set aside.  

In the bowl of a stand mixer, combine butter and sugar and mix on medium speed until very light and fluffy, about 5 minutes.  

Add the eggs, one at a time, beating well after each addition.  

In a small bowl, whisk the food coloring, cocoa powder and vanilla together; add to the butter/sugar mixture and mix well.  

Stir the salt into the buttermilk and add to the batter in three parts, alternating with the cake flour, starting and ending with flour.  

In a small bowl, stir together the vinegar and baking soda; add to the batter and mix well.

Fill cupcake liners 2/3 full with batter and bake in preheated oven for 17-18 minutes or until a toothpick inserted in the center comes out clean.  

Do not over bake.  Repeat with remaining cupcakes.  Cool completely and top with Cream Cheese Frosting.  Makes about 3 1/2 dozen cupcakes.
Cream Cheese Frosting
In a large bowl, mix together butter, cream cheese, salt and vanilla until smooth.

 Add powdered sugar, one cup at a time, beating well after each addition.  

If frosting is too thick, add a little milk.  

If you are planning to pipe the frosting onto the cupcakes, you want it thick enough to hold its shape.

If you do not want to pipe a large swirl onto each cupcake and prefer to spread a small layer on top instead, the amount of frosting could be cut in half.