Knorr Surf and Turf Sinigang. It's Shrimp Sinigang, Pork Sinigang, and Fish Sinigang all in one.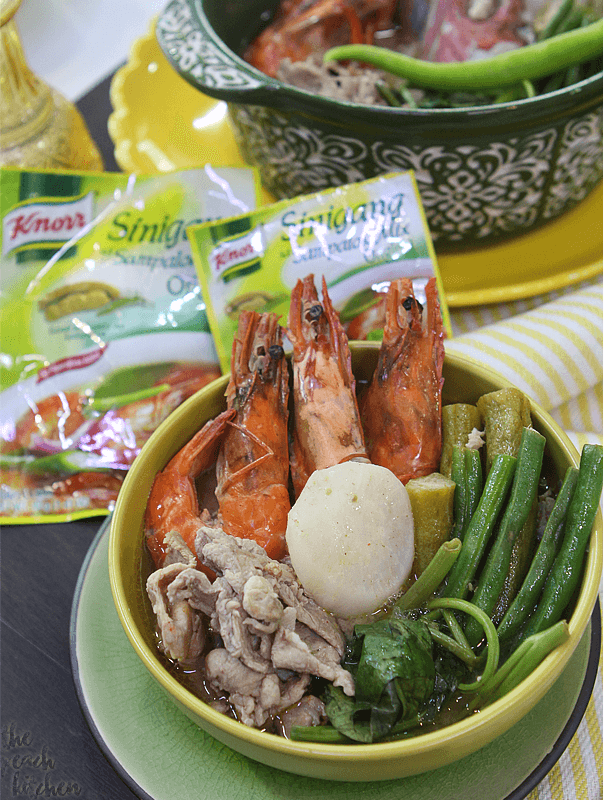 It's raining and it's the (payday) weekend!
No ulam could be more perfect in this cold weather than this Surf and Turf Sinigang.
I learned about this recipe during the #LutongNanay event last July and I think it's the best recipe because it has a little bit of everything — pork, shrimp, and fish!
I think this is what's going to be Sunday lunch instead of Beef Salpicao.
Happy Sunday everyone!
♥If you make this recipe, be sure to snap a photo and tag @thepeachkitchen on Instagram (OR hashtag it #thepeachkitchen). I'd love to see what you cook!

Knorr Surf and Turf Sinigang
Ingredients
1 L rice washing
2 pcs onions, quartered
2 pcs tomatoes, quartered
2 pcs gabi, quartered
1 pc green chili (sili pansigang)
1⁄4 kg shrimp, trimmed
1⁄4 kg Maya-maya, cut into serving pcs.
1 pack Knorr Sinigang sa Sampalok Original 20g
1⁄4 pc radish, sliced
4 pcs okra
1 cup long beans or sitaw, sliced
1⁄4 kg pork sukiyaki, sautéed
1 cup kangkong
Directions
Bring to a boil rice washing in a pot with onions, tomatoes, gabi, and green chili until gabi is tender.
Add shrimp, maya-maya, and Knorr Sinigang sa Sampalok Original. Simmer until cooked.
Add radish, okra, and long beans. Simmer for a minute then add pork sukiyaki and kangkong. Cover for a minute then serve.