Choobi Choobi proudly brings in juicy, fresh seafood to Manila as it opens it's flagship store in Panay Ave. with Erich Gonzales as its new face. Fresh, vibrant, and proud to be Pinoy that's what makes Erich such a perfect fit for Choobi Choobi.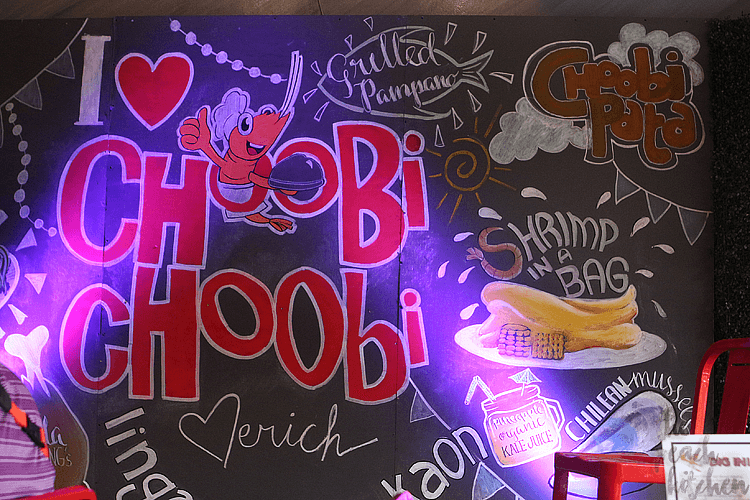 I've been seeing posts about Choobi Choobi from fellow bloggers from Cebu and I've always wondered  about how good this restaurant is. Well, February definitely gave me a sweet, sweet ending because I got to experience a Choobilicious feast!
I always love a corner spot so I settled in in one of the corner tables. It was so nice that each table has a Post-Shrimp Kit containing tissues, wet wipes, alcohol, and mint candies should the attendees decide to feast with their bare hands.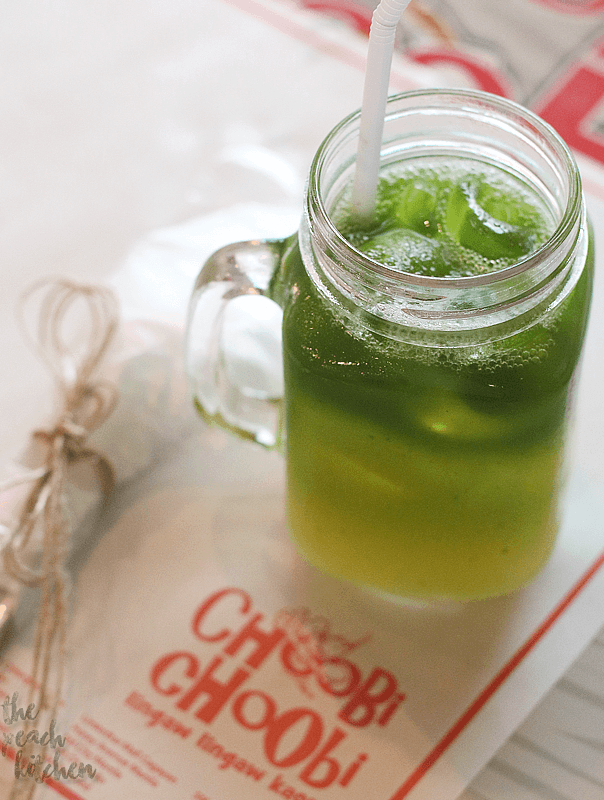 Before the food were served, we were asked to order our drinks. I opted for one of their bestseller, the Fresh Pineapple Organic Kale (₱130), which came in as a two-toned drink. It was so refreshing and it tasted fresh! It was unexpected, Kale and pineapple is such a great combo.
I already saw Cha Tao Miao (₱180) on the board when I got to the restaurant and I wondered what it was. Turns out, it was stir fried snow pea sprouts! It was crunchy and garlicky! I loved it! It was my first time to eat snow pea sprouts.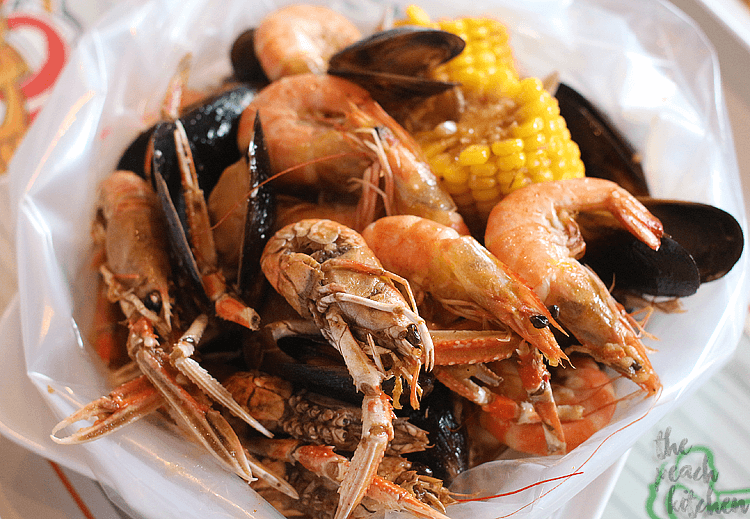 Choobi Choobi owner Stan Tanchan's dream is to provide Filipinos with export-quality shrimp at local prices. He has had his shrimp farm for over 20 years, but it was only later on that Choobi Choobi was born. So you can expect how fresh the shrimps are from Choobi Choobi.
Check out the Seafood Barkada Bag (₱645) which contains baby lobsters, shrimps, chilean mussels, corn, and cebu chorizo all soaked up in their flavorful choobang sauce (that's their signature cajun sauce)!
I have two favorites from what we were served that day. My top one is the Singapore-style Salted Egg Shrimp (₱440) which came oozing with a creamy salted egg sauce which I can just imagine how good with rice is!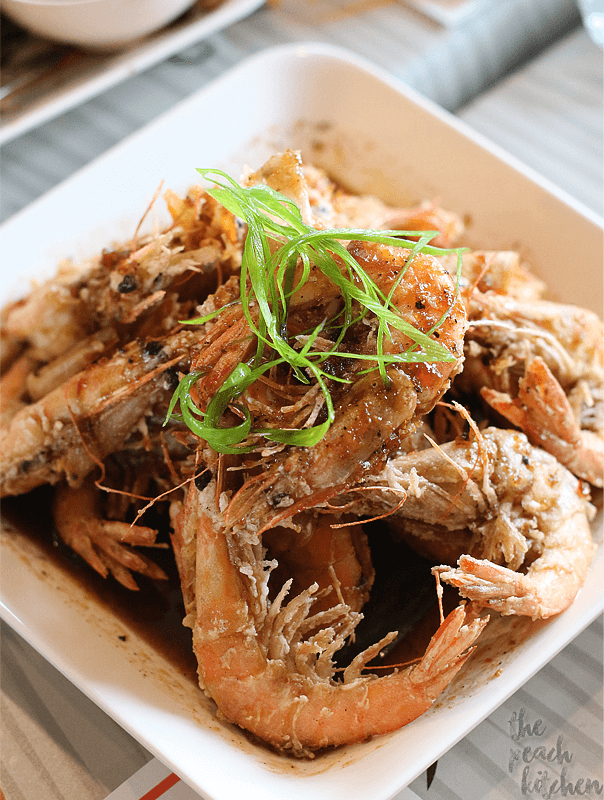 And my top two of course is Stan's Fried Black Pepper Shrimp (1 lb|₱440), a filling amount of crispy shrimp
cooked in Stan's special black pepper flavoring. It's so crispy, you can just gobble up everything!.. and the sauce! Oh my gosh– so tasty!
Aside from the fresh, plump shrimps, Choobi-Choobi also has other items on the menu like the Grilled Pompano (₱90/100g) which is perfectly grilled as the meat remains juicy despite being charred on the outside. I think they have mastered the art of grilling..hee.
Oh, and I now understand why they are so proud of their Choobi Pata (M ₱445| L ₱465). It has a thin, crispy skin on the outside but it has soft and tender meat inside! This will truly satisfy your crispy pata cravings!
Lola Pepang's Fried Manok (₱345) has taken the back seat during the event because the shrimp took center stage but the a hearty family fried chicken recipe passed down four generations will say it all.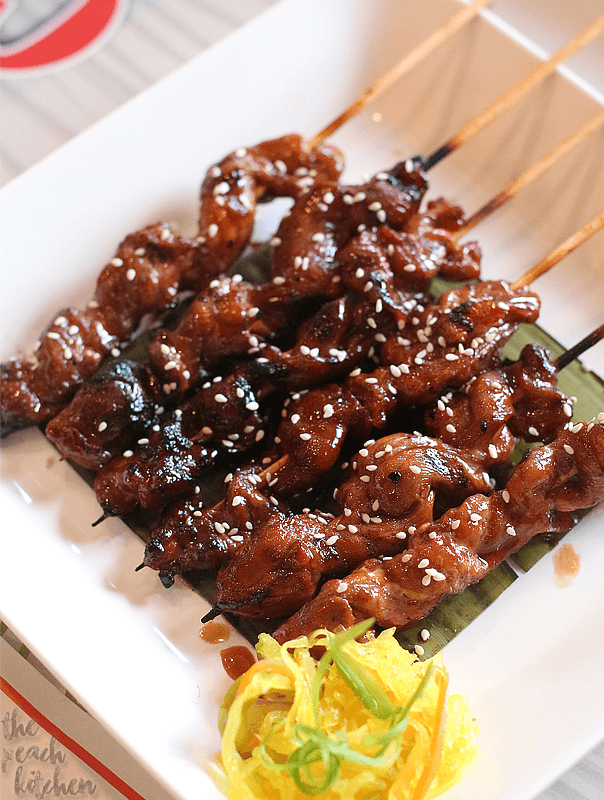 What I love about their Pork Barbecue (₱30/stick) is that the meat is not tough and its flavor is a mixture of sweet and salty much like the Grilled Pompano.
I had to leave early and was already leaving when the Choco Moltern Kiss (₱175) was served. I took a quick photo just to remind me to try it once I go back with my family.
Here I am taking a photo with my phone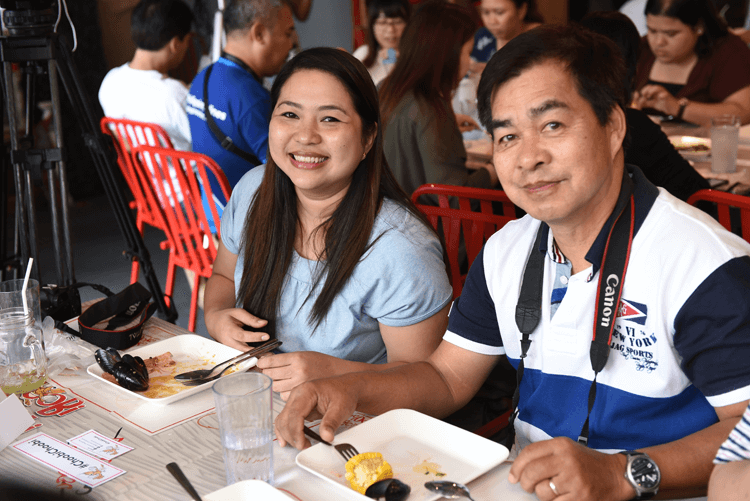 And with my seatmate during the event…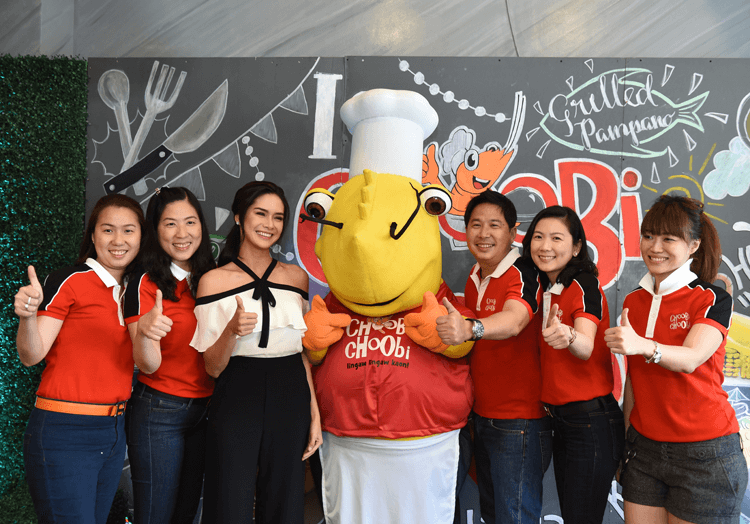 I had such a wonderful time at Choobi Choobi! I can't wait to go back with my family and try out the other dishes especially the Giant Bamboo Clams and Stir-Fried Morning Glory.
Tara, Lingaw Lingaw Kaon tayo sa Choobi Choobi!
Choobi Choobi is located at 102 Panay Ave, Quezon City, Metro Manila.