This Chorizo Bacon Fusili is an easy, crowd-pleasing pasta dish that's perfect for weeknights..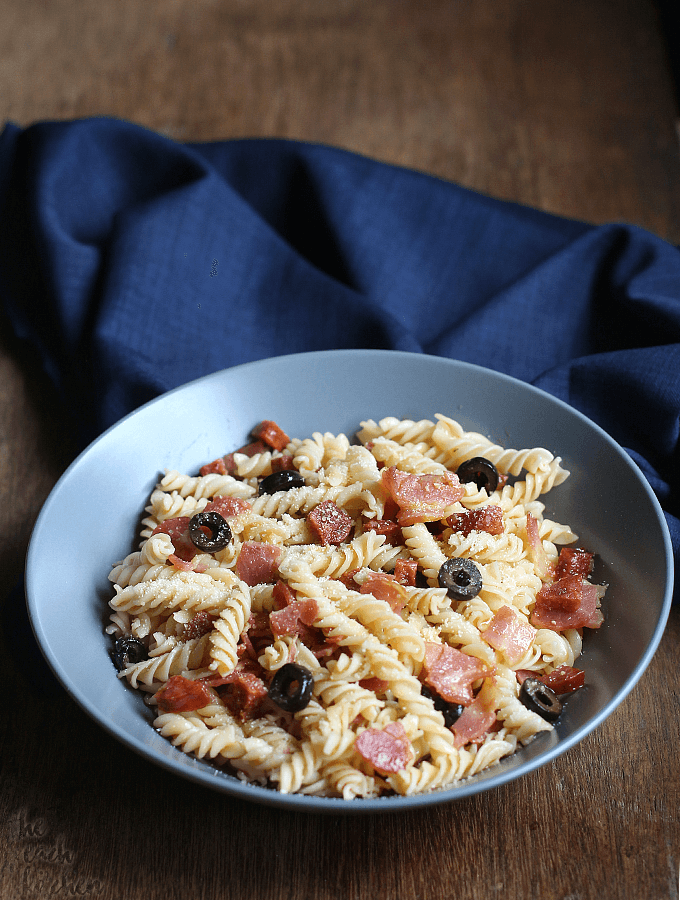 I so want to blog a bit more often — like a hundred-posts-in-a-day often. That's because I just have too much to share with you. BUT. There's just too little time and that makes me wish there's 48 hours in a day just so I can write.
I made this Chorizo Bacon Fusili last monday night for Twinkle's 8th Month Strawberry Shortcake celebration. See?! I haven't even began telling you about Twinkle's 7th Month Supergirl Party and here she is turning 8 months! Time flies too fast for me.
Also, have you noticed there's no update on my weight loss journey? Well, I've been having a few sleepless nights lately. I've been a bit stressed out that I end up sleeping during the day… and I end up eating too.
In all honesty, I've been having rice for two straight days. I tried to have it in the recommended servings, but, oh well. I'm scared that if I step on the scale, it'll tell me that not only did I not lose weight — I gained back more. *sob*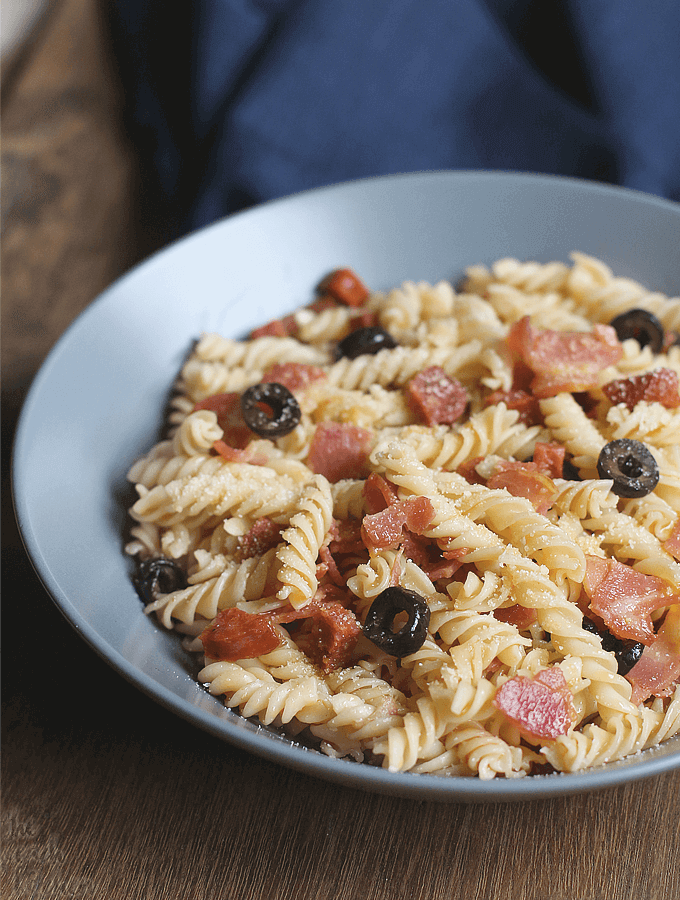 These stressful moments maybe partly due to Twinkle's vaccination. I really worry because she's always irritated and sometimes she ends up having fever. AND with Ykaie being one of the top ten in Grade 2, she had her final exams early this month. She had been top three for the first grading and top two for the second and  third grading.
Plus there's a million other things running on my mind. You see, I really have a lot on my plate. It's hard to adult.
I wanna go on a vacation — a very relaxing vacation…. or maybe a staycation??
Print
Chorizo and Bacon Fusili
500g

Fusili, cooked according to package directions with ¼ cup of pasta water set aside

2

pieces spanish chorizo, cut into small pieces

500g

bacon, chopped

8

cloves of garlic, minced

7 tbsp

olive oil

3/4 cup

sliced olives
grated parmesan cheese for garnish
salt and pepper to taste
Instructions
Heat 1 tbsp olive oil in a nonstick skillet. Fry bacon pieces until cooked.
Transfer to a small bowl and set aside.
Pour in the rest of the olive oil in the same skillet. Add garlic and sauté until garlic becomes a bit brown and oil is fragrant with the smell of garlic.
Add chorizo pieces and continue sautéing for about a minute.
Add the cooked bacon back into the pan.Mix well.
Add in cooked fusili and pasta water.
Mix well, until pasta is well coated with the sauce.
Turn off heat and transfer pasta in a serving plate.
garnish with parmesan cheese before serving.