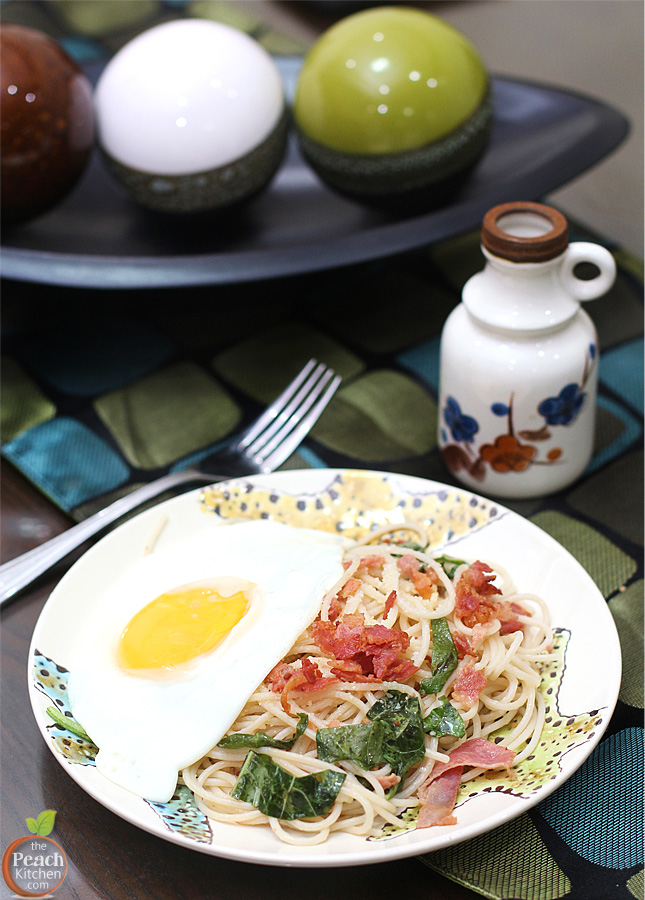 It's been 12 long days since I last updated this blog and to me it felt more like 12 months. A lot of things happened the past two weeks, both good things and bad things. Some got me excited, some got me upset: I got pregnant, we moved into our new home, we found out I had a blighted ovum/anembryonic pregnancy, and I had a miscarriage. It's been stressful and sad but I've prayed and I've come to accept it. I know there's a good reason why everything had to happen.
It's been a week since I got admitted to the hospital and I'm doing okay now. As a matter of fact, I couldn't wait to start cooking again. We've been eating take out food mostly the past two weeks and I really missed cooking.
Besides, I felt that my new kitchen was waiting for me and calling out my name ever since we first moved in.
It also felt so right yesterday morning to make spaghetti for breakfast, specially one that includes delicious breakfast staples like bacon and eggs.
This breakfast spaghetti is very easy to prepare. It's a simple aglio olio spaghetti with a little bacon fat , some crumbled bacon pieces, parmesan cheese, chopped spinach, and a sunny side up egg resting on top just like the sun calling you out on a lazy weekday morning.
Your Thursday morning needs this.
Print
Breakfast Spaghetti with Bacon and Eggs
250g

Spaghetti, cooked according to package directions

200g

bacon, cut into pieces

1 cup

spinach leaves

5

cloves garlic minced

4 tbsp

extra virgin olive oil
grated parmesan cheese
salt to taste

3

sunny side up eggs
Instructions
Fry bacon in a non-stick skillet until golden brown. No need to add oil as the bacon will release some fat and fry in its own fat. Remove from pan and set aside.
On the same pan, add olive oil in bacon drippings and sauté garlic until brown on the edges and oil becomes fragrant with the smell of garlic.
Turn heat to low and add cooked spaghetti. Sprinkle some salt, 3 tbsp parmesan cheese, and mix well.
Add cooked bacon and spinach leaves. Mix well and cook until spinach is wilted.
Divide into serving plates and top with sunny side-up egg and more parmesan cheese
Serve warm and eat while watching the sunrise.