Pork Bistek Tagalog is tender pork shoulder marinated and simmered in soy sauce and calamansi juice. Perfect when you're ravenous at lunch..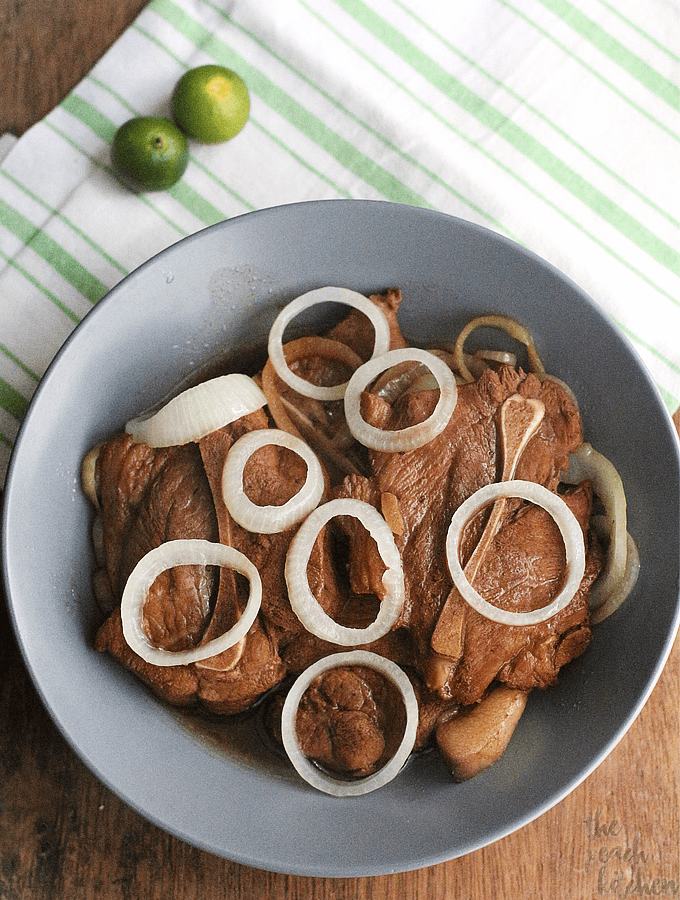 The struggle is real.
Losing weight is tough… being a food blogger  makes it tougher.
It has been a challenge to eat no rice for the first month into this diet and to avoid sugar but I did it. I lost 7lbs.
I have a confession to make, I've been pretty lax lately. I've been having chips and dip, lotus biscoff cookie with my coffee (oh, I hate you, peanutbutter♥), we've been eating out (again!) and oh, there were food events. I was attending food events and there are quite a few more lined up for the next couple of weeks.
I did Hip Hop Abs twice a week but instead of losing weight.. guess what? I gained 2lbs of my weight back.
Health Journey Update
Start Date: January 9, 2016
Current Date: February 20, 2016
Starting Weight: 185lbs
Current Weight: 180 lbs
Total Weight Lost: 5 lbs
Goal Weight: 130 lbs
I know this is one of the things that's gonna be a challenge once I begin my health journey. All those goodies at my disposal. Another thing I'm having a problem with is portion control. I  have to LEARN how to do portion control. Cause somehow, even if I'm not eating rice, .. I know I'm eating too much. And that's why I gained back the 2lbs that I lost.
ARRGH.
My plan this week? Low-Carb. No Sugars. Portion Control.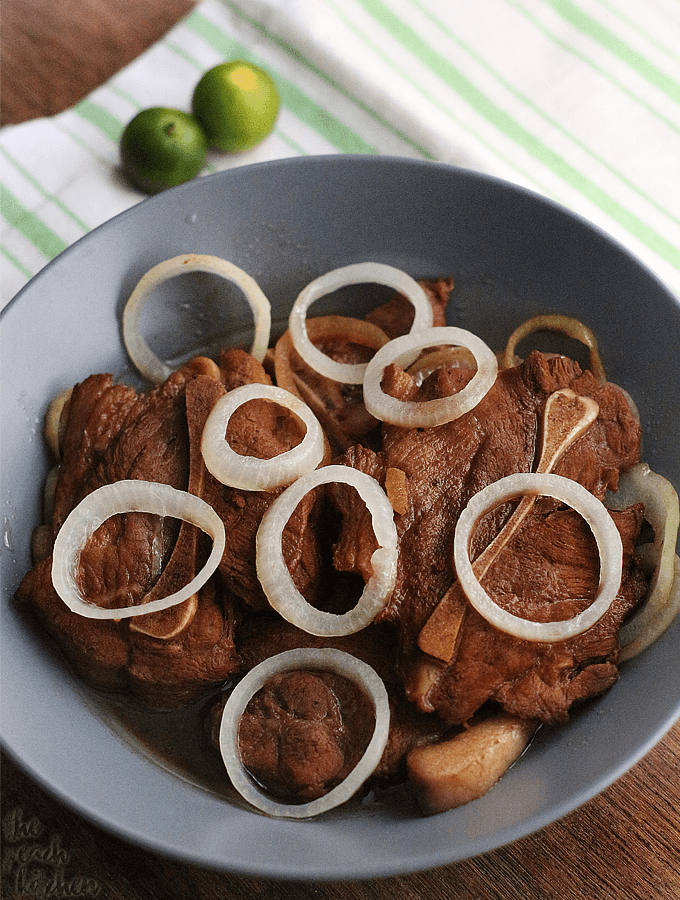 Yesterday, I made Pork Bistek Tagalog for lunch. Bistek (or Filipino Beef Steak) is one of Ykaie's favorite ulam but it uses beef sirloin.
Watch the video on how to cook it here:

If you're on a budget and still want that rich, saucy, and tasty flavor of Bistek then all you have to do is substitute pork. While a lot of people use pork chops in cooking their Pork Bistek Tagalog, I prefer to use pork steak cut from pork shoulders (or kasim). It gives softer meat and one that doesn't get tough.
BTW, join me later. I'm going on a food crawl today.
I hope I don't gain all the weight back tomorrow.
Print
Pork Bistek Tagalog (Filipino-Style Pork Steak)
500g

pork slices (Kasim or pork shoulder, pork steak cut)

1/4 cup

soy sauce

2 tbsp

calamansi juice

2

large white onions, sliced

1/4 cup

water

1/4 cup

canola oil

1/4 tsp

pepper
Instructions
In a large bowl, combine, soy sauce, calamansi juice, and pepper. Mix well.
Marinate pork in the mixture for at least 30 minutes.
In a non-stick pan, heat oil. Sauté onion slices until it's a little bit caramelized. Set aside.
In the same pan, fry pork steak until light brown. Add marinade and simmer for 10 minutes in very low heat.
Add onions and wait until it simmers. Turn off heat.
Serve with steamed rice.