This Brazilian Lemonade is refreshingly tart and sweet — all you need are four ingredients and a blender…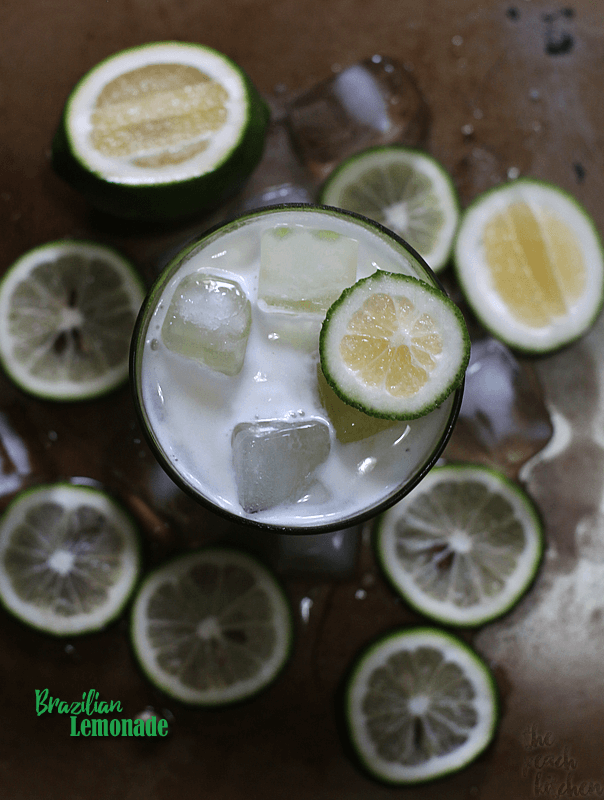 It's monday and we're exactly two weeks away from the beginning of school. My mind is super busy and on a hyper mode. I'm constantly thinking if Ykaie still needs something for school and Twinkle's upcoming Christening and 1st birthday. Yep, Christening and 1st Birthday celebration in one party para tipid. I've mapped out a plan so we can have a nice Sesame Street Themed Birthday party for the second princess we all adore.
Then there's "work work work work work " (sung to the tune of Rihanna's Work) and our messy house which I'm looking forward to cleaning this incoming second half of the year.
This afternoon, I'm dreaming of a big pile of Nachos… all loaded with fresh salsa, garlic cream, cheese sauce, beef, sour cream, jalapeños, and a generous sprinkling of spring onions. This I'd like to pair with a tall glass of Brazilian Lemonade I made this morning.
This Brazilian lemonade is very refreshing. My only question when I was making this was….where are the lemons?? I think they should call this Brazilian Limeade instead. But really, you can all this drink any name you like and it would still be as refreshingly delicious as it is.
The condense milk lends out the creaminess it needs without drowning out the tartness. Careful in pulsing it too much in the blender though or you'll end up with a drink with bitter aftertaste…
My giveaways are ending this week. If you haven't joined them yet please join now. I'm giving away Belo Baby products and an Oster MyBend Personal Blender.
Print
Brazilian Lemonade
6 cups

cold water

1/2 cup

sugar

4

limes

1/2 cup

sweetened condensed milk
Instructions
Mix water and sugar together until sugar is dissolved. Put in the fridge to chill until ready to use.
Dissolve the sugar in your water and set aside.
Wash the limes thoroughly.
Cut the ends of the limes and discard them, then cut the limes into eight.
Place half of the limes, half of the condensed milk, and half of the sugar water in your blender and pulse 5 times. Too much pulsing will make the juice bitter.
Strain through a fine mesh strainer into the pitcher that you are going to serve it in. Discard the pulp. Repeat with the second half of your limes, condensed milk, and sugar water.
Chill in the fridge and serve over lots of ice.