Cinnamon Roll Overnight Oats is a healthy way to eat your decadent rolls in oatmeal form…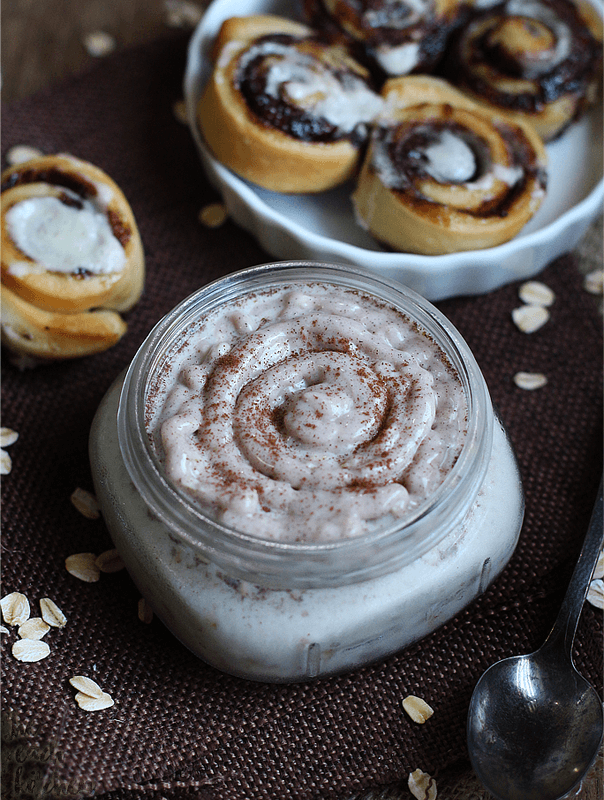 This Cinnamon Roll Overnight Oats is the best thing that ever happened to breakfast! It's been quite a while since I last enjoyed one and as far as I can remember it was this Strawberry Banana Overnight Oats.
What prompted me to make pastry flavored oats today? Well, I was in the mood for something a little bit more like dessert but can still be accepted as breakfast. Hence, this. The truth is, I think I'm the only one in my family who enjoys overnight oats. peanutbutter♥ indulged in it for a while but he got tired of it after a few tries. They're more into pancakes, bacon, sausages, SiLogs, lugaw, sumpia, and ham sandwiches.
So I let them have their favorite breakfasts and they let me have my overnight oats. Anything to keep the peace in the morning. Besides, I need my oatmeal these days. I need an excuse to say I'm eating healthy.
Because…. man, it's hard to stay on track! There are too many distractions!
The last time I updated you on my health journey was when I made this Pork Bistek Tagalog for lunch. I talked about how it was a struggle and how I gained back a few pounds. Yeah, it's a bit depressing. There's an itsy bitsy bit of good news though, I managed to bounce back. I lost the two (and more) pounds gained and lost one more pound.
Health Journey Update
Start Date: January 9, 2016
Current Date: March 14, 2016
Starting Weight: 185 lbs
Current Weight: 177 lbs
Total Weight Lost: 8 lbs
Goal Weight: 130 lbs
So I'm happy to say that I'm back on track. I even did Zumba today with Ykaie… Weee!
If you're thinking of eating oatmeal tomorrow, try making this Cinnamon Roll Overnight Oats (or any of the overnight oats here in my blog!).
It will give you a nice start in the morning and will definitely put you in a great mood all throughout the day.
Thank you for dropping by today.
Print
Cinnamon Roll Overnight Oats
¾ cup

old fashioned rolled oats

1 cup

non-fat milk

½ cup

greek yogurt

1 tsp

ground cinnamon

3 tsp

brown sugar
Toppings:
1 tbsp

cream cheese, softened

2 tbsp

powdered sugar

1 tsp

milk
Instructions
Combine all the ingredients(except toppings) together in a jar.
Mix well, Cover and refrigerate overnight or at least several hours.
In the morning, when you're ready to eat, take oats out of the fridge, add the toppings.
To make the topping: In a small bowl whisk together softened cream cheese, milk, and powdered sugar. Put it in a piping bag and squeeze in on top in a form of a roll OR you can just simply put it on top of your bowl of oats.
Enjoy!