Peach and Citrus Iced Tea is a wonderful blend of iced tea, peaches, and citrusy fruit juices!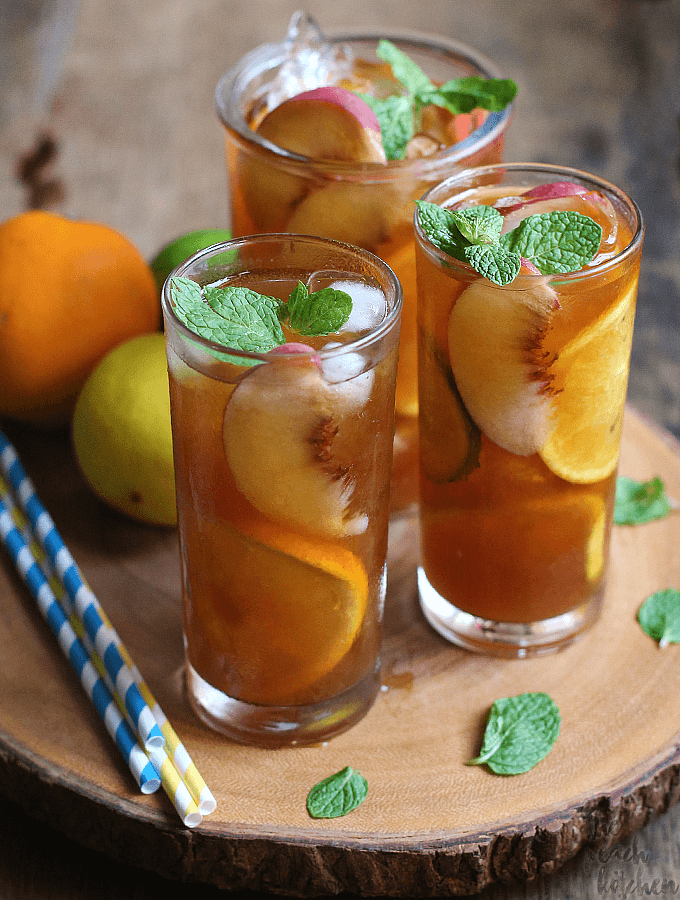 Welcome to the weekend. Yaaay! We made it!
But did you notice how hooooooootttttttt our days are turning out? It's already Summer and we can do nothing to stop it. Turning on the a/c and staying in the room the whole day is absolutely not an option because it will jack up our electric bill. Taking a bath a gazillion time each day will jack up our water bill and will make the person delivering the bill think we built a swimming pool somewhere inside the house.
We can probably take a bath two to three times and— hydrate, hydrate, hydrate.
I downloaded Plant Nanny last month to check if I'm getting my recommended daily serving of water. It's a really cute app wherein you water the plants whenever you drink a glass of water. Helps you track if you've drank enough water all throughout the day. Guess what I discovered? I am not drinking enough. Now, I make sure I drink lots of water.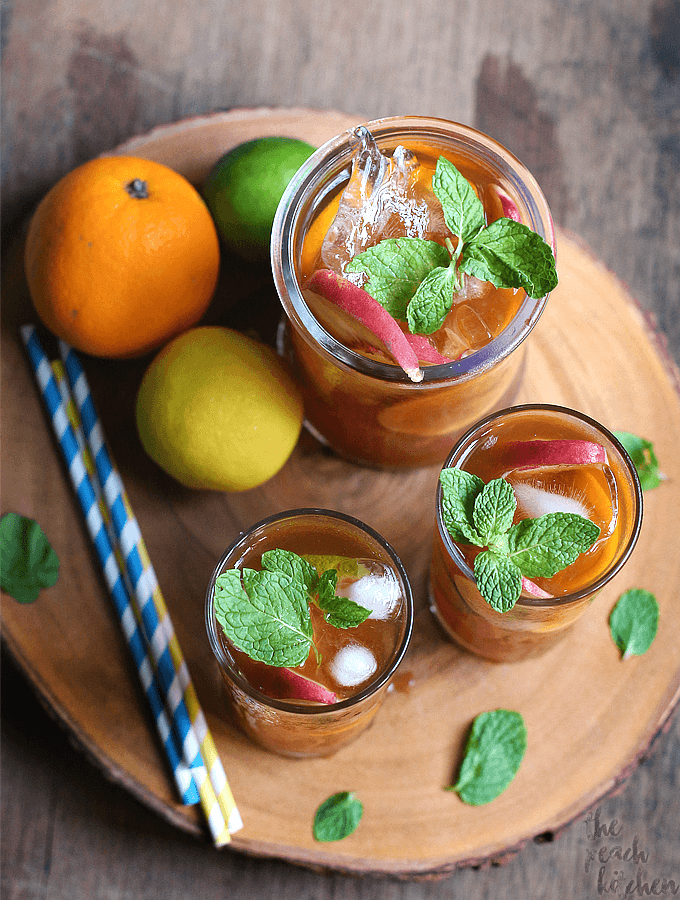 On other news, I cleaned out my cupboard and discovered I had lots of teas! I guess it's just right that I turned them all into iced tea since it's always scorching hot out there.
I made this Peach and Citrus Iced Tea turning the one and only peach in the fridge into syrup and then adding fresh orange, lemon, and lime juice. It's very refreshing… plus caffeine.. Bwahahaaha. (now I sound evil) Helps me inject bits of energy all through out the day.
In a not so related news, Since last night, sis has been bugging me for an Ilocos road trip in May. If our budget permits, then why the hell not, right? Will try to compute how much would it take but I'm really hoping for more rakets this month and the next so we can have a fabulous trip.
I can only imagine how much we're gonna enjoy a food trip in Ilocos!
Print
Peach and Citrus Iced Tea
Tea:
3

Tea Bags, (I used English Breakfast Black Tea)

6 cups

Water
Peach Syrup:
1 cup

Sugar

1 cup

Water

2

–

3

sliced fresh Peaches
Juice of:
1/2

Orange

1/2

Lemon

1/2

Lime
Peach, Lemon, Lime, and Orange Slices for garnish
Instructions
To Make Iced Tea:Steep your tea bags for 5 minutes in boiled water.
After 5 minutes, remove tea bags and allow to cool to room temperature.
To Make Peach Syrup: Place water sugar and peaches in saucepan over med-high heat until they come to a boil. Reduce heat to medium. Crush peach slices as you stir to dissolve the sugar.Once the sugar is dissolved turn off the burner, cover, and allow to rest for about 30 minutes. Strain syrup to remove fruit pieces.
Add peach syrup, orange juice, lemon juice, and lime juice to tea and refrigerate.
Pour over glasses full of ice and garnish with fruit slices.