This Furikake Popcorn is anything but bland. It's all crunchy, savory, sweet, salty, and umami-licious!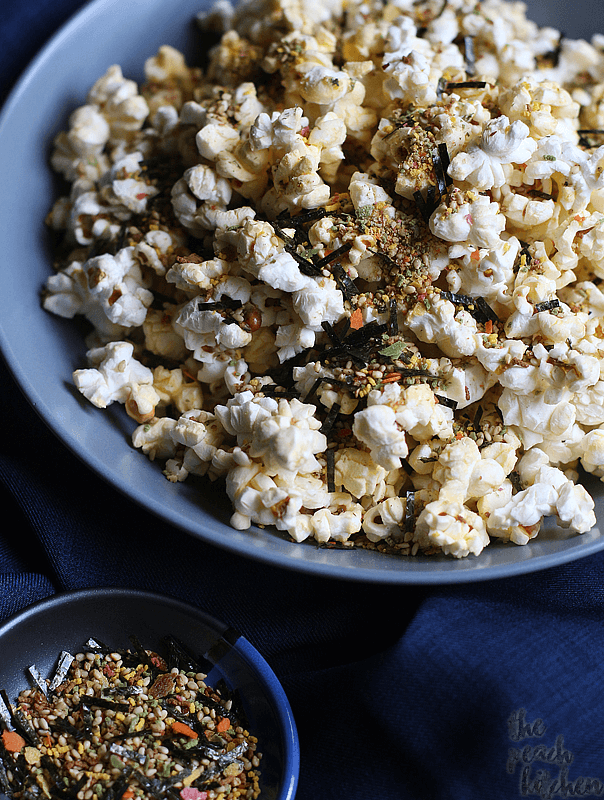 One of the many things that keeps us sane at home is watching a movie specially now that Ykaie is already on her Summer vacation. We do movie nights, movie afternoons, and movie mornings.. Yep, that's how we roll…LOL!
When we do watch a movie, there has to be movie food. Sometimes it's chips and dip, chocolates, coffee, ice cream but most of the time there's popcorn.
When I'm lazy, I just pop the popcorn in the microwave and let it be. When I'm not, I make cool flavors like Kool-Aid Popcorn, Truffle Bacon Popcorn, and Sriracha Popcorn.
Last week, we watched Star Wars: The Force Awakens and guess what flavor our popcorn is? You guessed it right Furikake Popcorn.
Furikake is is a dry, savory, Japanese seasoning meant to be sprinkled on top of cooked rice, vegetables, and fish. It typically consists of a mixture of dried and ground fish, sesame seeds, chopped seaweed, sugar, and salt. And it tickles your tatebuds meant for sweet, salty, and umami.
I love Furikake and it's what I used when I made this Spam Musubi. It does wonders for popcorns as well…
So.
What have we been up to today? peanutbutter♥ and I went on a coffee date in BGC. After that, we went on a tea date together with 15 more bloggers…LOL!
Just kidding, peanutbutter♥ accompanied me to the launching of CBTL's Summer Drinks. That's a different story, of course. I'll tell you all about it on a different post.
I still have several packets of furikake and I leave it all up to my imagination on what to do with them in the coming days…
Print
Furikake Popcorn
1

bag popped butter or unflavored popcorn

1 tbsp

melted butter

3 tbsp

furikake (or more if desired)
Instructions
Put popcorn in a large bowl and drizzle with melted butter. Toss to combine.
Sprinkle with furikake and toss again. The furikake will stick to the wet popcorn.
Serve immediately.