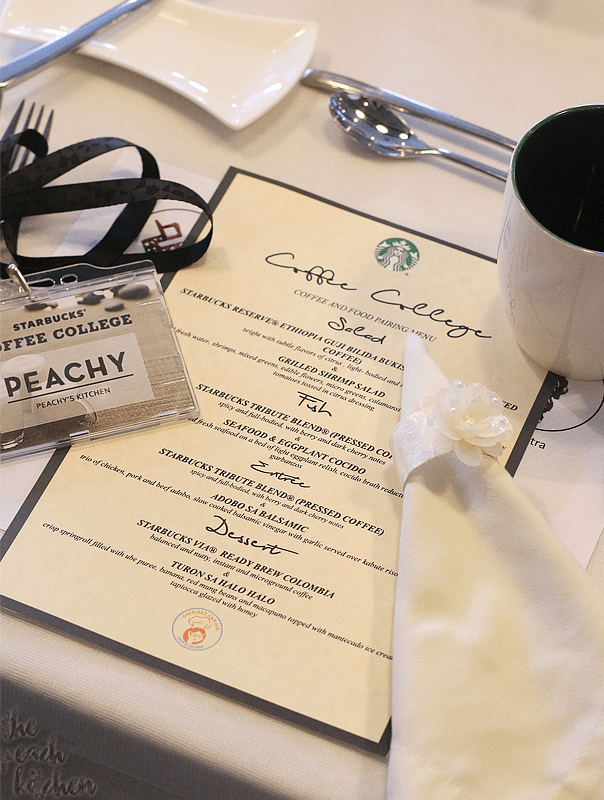 Being the coffee lover that I am (and previously a passionate barista),I got very excited when I received an invite for the Starbucks Coffee College.
It sounded a bit like going to a "Starbucks School" but it wasn't. Starbucks Coffee College in an immersive coffee journey that took me (and fellow bloggers) through the diverse flavors of coffee that are influenced by soil, geographic microclimate, altitude, and production techniques. We all know that Starbucks sources their coffee from different regions like Latin America, Africa and Asia Pacific. Coffees from these different regions produces distinctive aroma, acidity, flavor and body, which is unique and complementary to different savory dishes and sweet treats.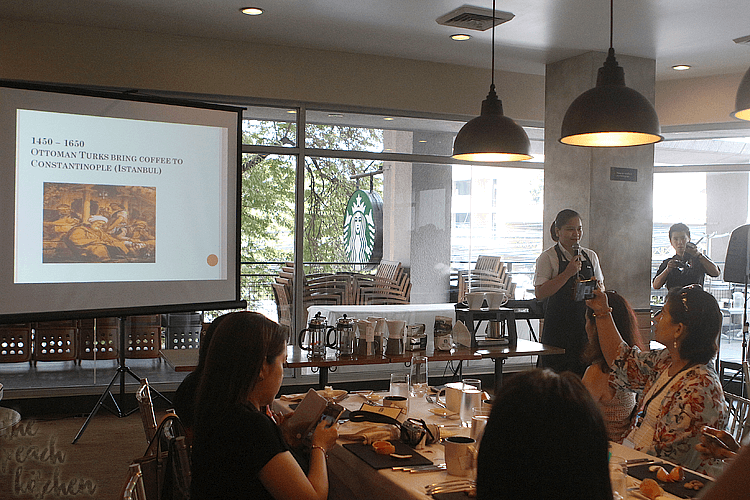 To start our coffee journey was a bit of coffee history from Ms. Ana Mendoza, 2015 Starbucks Philippines Coffee Ambassador 1st Runner Up.
A simple coffee pairing followed using three Starbucks Single Origin Coffee highlighting the particular flavors unique to the coffee's birthplace. Colombia which has a nutty flavor pairs well with peanuts. Kenya with floral aromas and flavors of berries and citrus and pair well with grapefruit. And Sumatra with its bold, earthy and herbal flavors pairs well with mushroom.
What was my favorite? It was Kenya, of course!
You see, coffee is really very much like wine in the sense that it brings out the flavors in sweet and savory dishes. When paired with the food it complements, the flavors dispersed by each coffee can enhance every bite, elevating the culinary experience with unforgettable taste sensations.
To be able to experience these unforgettable taste sensations, we were treated to a 4-course Neo-Filipino cuisine coffee and food pairing lunch. This lunch was conceptualized by Celine Lichauco, Starbucks Philippines, senior category specialist for food and Matt Sanvictores, Starbucks Philippines, senior learning specialist. It featured Filipino dishes with a twist that was delightfully paired with the different coffees of Starbucks.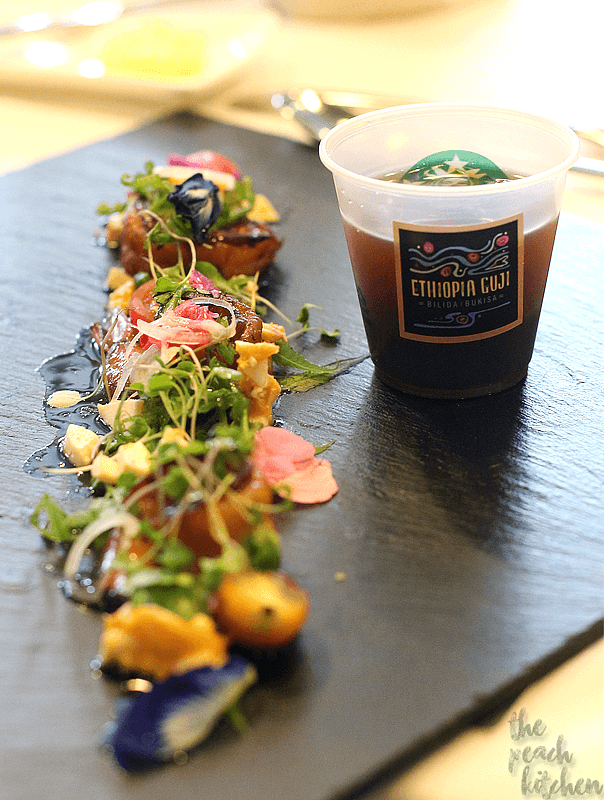 For starters, we had a refreshing Grilled Shrimp Salad paired with Starbucks Reserve® Ethiopia Guji Bilida Bukisa Clover Brewed Iced Coffee. The salad was composed of the most tasty grilled fresh water shrimps, mixed greens, edible flowers, micro greens, calamansi gelee, salted egg salsa, and cheery tomatoes tossed in citrus dressing. Of course, it was my first time to pair salad with coffee and I loved it.
Starbucks Reserve® Ethiopia Guji Bilida Bukisa is a light-bodied coffee with distinct lemon and currant flavors that's why it went perfectly well with the salad with citrus dressing.
It was followed by Seafood and Eggplant Cocido paired with Starbucks Tribute® Blend Pressed Coffee. This spanish dish was composed of an assortment of poached seafood (fish, shrimp, mussels,squid) on a bed of light eggplant relish, cocido broth reduction with corn and garbanzos.
Starbucks Tribute Blend is distinct for its spicy and full-bodied flavor with berry and dark cherry notes. It is best complemented with spices that's why it enhanced the flavor of the Seafood and Eggplant Cocido.
The entrée featured a Filipino classic dish with a twist, Adobo sa Balsamic which was also paired with the Starbucks Tribute® Blend Pressed Coffee. Adobo sa Balsamic wass composed of a trio of chicken, pork and beef adobo that was slow cooked in balsamic vinegar with garlic and served with kabute risotto omelette.
I love everything in this plate!  A bite of the adobo and a sip of Starbucks Tribute Blend just brings so much flavor to my mouth! Same goes with the kabute risotto omelette… I finished everything in this plate and even asked for a second helping of coffee.
Our lunch ended with a very interesting desert: Turon sa Halo-Halo was served together with a scoop of Mantecado ice cream and a a stick of Starbucks VIA Ready Brew Colombia. We were then asked to sprinkle it on top of the Mantecado ice cream.
I sprinkled generously and it gave that nutty, bittersweet flavor to this sweetest ending!
Oh, if only I could lunch like this every single day!
After our sumptuous lunch, Lheo Murillo, Starbucks Philippines 2015 Coffee Ambassador Finalist, introduced the different brewing methods that one can do at home which are the Pour-Over and the classic Coffee Press.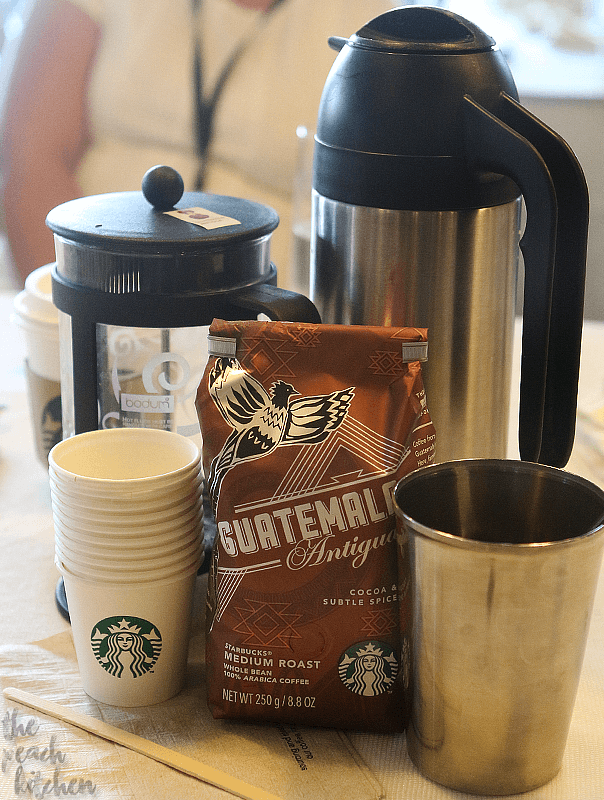 We were given some coffee grounds and materials to brew Guatemala Antigua via Coffee Press.
The educational coffee journey ended with an exceptional latte art demonstration by 2015 Starbucks Philippines Coffee Ambassador Pao Legaspi.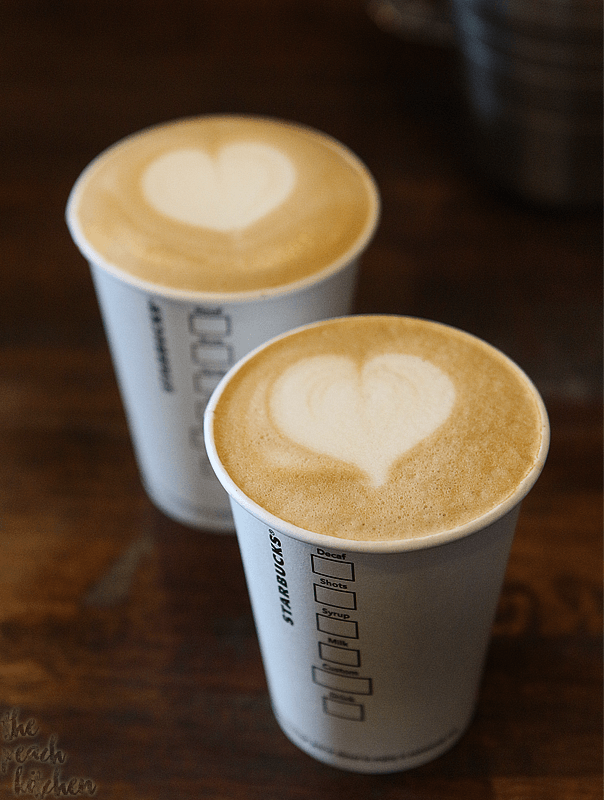 Check out what Pao made!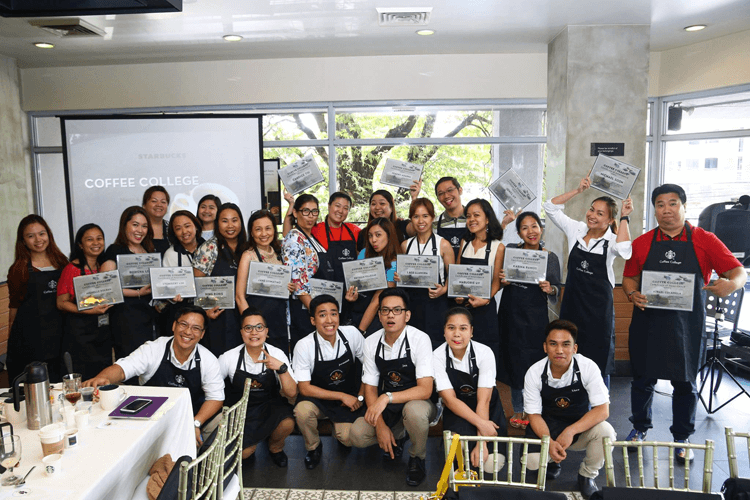 Thank you so much Starbucks Philippines for such a wonderful, one-of-a-kind coffee experience! Complete with graduation certificate and class picture pa!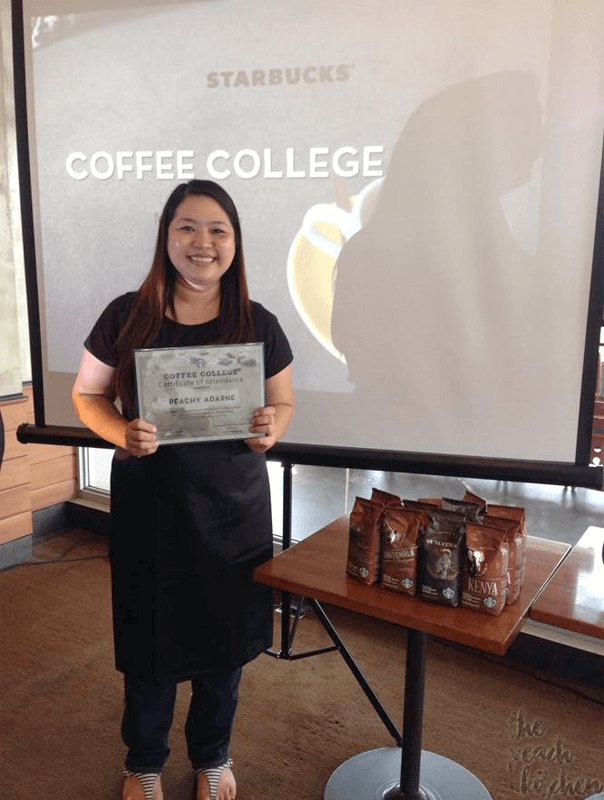 Feeling barista ulit…