This Mediterranean Pita Sandwich is a delicious way to get in more fresh vegetables!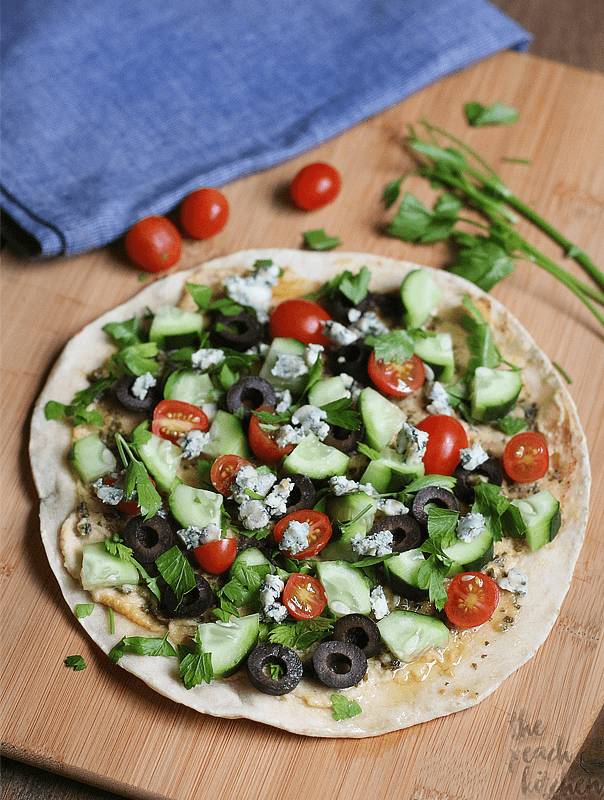 The Sunday market is reason enough to wake up happy every Sunday morning. I think we've been going there for three straight sundays now and I am addicted!
The fresh produce being sold there is fairly cheap and really fresh. They have more varieties too. You can even find fruits, vegetables, and seafood not sold in the local wet market or groceries.
Last Sunday, Ianne A. (our car) was at the repair shop so we took a taxi early in the morning to go there.  The only thing on our list was fresh strawberries for Twinkle's 8th Month Strawberry Shortcake party. I was really careful not to buy too much 'cause I didn't want to carry a heavy bag going home.
If I can remember, I took home french beans, a couple of lemons, and pomelo.
Aside from the fresh produce, there are also a lot of food stalls that sells all kinds of food from exotic tapang usa and baboy damo (deer and wild boar tapa) to healthy smoothies with maca powder and chia seeds to Ilocos Empanada to roasted calf (lechon baka) to paella negra. I can go on and on…
peanutbutter♥ and I were able to take home a small container of hummus and some pita bread. I forgot to take note of the name of the vendor but it was sooo good!
peanutbutter♥ ate it as it is last monday but I turned it into an opened face sandwich since I have fresh cucumbers and cherry tomatoes in the fridge. It should be feta cheese that's crumbled on top of this but I only have bleu cheese. So.
I ate it like pizza but you can fold it in half and eat it like taco. Healthy couldn't taste any better!
Print
Mediterranean Pita Sandwich
2

Pita Breads

4 tbsp

hummus

2 tbsp

pesto

10

black olives, sliced

1/4 cup

cucumber, sliced and quartered

10

cherry tomatoes, halved
a handful of parsley, chopped

4 tbsp

feta cheese, crumbled (I don't have feta so i used bleu cheese)
Instructions
Heat Pita bread on a non-stick skillet.
Spread hummus then pesto on top of each pita.
Layer parsley, cherry tomatoes, black olives, feta (in my case, bleu cheese) and cucumber on top of each pita.
To eat, cut in pieces much like a pizza OR fold in half and enjoy